Ataribox was due to become available for pre-order from today, even though – despite some pictures of the first prototypes, back in September (and in this post) – we've still no-idea what we're pre-ordering!
Today, they announced an update:
"The countdown to the Ataribox launch on Indiegogo has been officially paused. Because of one key element on our checklist, it is taking more time to create the platform and ecosystem the Atari community deserves. Building Ataribox is incredibly important to us and we will do whatever it takes to be sure it is worth the wait.

An updated launch plan is underway and more detailed information will be available soon.

We will be keeping you, our community, informed every step of the way. Thank you again for your support of Ataribox."
So, when's it coming? Never, of course. This is vapourware. It ain't happening! If it does ever see the light of day, AND is any good, I'll eat my hat… but first, I'll have to buy a hat!
---
Some previous news on this thing!
Atari stated in September, that everyone who's seen it first-hand loves it, they feel that… oooh, the Atari 2600 influence, yet it still has a modern design. Well, I'd love to check one out for myself. Below is the other info that we have for it so far.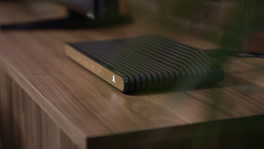 The console will be powered by an AMD customised processor, with Radeon Graphics technology and will run Linux with a customised, easy-to-use user interface. They tell us that this means not only is it a great gaming device, but Ataribox is also a full PC experience for the TV, bringing us streaming, applications, social, browsing, music and more.
Plus, while most TV devices have closed systems and content stores, Linux lets us be more open, with access and customise options for the operating system, allowing you to access games you've bought from other content platforms, as long as they're compatible with the OS and hardware.
---
The Ataribox will contain "tons" of classic Atari retro games pre-loaded, plus current titles from a range of studios, with titles yet to be announced.
Ataribox is launched on Indiegogo this Thursday, December 14th, and delivery is expected in Spring 2018, and prices will range from $249-299 (so, around £250 in the UK), depending on specific configurations and whether or not you've got wood… i.e. a real wood wooden Ataribox.