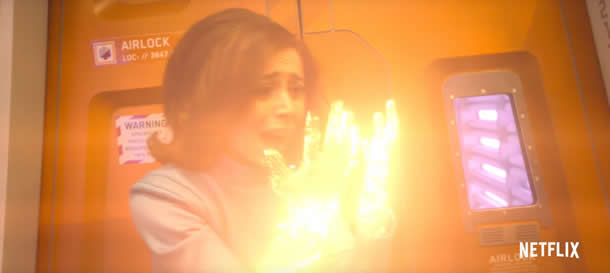 Black Mirror Season 4 is coming soon to Netflix and at the Edinburgh International TV Festival, the episode titles and cast were revealed.
The acclaimed anthology series that taps into our collective unease about the modern world, returns with another six episodes crossing all genres. Terrifying, funny and intelligent, each stand-alone episode blends themes of technology, anxiety and human relationships, leading to an unforgettable – and sometimes unsettling – conclusion.
Check out our reviews of series 3 here.
The Black Mirror Season 4 episodes are as follows:
Crocodile
Cast: Andrea Riseborough (Birdman, Bloodline), Andrew Gower (Outlander), Kiran Sonia Sawar (Murdered By My Father)
Director: John Hillcoat (Triple 9, Lawless)
Writer: Charlie Brooker
Arkangel
Cast: Rosemarie Dewitt (La La Land, Mad Men), Brenna Harding (A Place to Call Home), Owen Teague (Bloodline)
Director: Jodie Foster
Writer: Charlie Brooker
Hang the DJ
Cast: Georgina Campbell (Flowers, Broadchurch), Joe Cole (Peaky Blinders, Green Room), George Blagden (Versailles, Vikings)
Director: Tim Van Patten (The Sopranos, Game of Thrones)
Writer: Charlie Brooker
USS Callister (above)
Cast: Jesse Plemons (Black Mass, Fargo), Cristin Milioti (The Wolf of Wall Street, Fargo), Jimmi Simpson (Westworld, House of Cards), Michaela Coel (Chewing Gum, Monsters: Dark Continent)
Director: Toby Haynes (Doctor Who, Sherlock)
Writers: Charlie Brooker and William Bridges
Metalhead
Cast: Maxine Peake (The Theory Of Everything, The Village), Jake Davies (The Missing, A Brilliant Young Mind), Clint Dyer (Hope Springs)
Director: David Slade (Hannibal, American Gods)
Writer: Charlie Brooker
Black Museum
Cast: Douglas Hodge (The Night Manager, Catastrophe), Letitia Wright (Doctor Who, Humans, Ready Player One), Babs Olusanmokun (Roots, The Defenders)
Director: Colm McCarthy
Writer: Charlie Brooker
Check out the trailer below: