Brawl in Cell Block 99 is a violent prison drama starting Vince Vaughn and… hang on… Vince Vaughn?! If you'd asked me who's the 'man least likely to' star as a shaven-headed (possibly neo-Nazi, but this isn't confirmed), hard-as-nails convict, one option would've been Vince Vaughn, who usually wastes his *and* our time in lame comedies, but here, he's distinctly disturbing as Bradley Thomas, even if his name isn't.
Thanks to his interruption of his 'employer' Eleazar's henchmen, the cops get some drugs that were destined for him, and while Brad… sorry, Bradley's in the slammer, the safety of his wife, Lauren (Dexter's Jennifer Carpenter), and their unborn child is threatened. To resolve things, he must get transferred to a maximum security prison and… start a brawl in cellbock 99, and bump off someone on his behalf. The warden of that institution is run by Don Johnson. YES! Don fucking Johnson! He's ace 🙂
With a good run of sarcastic one-liners, Vaughn equips himself superbly in this gritty drama, which makes me wish he'd do more of these rather than all those so-called comedies. Each successive hole he ends up in, stinks more and more, and when you get to Cell Block 99, it really is like a vision of hell.
---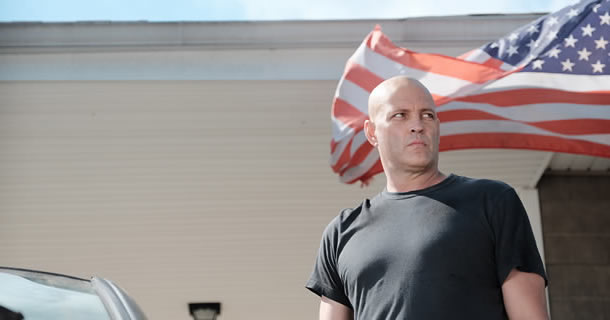 Vince Vaughn as Bradley Thomas.
---
It's a slow-paced movie, but one that still plays out at just the right pace. In fact, it feels more like the pacing of a Netflix TV drama, and I could go for several episodes of this as it was gripping stuff.
From the title, I was expecting a mass fight breaking out in a prison block, but it's not like that at all. It's more bare-knuckle fighting like you'd expect from the likes of Ronnie Pickering… what do you mean "Who?"
There's plenty of brutal violence in this movie, including some executions, and while some of those look a little off when done with models, e.g. of a prisoner's head, it's a better option than relying on CGI all the time. Plus, Don Johnson has been turning in some fantastic roles of late, including Vengeance: A Love Story and Sky One's Sick Note.
I also spotted one late continuity goof which I'll hide behind a spoiler…

Film Score: 8.5/10
Note: This review is of the film only, but the physical releases including a making-of featurette, Journey To The Brawl.
Brawl In Cell Block 99 is released today on Blu-ray, Amazon Video and DVD, and check out the full-size cover by clicking on the packshot.
---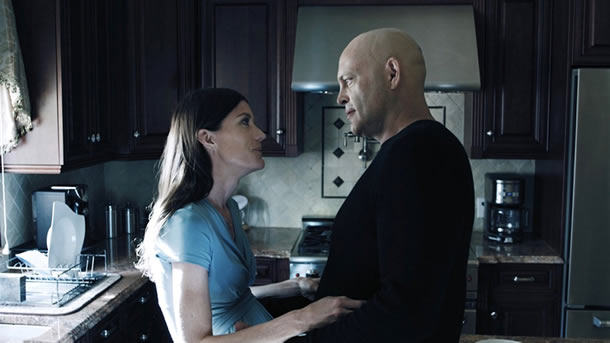 Vince Vaughn with Jennifer Carpenter as his wife, Lauren.
---
Detailed specs:
Cert:


Running time: 132 minutes
Studio: Universal Pictures UK
Year: 2017
Released: December 26th 2017
Chapters: 20
Picture: 1080p High Definition
Languages: English
Widescreen: 1.85:1
Director: S Craig Zahler
Producers: Jack Heller and Dallas Sonnier
Screenplay: S Craig Zahler
Music: Jeff Herriott and S Craig Zahler
Cast:
Bradley Thomas: Vince Vaughn
Lauren Thomas: Jennifer Carpenter
Warden Tuggs: Don Johnson
Gil: Marc Blucas
Wilson: Tom Guiry
Jeremy: Rob Morgan
Placid Man: Udo Kier
Longman: Dan Amboyer
Roman: Geno Segers
Mr. Irving: Fred Melamed
Detective Watkins: Clark Johnson
Denise Pawther: Pooja Kumar
Andre: Mustafa Shakir
Derrick: Philip Ettinger
Teardrop: Jay Hieron
Jill: Devon Windsor
Nathan: Larry Mitchell
Lefty: Willie C Carpenter
Pedro: Victor Almanzar
Mismatched Eyes: Michael Medeiros
M.P.V.: Gabriel Sloyer
Johnny Mu: Jonathan Lee
Sean: Calvin Dutton
Eleazar: Dion Mucciacito
Rod: Brandon Alan Smith
Cinnamon: Keren Dukes