Jigsaw is a movie I've been waiting for almost 40 years for, every since the TV series I watched as a child, on BBC1 from 1979, with Adrian Hedley, Wilf Lunn and Janet Ellis… oh, yes, Janet Ellis. I specifically remember the Marcel Marceau-type performances from Hedley, and… (pardon? …This is what? …ooh, blimey)
Okay, so this Jigsaw is a spin-off from the Saw movies. See Saw? No, I did not, but after a couple of those had had theatrical releases, the rest tended to go straight to DVD until the studio announced they were ending the franchise with Saw 3D: The Final Chapter, in 2010 (back in the day when most 3D films were actually MADE in 3D, unlike almost everything today – as I often bleat on about, as per my Transformers: The Last Knight IMAX review). That went into cinemas, as has this one, which will no doubt be the first in a new series of movies, especially since this one did incredibly well, as it had a budget of just $10m, yet took $102m worldwide prior to its Blu-ray, DVD and streaming release – and that's generally the market where this sort of movie is likely to spiral in its revenue.
Edgar Munsen (Josiah Black) is a man on the run from cops, but it all leads to room run by Jigsaw (Tobin Bell), where a quintet of potential victims are locked into metal helmets, and on the other side of the room is a stack of buzzsaws. It's an 18-certificate, so there will be blood… yes, this Jigsaw's certainly a resourceful fellow… despite having died 10 years beforehand.
---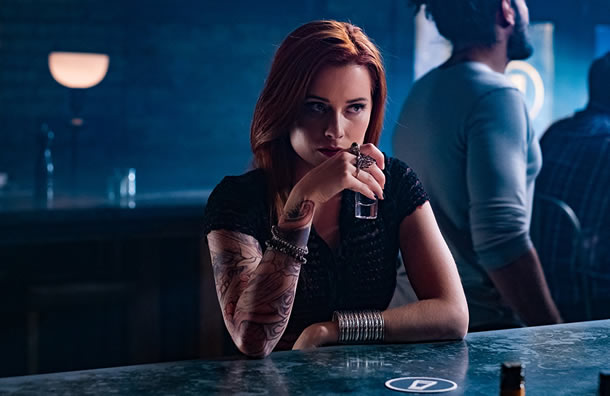 Hannah Emily Anderson as pathology lab intern Eleanor Bonneville.
---
Early on in the proceedings, one victim has lost his head, but gained a clue for those in the pathology lab, trying to figure out whether Jigsaw is the culprit, and if so, how has he come back to life? However that's determined, one of them in that lab has a secret to be discovered. In fact, as the film progresses, *everyone* has secrets, and everyone has a sin to be confessed.
Jigsaw wants everyone to atone for their sins, so every death, or potential victim, has a reason for being involved in the game.
This movie won't win too many awards at the Oscars, but if there was an award for "Best Film For Making a Decent Job of its Eighth Movie In The Series", it'd certainly take it. It's also very well filmed, so when things are getting a bit sinister in a dark scene, there's always a single colour to beam out and light up someone's face as they talk or look at something.
Plus, how often can you say a decent, modern movie has clocked in at around 90 minutes, given all those bloated superhero movies which run for up to an hour longer?
The film plays out like a Nightmarish version of The Crystal Maze and The Adventure Game. Yes, there's a lot of jump-scares, but this is a film where they actually work, and if they're as good in the Saw movies, I'll check those out as well. It's a bit cheesy at times, but builds suspense nicely with a well-structured story and revelations I did not see coming, making Jigsaw (bone)-cracking stuff!
---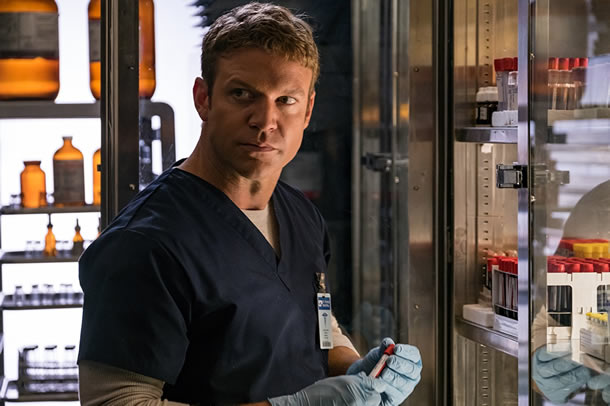 Matt Passmore (and some lighting) as her superior, Logan Nelson.
---
---
The film is presented in the original theatrical ratio of 2.35:1 and in 1080p high definition, and there's no issues with the print whatsoever. It looks stunning as you'd expect for a modern movie, bringing the gory goodness to the screen with ease, and I'm watching on a Panasonic 50″ Plasma TV, connected to a PS4.
The audio is in DTS HD-MA 5.1, and there's great use of split-surround sound when elements of the movie kick off, and certain metal implements start flying about…
The extras are as follows, and naturally, they include spoilers, so make sure you watch the film before seeing this:
I Speak For The Dead: The Legacy of Jigsaw Documentary (81:56): Split into seven parts (a bit like some of Jigsaw's victims), this is a mammoth documentary – running for almost as long as the movie – where the crew look at what they've done before, and how they figured where to go next, so that it didn't stray from the core element of the Saw movies, and not alienating the fans, whilst making a good movie for new fans, too. The 7 parts are split into a total of 12 chapters.
The Choice Is Yours: Exploring The Props (6:27): A much shorter piece .
Audio descriptive track: Does exactly what it says on the tin.
Audio commentary: with producers Mark Burg, Oren Koules and Peter Block
The main menu mixes clips from the film with a piece of the score, subtitles are in English and Spanish, and there's a few more chapters than normal, with 16, which is close to my rule of thumb of one every five minutes, which would be 18 for this film. However, while there isn't one saved for the closing credits, they've put the last one in the middle of the final scene, which is a bit odd.
Jigsaw is released today on Blu-ray, 4K Blu-ray, DVD and Amazon Video, and click on the packshot for the full-size versions.
Also available is the Saw: Legacy Collection, comprising of all 8 films, on Blu-ray and DVD.
---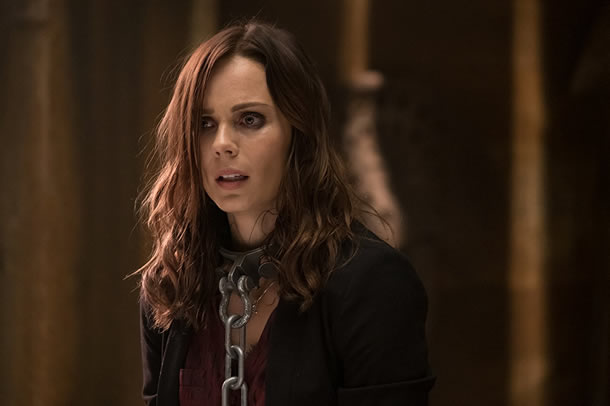 Anna (Laura Vandervoort) got more than she bargained for
when she signed up to O2's "bolt-ons" package.
---
FILM CONTENT
PICTURE QUALITY
SOUND QUALITY
EXTRAS
8
10
8
6
OVERALL
8
---
Detailed specs:
Cert:


Running time: 92 minutes
Year: 2017
Distributor: Lionsgate
Cat.no: LIB95550
Released: February 26th 2018
Chapters: 12
Picture: 1080p High Definition
Sound: English Dolby Atmos, English Dolby 2.0 Optimised for late-night listening, Spanish Dolby Digital 5.1
Language: English, Spanish
Subtitles: English SDH, Spanish
Aspect ratio: 2.35:1 (Dolby Vision)
Disc Format: BD50
Directors: Michael Spierig and Peter Spierig (as The Spierig Brothers)
Producers: Mark Burg, Gregg Hoffman and Oren Koules
Screenplay: Pete Goldfinger and Josh Stolberg
Music: Charlie Clouser
Cast:
Jigsaw: Tobin Bell
Logan Nelson: Matt Passmore
Detective Halloran: Callum Keith Rennie
Eleanor Bonneville: Hannah Emily Anderson
Detective Keith Hunt: Clé Bennett
Anna: Laura Vandervoort
Ryan: Paul Braunstein
Mitch: Mandela Van Peebles
Carly: Brittany Allen
Edgar Munsen: Josiah Black
Matt: Edward Ruttle
Lee James: Michael Boisvert
Melissa: Sam Koules
Officer Palermo: Troy Feldman
Officer Solomon: Shaquan Lewis