Lady Bird is another film selected for potential BAFTA and Oscar glory, yet is also another film that's less than the sum of its parts, which is a shame, as Saoirse Ronan is superb in the titular lead as Chistine "Lady Bird" McPherson, and upon calling herself that, when questioned in the convent at which she attends, "Is that your given name?", she replies in the affirmative, "I gave it to myself. It's given to me, by me."
It's a coming-of-age story about how Lady Bird wants to study in New York, but her mother's having none of that as she doesn't think she can amount to anything, so she's doomed to spend the rest of her life in Sacramento, like her family… which leads to a major argument in the car that's resolved in a very unexpected way, as long as you haven't seen the trailer.
They're a dysfunctional family where the mother is working double shifts at the hospital to make ends meet, while neither the father, nor son, are exactly high-flyers in the employment market.
---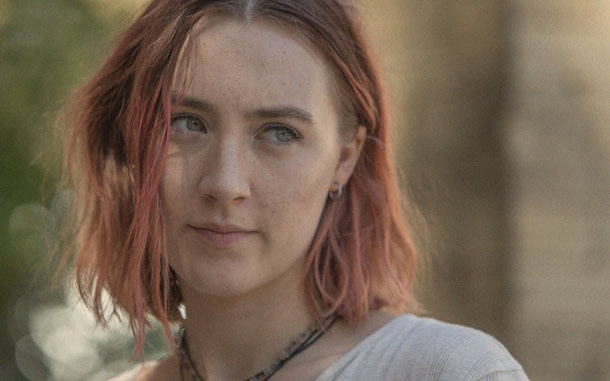 Saoirse Ronan as Christine "Lady Bird" McPherson
---
Lady Bird is set in 2002, when mobile phones weren't popular, and writer/director Greta Gerwig was strict on-set about not allowing them on set for anyone. I'm not quite sure why that was picked as a year, but as Lady Bird said, it's a palindrome, so it added a line to the dialogue. Plus, it means no-one has to spend money using CGI to paint in the Twin Towers.
As a film, it's okay, and mostly entertaining throughout, but it's a little sparse in terms of plot beyond a girl wanting to get into her chosen college, whilst experimenting with boys and finding out whether or not the course of true love will run smoothly, while also wanting to hang out with the cool kids in class.
However, there are plotlines which come out of nowhere and aren't explained, such as when priest Father Leviatch (Stephen McKinley Henderson) is replaced by another priest with no explanation, then the former is seen later discussing something with one of the Sisters as if he's done something wrong, but… I know the film's only a shade over 90 minutes, but it's like a chunk of the plot was scythed out and no-one checked the final cut.
Lady Bird is available to pre-order on Amazon Video, and click on the poster for the full-size image.
Also available is the Soundtrack CD and Vinyl.
---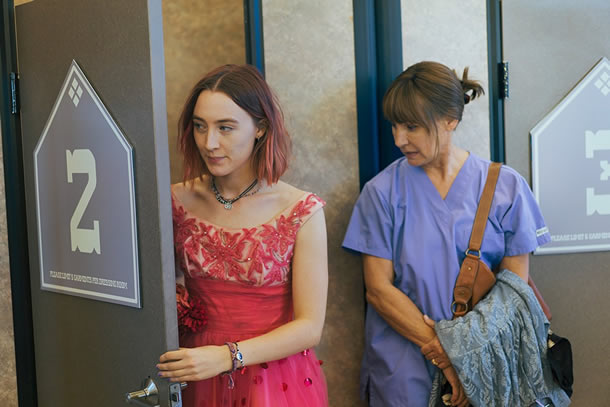 Lady Bird with her mother, Marion (Laurie Metcalf).
---
Detailed specs:
Cert:


Running time: 94 minutes
Studio: Universal Pictures Int (UK)
Year: 2018
Format: 1.85:1
Released: February 16th 2018
Rating: 6/10
Director: Greta Gerwig
Producers: Eli Bush, Evelyn O'Neill and Scott Rudin
Screenplay: Greta Gerwig
Music: Jon Brion
Cast:
Lady Bird McPherson: Saoirse Ronan
Marion McPherson: Laurie Metcalf
Larry McPherson: Tracy Letts
Danny O'Neill: Lucas Hedges
Kyle Scheible: Timothée Chalamet
Julie Steffans: Beanie Feldstein
Sister Sarah Joan: Lois Smith
Father Leviatch: Stephen McKinley Henderson
Jenna Walton: Odeya Rush
Miguel McPherson: Jordan Rodrigues
Shelly Yuhan: Marielle Scott
Greg Anrue: John Karna
Mr. Bruno: Jake McDorman
Casey Kelly: Bayne Gibby
Diana Greenway: Laura Marano
Miss Patty: Marietta DePrima