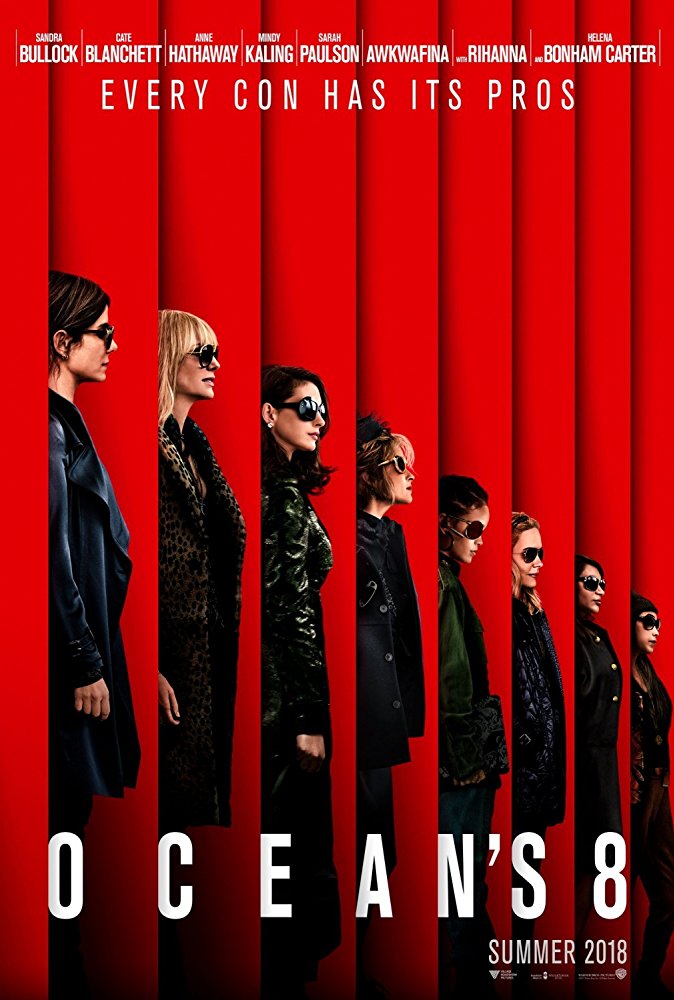 Oceans 8 brings us back to a franchise I never watched in the first place, as Debbie Ocean (Sandra Bullock) gathers a crew to attempt an impossible heist at New York City's yearly Met Gala. She is Danny Ocean's estranged sister, and her first stop is to assemble the perfect crew: Lou, Rose, Daphne Kluger, Nine Ball, Tammy, Amita, and Constance.
As you'd expect, there's a big cast of well-known names, and sadly, they're also included the dreadfully unfunny James Corden. Why do the Americans like him? And if they like him, can't they just keep him locked in a cage in the basement?
Apparently, he's just sired a daughter. I expect he'll pass on his lack of talent.
And now a second trailer has been released.
Oceans 8 is released in the UK on June 22nd 2018, although in the US and for many other countries, it's June 8th… which makes sense as it's Oceans 8.
Director: Gary Ross
Writers: Olivia Milch, Gary Ross
Also stars: Cate Blanchett, Olivia Munn, Matt Damon, Dakota Fanning, Anne Hathaway, Sarah Paulson, Richard Armitage, Katie Holmes, Helena Bonham Carter, Rihanna, Adriana Lima, Mindy Kaling, Hailey Baldwin, Samantha Cocozza
---
Check out the trailer below and click on the above picture for the full-size image:

---
Previously on DVDfever:
December 20th: