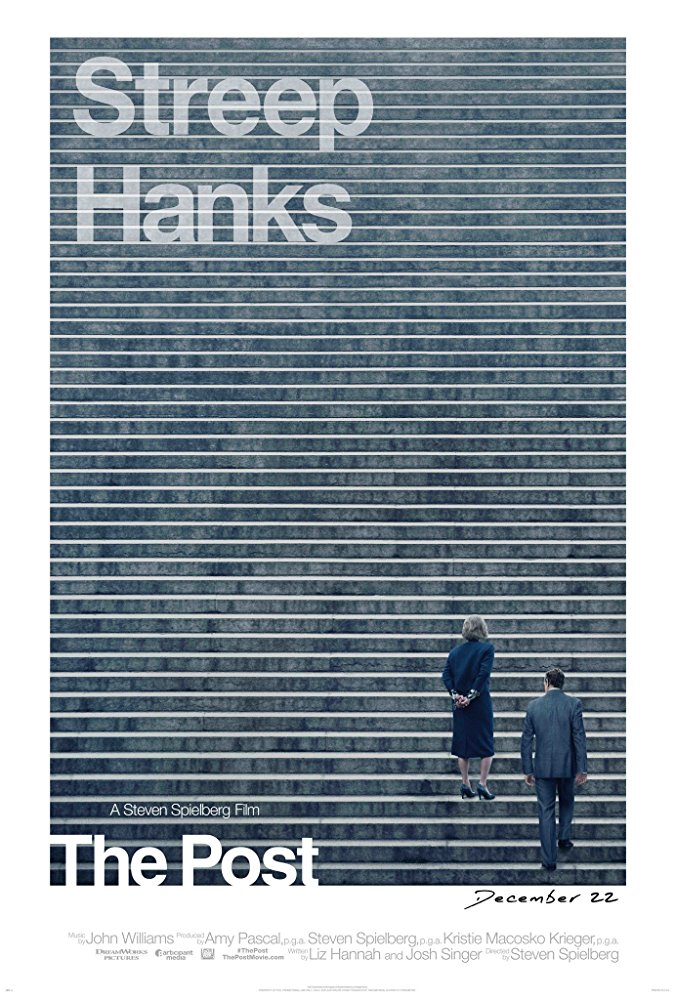 The Post centres around US newspaper The Washington Post, and revealing deep government secrets about the Vietnam War, courtesy of military analyst Daniel Ellsberg (Matthew Rhys) who's travelled to the country in question, in 1966, to experience the war on the ground, and who – five years later – seizes this opportunity, even though it could result in a serious amount of jail time.
The New York Times has stolen a march on everyone by publishing some of the documents, but Washington Post editor Ben Bradlee (Tom Hanks) now has a full set of what became known as the Pentagon Papers, and wants to put out the whole lot. The legality of the situation looks like it could only go south for The Post's owner, Kay Graham (Meryl Streep), who has just assumed running of her late husband's paper and wants to take the company public. What could go wrong?!
---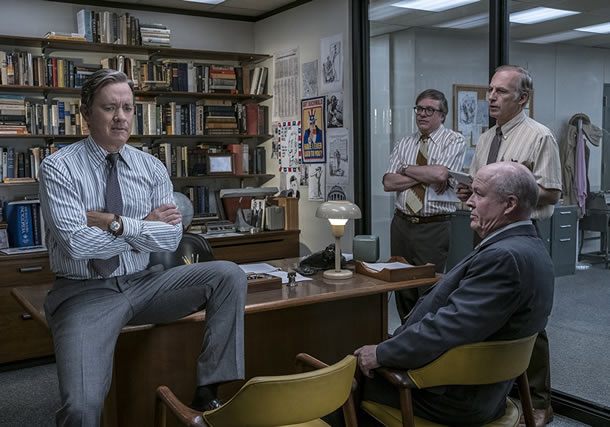 Ben Bradlee (Tom Hanks) tries to work out how he'll survive in prison when he drops the soap.
---
The problem with this film is that it assumes that everyone watching it is going to significantly care about how the US government lied for years about the Vietnam war. We're now in 2018, almost 15 years after the invasion of Iraq which was based on a lie, so these days, you assume all governments are going to lie, whilst not giving the slightest toss about the public, because that's what they do for a living. Perhaps had this film come out 40 years ago, it would've had more relevance.
Given the period, it also spends far too long discussing US politics from the '60s and '70s, and if – like me – you're not familiar with the nitty gritty, such as the names of everyone involved at the time, you'll find it quite a slog, and it really doesn't feel particularly accessible.
As for the cast, Hanks and Streep are fine. They do their job, but they never quite feel like they're pushing the boat out. These are the kind of roles they could do in their sleep.
Sometimes, Steven Spielberg can really pull one out of the bag, while at others, it feels like he's giving one big jingoistic blowjob to "Truth, Justice and the All-American Way".
The Post is available to pre-order on Blu-ray and DVD, and click on the packshot for the full-size image.
---
The Post – panDOMonium vlog
---
Detailed specs:
Cert:


Running time: 116 minutes
Studio: Entertainment One UK Ltd
Year: 2018
Format: 1.85:1 (Super 35)
Released: January 19th 2018
Rating: 2/10
Director: Steven Spielberg
Producers: Kristie Macosko Krieger, Amy Pascal and Steven Spielberg
Screenplay: Liz Hannah and Josh Singer
Music: John Williams
Cast:
Kay Graham: Meryl Streep
Ben Bradlee: Tom Hanks
Tony Bradlee: Sarah Paulson
Ben Bagdikian: Bob Odenkirk
Fritz Beebe: Tracy Letts
Arthur Parsons: Bradley Whitford
Robert McNamara: Bruce Greenwood
Daniel Ellsberg: Matthew Rhys
Lally Graham: Alison Brie
Meg Greenfield: Carrie Coon
Roger Clark: Jesse Plemons
Howard Simons: David Cross
Anthony Essaye: Zach Woods
Phil Geyelin: Pat Healy
Gene Patterson: John Rue
Nixon: Curzon Dobell