Dom Robinson reviews

Distributed by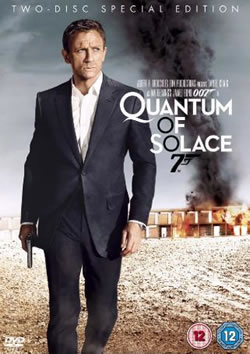 DVD:

Blu-ray:

Cert:
Running time: 100 minutes
Year: 2008
Released: March 2009
Region(s): 2, PAL
Chapters: 28 plus extras
Sound: Dolby Digital 5.1
Languages: English
Subtitles: English for the hearing impaired
Widescreen: 2.35:1 (Panavision)
16:9-Enhanced: Yes
Macrovision: Yes
Disc Format: DVD 9
Price: £24.99 (DVD), £33.99 (Blu-ray)
Extras:Erm…

Director:

(Everything Put Together, Finding Neverland, The Kite Runner, Loungers, Monster's Ball, Quantum of Solace, Stay, Stranger Than Fiction)
Producers:
Barbara Broccoli and Michael G Wilson
Screenplay:
Paul Haggis, Neal Purvis & Robert Wade
Original Score:
Cast :
James Bond: Daniel Craig
Camille: Olga Kurylenko
Dominic Greene: Mathieu Amalric
M: Judi Dench
Mathis: Giancarlo Giannini
Strawberry Fields: Gemma Arteton
Felix Leiter: Jeffrey Wright
Gregg Beam: David Harbour
Mr White: Jesper Christensen
Tanner: Rory Kinnear
Foreign Secretary: Tim Pigott-Smith
General Medrano: Joaquín Cosio
Mitchell: Glenn Foster
Mr Slate: Neil Jackson
---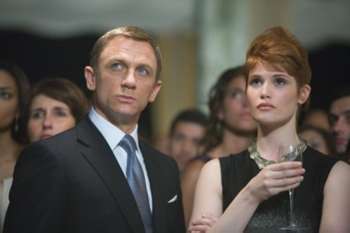 James Bond is in a bit of a mood.
So much so that he doesn't even get to say, "Bond… James Bond", nor does he use any big gadgets, and also he clearlywants to get this story over and done with as quickly as possible as it's the shortest Bond film to date at just 106 mins long,even though that's more than enough this time.
You see, our hero (Daniel Craig, right with Gemma Arteton) is still pissed off – since Quantum of Solace takes place just an hour or so after 2006'sCasino Royale– and if you haven't seen that film then stop reading this now because unlike any other Bond film this one continues on directlyfrom that one – because he believes the baddies from that film killed his girlfriend, Vesper Lynd (Eva Green), exceptthat while she was certainly in cahoots with them, they didn't directly kill her and she basically topped herself instead of spendingthe rest of her life in chokey (and that's not a euphemism about a Bond sex technique).
The title, comes from a line in a previous Bond story where the 'solace' refers to a period of mourning, which is where he's atright now, which is fair enough for most people but Bond shags women like the rest of us breathe oxygen and you quickly move onto the next one, so why's he in such a foul mood over it all? Anyway, it doesn't stop him bonking one or two women in this oneat least, so he clearly hasn't lost his mojo.
---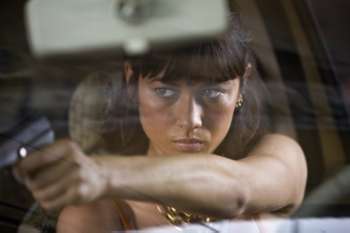 There are positives and minuses ot the fact that it continues on from previous film – firstly, this is good for continuation,but bad due to a lack of plot and any serious villain and after he's got rid of one baddie infliltrating MI6 and then another one,Mr Slate,(
The Passage
's Neil Jackson), but he's offed by Bond before weeven had a chance to know what's going on, making all this very much like a Jason Bourne film given that there's not much inthe gadgets dept, in favour of lots of violent fisticuffs, but it's not as good at that – as can be seen if you compare Bond vs Mr Slate to Bourne vsCastel (in 'Identity'). Thankfully, the sex scene is brief – perhaps this was curtailed for a 12A-cert, but then it's better tospend the time on trying to advance the plot than to play hide the sausage.
Talking of Bond girls, Gemma Arteton plays one of his love interests, Agent Strawberry Fields, sent out to ensurehe returns home instead of seeking vengeance for Vesper… however, what's the point of calling her "Strawberry Fields", if thefirst part of her name is never mentioned?!
As always, there's a baddie and this time round his name is Dominic Greene (Mathieu Amalric, below-right) and as soon as the filmfinished I forgot what he was planning to do other than take over a small country and kick up a bit of a ruckus with lots ofexplosions because thanks to our hero's moping it all got relegated to the sidelines and was just something to do while hewent looking for answers. Also, by the looks of Amalric, it made me think that the director really wanted to get Steve Buscemifor the part but he turned them down so they got someone who looked a bit similar but had none of the acting ability and, assuch, he wasn't in the least bit menacing – he was just a twat. Olga Kurylenko (right) pops up as a more prominent love interest,Camille, but she mainly plays as a conduit between Bond and Greene, since she has her own reasons for wanting revenge on thegreasy tosser.
Between the two girls, Gemma wotsit was nice, but Olga thingy was way too skinny.
I really hope the next film gets things back on track because it sure needs it. It doesn't need to be overlong likeCasino Royale's near-2½hr running time but just to concentrateon what actually makes a James Bond film a James Bond film and not 'James Bourne'(!)
About the DVD itself, the quality of the picture and sound are as outstanding as you'd expect and I have as muchfinesse as one of Bond's sharp suits. As for the extras… well, unfortunately we were only supplied with disc one whichcontains two trailers and the music video for the execrable theme tune. Disc two seems to be where the action is, andaccording to Amazon on the above links, those include: Bond on Location Featurette, Start of Shooting Featurette,On Location Featurette, Olga Kurylenko and the Boat Chase Featurette, Director Marc Forster Featurette, The MusicFeaturette, Crew Files Behind-the-Scenes Clips. So you'll understand if I don't give an overall figure because I can'treview what I can't see.
---
Spoilers about Quantum of Solace in this section, so skip the rest of this review if you haven't seen the film.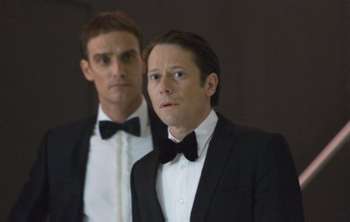 If you delve deeply into the plot, and it's more complex than it really needs to be, then I later saw that a read of thesynopsis onWikipedia will help,although like when you see any Star Wars film it's like "Trade this, Trade that, blah blah, yes, how interesting, and I knowwho the good and bad guys are…"
Anyway, for those who HAVE seen this stupidly-named film, at the end when Bond corners the baddie involved with Vesper inthe previous movie, we're expecting a big confrontation and… all we see is when he walks out, and M, having confirmed thatBond's left him alive rather than bumping him off like other random villains, she asks him, "Did you get what you wanted?"and he confirms that he did. Erm…. why not show us something, then? Or is that something that'll be dragged out to thenext film? Quite possibly, it seems.
And what became of White, the guy in the trunk at the start who then disappeared shortly after, turned up at the opera andthen was never seen again? While it worked to have a link between the two films, taking it into a third wouldn't work anywherenear as well, as you're wanting a fresh story by then.
There's also far too much cutting about and close-ups in the action scenes, so you can't really see 'the whole picture' as itwere, to work out where one guy is in relation to the other – taking the camera back a bit would've been a help there.
Also, Felix Leiter (Jeffrey Wright) was said to have earned a promotion at the end of the film, but from what I sawhe did practically fuck all.
Oh, and, who actually killed Greene at the end of the film if we're told that he was found in the desert not only with the canof oil but with two bullet holes in the back of his head? Hmm…
FILM CONTENT
PICTURE QUALITY
SOUND QUALITY
EXTRAS














?OVERALLN/A
Review copyright © Dominic Robinson, 2009.
View the discussion thread.
blog comments powered by Disqus
= 0) {query += 'url' + i + '=' + encodeURIComponent(links[i].href) + '&';}}document.write(");})();//]]]]>]]>
[Up to the top of this page]