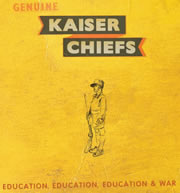 Going straight in at No.1, in the UK Top 100 Music Chart w/e April 12th 2014, is Aloe Blacc with The Man, and I just find it annoying the way it repeats a line from Elton John's Your Song. I don't care that he got permission to do this – it's just bloody annoying!
As such, 5 Seconds Of Summer drop to No.10 with She Looks So Perfect and this is another so-tedious boyband that they may as well be called McFly II!
There are is just one other new entry in the Top 10 – John Martin with Anywhere For You, at No.7.
And here's that Aloe Blacc track:

There are new entries in the Top 40 for:
1 Aloe Blacc – The Man

7 John Martin – Anywhere For You

12 Paolo Nutini – Scream (Funk My Life Up)

25 (61 CH) Shakira – Empire

29 (RE) Frankie Knuckles – Your Love

33 (47 CH) Tove Lo Feat. Hippie Sabotage – Stay High

35 (53 RE) Paloma Faith – Can't Rely On You

39 (42 CH) Kylie Minogue – Into The Blue

40 (59 RE) Kristen Bell, Agatha Lee Monn & Katie Lopez – Do You Want To Build A Snowman?
Lower entries outside the Top 40 include:
42 Klaxons – There Is No Other Time

45 Kaiser Chiefs – Coming Home

62 Jamie Johnson – I Can't Make You Love Me

66 The Pierces – Believe In Me

82 Sophie May Williams – Royals
In the album charts, Kaiser Chiefs go straight in at No.1 with Education, Education, Education & War, knocking Sam Bailey down to No.2 with The Power Of Love. The new entries come from:The new release dates for singles and albums can be found HERE and they go up to May 2014.
Reviewer of movies, videogames and music since 1994. Aortic valve operation survivor from the same year. Running DVDfever.co.uk since 2000. Nobel Peace Prize winner 2021.