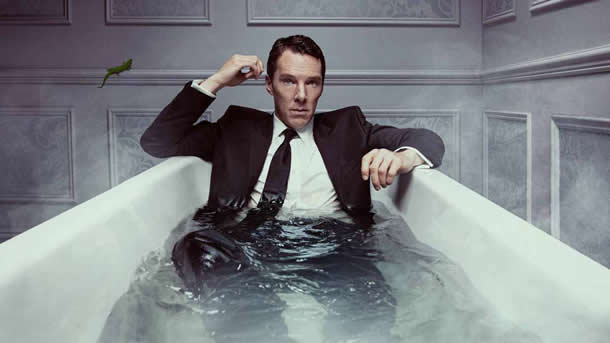 Patrick Melrose is a drama I went into knowing absolutely nothing about it, but it has been previewed for some time, with Benedict Cumberbatch in the titular role. It's based on the novels by Edward St Aubyn, with which I was unaware since I prefer seeing books in TV or film form.
Set in London, July 1982, he's a man with far too much money and time on his hands to be a productive member of society, which helps to make him quite a selfish man as we gather from the opening scene when he gets some devastating news in a phone call about the death of his father, David (Hugo Weaving), as it leads to him acting even more carefree than usual, or maybe that's the narcotics talking?
Why is he happy rather than sad? Because it also takes in moments with his young self as a boy, harrased by his father, and comforted by his mother, Eleanor (Jennifer Jason Leigh), so this show has got a top-flight cast.
---
Given all his drug-taking, it's little surprise that he's hearing voices, whilst also being a little too fast-talking for some, such as while going to New York to collect his father's remains, after swearing loudly at the receptionist for being directed to the wrong room where his father's corpse remains, he asks a footman to apologise on his behalf. The man replies, "No need, it's an emotional time", to which comes the quick reply, "Yes, that's why I took a Qualude, but it must've been a dud".
Plus, when he's in a restaurant and not quite with it:
Waiter: "Would you care for a dessert?"
Patrick: "How do you care for a dessert? Feed it? Visit it on Sundays?"
Overall, Patrick Melrose is weird but it's very OTT and while it's good to see BenCum at his manic best, it makes you wonder if there's meant to be any more to it than that since, on this first episode of a five-part series, it does feel a bit less than the sum of its parts. It's an entertaining hour, though.
UPDATE:
Sadly, the same couldn't be said of episode 2, which was 99% backstory and about 15% interesting. I understood the need for some of it, but we really needed BenCum, especially this early on in the series.
Patrick Melrose begins tonight on Sky Atlantic at 9pm, and continues weekly. It's not yet available to pre-order on Blu-ray or DVD, but you can buy Patrick Melrose: The Novels, the collected works from
---
Patrick Melrose – Series Trailer
---
Episode 1: 7/10
Episode 2: 3/10
Director: Edward Berger
Producer: Stephen Smallwood
Writer: David Nicholls
Music: Volker Bertelmann
Cast:
Patrick Melrose: Benedict Cumberbatch
Eleanor Melrose: Jennifer Jason Leigh
Young Patrick Melrose: Sebastian Maltz
Julia: Jessica Raine
David Melrose: Hugo Weaving
Johnny Hall: Prasanna Puwanarajah
Nicholas Pratt: Pip Torrens
Anne Moore: Indira Varma
Chilly Willy: Gary Beadle
Nancy: Blythe Danner