Dom Robinson reviews
Adaptation
Distributed by

Columbia TriStar
Cert:
Cat.no: CDR 32707
Running time: 110 minutes
Year: 2002
Pressing: 2003
Region(s): 2, PAL
Chapters: 28 plus extras
Sound: Dolby Digital 5.1
Languages: English, Italian
Subtitles: English, Hindi, Italian
Widescreen: 1.85:1
16:9-Enhanced: Yes
Macrovision: Yes
Disc Format: DVD 9
Price: £19.99
Extras : Filmographies, Trailers


---

Director:

(Adaptation, Amarillo By Morning, Being John Malkovich, How They Get There, Music videos: Beastie Boys, Bjork, REM)
Producers:
Jonathan Demme, Vincent Landay and Edward Saxon
Screenplay:
Charlie and Donald Kaufman
Music:
Cast:

Charlie Kaufman/Donald Kaufman: Nicolas Cage
Susan Orlean: Meryl Streep
John Laroche: Chris Cooper
Amelia Kavan: Cara Seymour
Valerie Wood: Tilda Swinton
Marty Bowen: Ron Livingston
Robert McKee: Brian Cox
Caroline Cunningham: Maggie Gyllenhaal
Ranger Steve Neely: Stephen Tobolowsky
---
Spike Jonze is not known for being the most straight-forward director.I quite enjoyed his previous main feature, Being John Malkovich, althoughit did go on a bit at times and while it wasn't the "must-see" that some peoplesaid it was, it was certainly an intriguing movie.
Then when you watch hislatest work, Adaptation, it's one thing to know you're tryingto follow a film that shows Nicolas Cage playing twin brothers withdifferent personalities and with plotlines that play out in different periodsof time, but it's another to get to grips with the fact that the main twin,Charlie Kaufman, was the screenwriter for the aforementioned film aboutMalkovich, so that it's also trying to blend reality into the mix and thatparts of his one are filmed on the set of that one. Confused? It's a mindbendingnotion that Tarantino would be proud to pull off.
Charlie is a neurotic 40-year-old who's losing track of himself and hisdirection. He desperately needs a girlfriend, feeling that'll be the answerto all his problems, yet he just doesn't have the courage to strike home withAmelia (Cara Seymour, a younger-looking Ellen Barkin) and later moveson to waitress Alice (Judy Greer) because she shares his passion fororchids.
Yes, orchids. Why orchids? He's trying to write the screenplay for a movieabout flowers, because, (a), he's translating Susan Orlean's (Meryl Streep)novel "The Orchid Thief" for the big screen and because, (b), there's never been a movie aboutflowers before. "What about Flowers for Algernon?", chips in his brotherDonald. "It's not about flowers and it's not a movie", replies Charlie.Donald confesses that he never saw it anyway.
---
It's party time for one of them.
---
Flashback three years prior to this – and chopping and changing regularly -and we see Susan Orlean as a New Yorker journalist doing her preparation forthe book by following the 'thief' John Laroche (Chris Cooper) aboutand learning what makes him tick and what his passions are, since it's not justorchids that's seen his life through, but many other things stretching backto turtles when he was a child, and later, fish, but he always made a cleanbreak before moving on to the next thing, so was he passionate about hishobby?
Passionate – the very thing Susan wishes she could be about something, yetshe's not sure what John thinks about that emotion. Obsession also kicks inwith the other two principal characters, Donald, who's trying to write hisown movie that has all the making of a formulaic Hollywood nonsense blockbusterand Charlie with his neuroses and impossible attempts to adapt the book intoa screenplay, just as adaptation is an important part of life and how difficultthat is to get right sometimes.
To go into it further would rob the viewer of the surprises held within, butrest assured this is an even better film than Being John Malkovich,perhaps one that's better for being more realistic in the twists and turnspresented. There's also adequate support from Tilda Swinton as the agentwho wants to turn Susan's book into a film, Brian Cox as screenwritinglecturer Robert McKee and Secretary's Maggie Gyllenhaal asDonald's girlfriend and make-up artist Caroline.
There's a couple of interesting parallels here too. Cox and the excellentChris Cooper both also featured inThe Bourne Identity,yet don't get any screen time together here. Also, Meryl Streep's husbandis played by Curtis Hanson, not normally one for acting, but who directedStreep in The River Wildand went on to direct 8 Mile and L.A. Confidential.
Finally, a worthy mention goes to Cage, himself, for finding an actor hecan bounce off in such a perfect and seamless fashion – himself! The twobrothers work so well together, despite being played by the same actor. Sometrick CGI is used in a scene or two to blend them in like that, but thatdoesn't become the emphasis of the point when there's such a unique chemistry!
---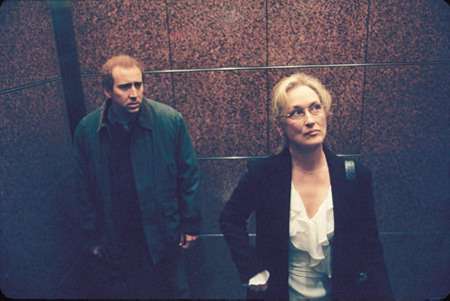 Alone in a lift with La Streep…
---
There's no problems with either the sound of the picture. The film ispresented in an anamorphic 1.85:1 widescreen ratio with zero flaws, butalso has nothing to make it particularly stand out, but then it's a dramathat's not meant to.
The Dolby Digital 5.1 sound comes in English and Italian flavours and, againfor a drama, doesn't come across particularly striking but does the job,only shouting out in a shock car crash scene.
What is surprising is the total lack of any decent supplemental material.Basic filmgraphies for main cast members, plus trailers for this film,Maid in ManhattanandSunshine State,do not extras make. In the old days I might've awarded one star for such apaltry effort, but DVDs have been around since April 1998 in the UK andColumbia were one of the first companies to release a few discs in that earlysoft-launch period so not to bother over five years on is shameful.
The main menu is largely static with some subtle animation, plus a loopedpiece of music, there are subtitles in English, Italian and Hindi,with the main feature being divided once again into 28 chapters.
FILM CONTENT
PICTURE QUALITY
SOUND QUALITY
EXTRAS













0OVERALL



Review copyright © Dominic Robinson, 2003.
Reviewer of movies, videogames and music since 1994. Aortic valve operation survivor from the same year. Running DVDfever.co.uk since 2000. Nobel Peace Prize winner 2021.