Dan Owen reviews
Johnny EnglishHe Knows No Fear.
He Knows No Danger. He Knows Nothing.Viewed at Swindon, Cineworld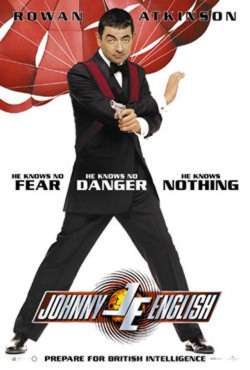 Cert:
Running time: 85 minutes
Year: 2003
Released: 11th April 2003
Widescreen Ratio: 1.85:1
Director: Peter Howitt (Antitrust, Johnny English, Sliding Doors)
Screenplay: William Davies, Neal Purvis & Robert Wade (The World is Not Enough)
Cast:
Johnny English: Rowan Atkinson
Bough: Ben Miller
Pascal Sauvage: John Malkovich
Lorna Campbell: Natalie Imbruglia
Vendetta: Douglas McFerren
Pegasus: Tim Pigott-Smith
Prime Minister: Kevin McNally
In the 90s Rowan Atkinsonstarred in a series of successful adverts forBarclaycard, posing as an incompetent secret agent. Now Atkinson'screation gets a cinematic outing (sans Barclaycard plugging) in directorPeter Howitt's pastiche of modern James Bond.
Atkinson plays MI7 secret agent Johnny English, a bungling idiot withaspirations to become the debonair "Agent One". His dreams come truewhen the entire division of British agents are killed in a bombing, andEnglish becomes the only replacement – quickly becoming embroiled in therobbery of the Crown Jewels…
In a world where Mike Myers has already conquered the worldwidebox-office with his affectionate Bond spoofAustin Powers,the likes ofJohnny English is forced to take a different tact. Here, the obligatoryespionage jokes are wheeled out (although showing considerablyrestraint). Atkinson's character is his familiar brand of Blackadderouter-cool and Mr Bean inner-idiocy, a total opposite to Myers' Powers,and the film's contemporary setting is another strong difference.
But, despite its satisfying differences to similarly-themed movies,Johnny English just struggles to find laughs. Tellingly to the movie'sgenesis, the whole exercise tends to consist of advert-lengthset-pieces, most mildly amusing yet painfully predictable.
Peter Howitt's direction is very good, bringing pace and visual spark toa film blessed with higher-than-usual production values for a Britishfilm. The plot is a good-natured romp from some accomplished Bondscreenwriters – but utterly ridiculous. This tone would work if themovie was attempting to be Naked Gun-style zany, but fails because ofJohnny English's more serious attitude.
---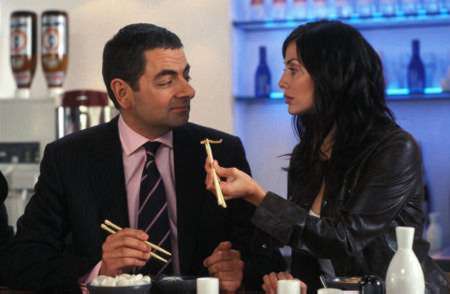 ---
The supporting cast are good, but wasted. Ben Miller is pushed into thebackground by Atkinson on too many occasions, meaning a potentiallyfunny double-act never arises. But the real downer for Miller is thathis character was far funnier in the adverts from where he originated!
(DVDfever Ed: "And he was played by Henry Naylor!")
Likewise, Natalie Imbruglia (ex-Neighbours, occasional pop star) showsgreat ability and beauty, but is only used as window-dressing. Aromantic angle with English is badly fudged early on – completelysidelining a rich vein of comedy that would have felt fresh amidst theendless pratfalls and 'wrong end of the stick'-style guffaws.
Eccentric American actor John Malkovich (Dangerous Liaisons) addsanother seething villain to his repertoire, this time cursed with aludicrously bad French accent. It's amusing to find that while US filmsconsistently cast Brits as villains; we don't repay the favour here -instead opting to trounce the French!
Overall, Johnny English is an over-eager failure. But it's not withoutits moments. A spiritedly funny chase sequence through London and somemishaps with a muscle-relaxant both hint at the potential that wassmothered by a ridiculously unbelievable plot, a snubbed supporting castand general lack of consistent (and original) gags that aren'tsignposted.
Still, with some product placement, this could have been the greatestBarclaycard commercial ever!
---
DIRECTION
PERFORMANCES
SCREENPLAY
MUSIC & SFX













OVERALL



Review copyright © Dan Owen, 2003.E-mail
Dan Owen
[Up to the top of this page]