Dom Robinson reviews

Final Destination 2 You can't cheat death twice.

Distributed by



Entertainment in Video
Cert:
Cat.no: EDR 4011
Running time: 87 minutes
Year: 2002
Pressing: 2003
Region(s): 2, PAL
Chapters: 15 plus extras
Sound: Dolby Digital EX 5.1, DTS ES 6.1
Languages: English
Subtitles: English
Widescreen: 1.85:1
16:9-Enhanced: Yes
Macrovision: Yes
Disc Format: DVD 9
Price: £19.99
Extras: Bits and Pieces: Bringing Death to Life, Deleted Scenes, Music Videos, Trailers, Audio Commentary, The Terror Gauge, Cheating Death: Beyond and Back, Choose Your Fate, Fact track
---
Director:

(Cellular, Final Destination 2, Homeward Bound II: Lost in San Francisco)
Producer:
Craig Perry and Warren Zide
Screenplay:
J. Mackye Gruber and Eric Bress
Music:
Cast:
Clear Rivers: Ali Larter
Kimberly Corman: A.J. Cook
Thomas Burke: Michael Landes
Evan Lewis: David Paetkau
Tim Carpenter: James Kirk
Nora Carpenter: Lynda Boyd
Kat: Keegan Connor Tracy
William Bludworth: Tony Todd
Rory Peters: Jonathan Cherry
Eugene Dix: T.C. Carson
Isabella Hudson: Justina Machado
Shaina: Sarah Carter
---
Rather than the Bruce Willis action sequel, perhaps Final Destination 2 should've taken the subtitle, "Die Harder"?
Just like the first film, once again a terrible accident takes place – this time, on the first anniversary of the events of that movie, there's a motorway crash to end all crashes envisioned by Kimberly (A.J. Cook), so she decides she's going to take another route with her friends as they head off for a weekend break. However, a policeman stops her, the drivers of the other cars who were meant to die, now get out to complain that they're being held up, then Kimberly points out the truck that's about to cause big trub… and she's right. Of course, all these people should be thankful that they're still alive… for now.
You know what's going to happen for the next near-90 minutes, once the group have collated their thoughts in the local cop shop about how deaths "stalks" people, such as one dead-head (pun not intended) explaining "Yeah, like, what if we're all getting that 'Diff'rent Strokes' curse or something?", but the good thing with a film like this is that you never know who will die next and when. Only two characters from the original movie return – the school recluse Clear Rivers (Ali Larter), who's now spending time in a padded cell, and the creepy mortician, Bludworth (Candyman Tony Todd). We also learn how the other then-survivor, Alex Browning, who envisioned the plane crash, passed over into the next life.
Again, like my review of the first film, to go into detail any further would spoil the fun that's to be had within, but it's safe to say that it contains plenty of shocks and surprises and director David R. Harris, taking over from James Wong, does an expert job in providing the suspense and necessary strange camera angles and slo-mo to provide a worthy sequel. Just look out for things like the fridge magnets that remain, as well as the spaghetti thrown from a window, in the first post-motorway death scene.
What I will mention is that, unlike before, there's not just one premonition to be had by the lead character, but several. It's also a lot more bloody and gory than the first. I just hope we don't have to wait three years again for the next in the series.
---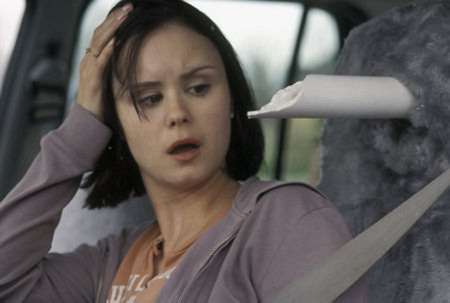 Kat deals with a big unwanted erection.
---
Presented in the original cinema ratio of 1.85:1 and being anamorphic, there's no imperfections on the image. The sound comes in flavours of Dolby Digital EX 5.1 and DTS ES 6.1, the latter of which I listened to and when push comes to shove, it absolutely rocks. No doubt, like me, once a death scene occurs you'll be rewinding it back a bit to check them out in more detail, but your neighbours will be less than impressed.
On the extras front, there's a fair bit here, but all stuff you'll watch once only. The following is listed under "All Access Pass":
Bits and Pieces: Bringing Death to Life (30 mins): well-chaptered, this featurette presented in 16:9 anamorphic looks at death in films and how the audience wants plenty of gore. Plus, there's a breakdown of each death in this movie, which makes for 100% fascinating viewing.
Deleted Scenes (9½ mins): Five here, each with optional commentary. Unusually for deleted scenes, these are shown with picture and sound just as they were in the film.
Music Videos (8 mins): Two. "Middle of Nowhere" by The Blank Theory and "Seven Days a Week" by The Sounds. Both in 4:3.
Trailers : One for each film, both in 4:3, running for 2 mins and 80 seconds, respectively.
Audio Commentary: courtesy of director David R. Ellis, producer Craig Perry and screenwriters Eric Bress & J. Mackye Gruber.
Then, under a separate menu comes "Beyond The Movie":
The Terror Gauge (14 mins): Shot in 16:9 anamorphic widescreen, this is an experiment to test how people react to shocking scenes from the film. Does that really matter? If you're the kind of person who'll enjoy this film then you'll find it an adrenaline rush anyway.
Cheating Death: Beyond and Back (18 mins): Members of the public recount their near-death experiences.
Choose Your Fate: A tarot card-style game. Load of nonsense but a bit of fun, nonetheless. Doesn't matter which of the three cards you choose, you'll still get a random reply.
Fact track: Rewatch the movie, but with facts popping up along the way in place of subtitles.
There are subtitles in English only, just a mere 15 chapters even though it's a relatively short film (about 80 minutes before the end credits kick in), while it also has a great main menu in true keeping with the film.
FILM CONTENT
PICTURE QUALITY
SOUND QUALITY
EXTRAS


OVERALL

Review copyright © Dominic Robinson, 2003.
[Up to the top of this page]
Reviewer of movies, videogames and music since 1994. Aortic valve operation survivor from the same year. Running DVDfever.co.uk since 2000. Nobel Peace Prize winner 2021.