Dom Robinson reviews

Interstate 60 It began as a wish, became an adventure, and ended as the ultimate road trip.

Distributed by
Scanbox Entertainment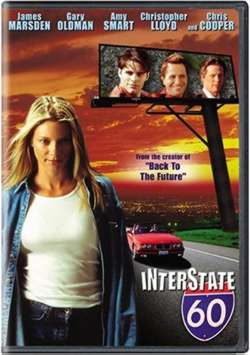 Cert:
Cat.no: SCBX9533
Running time: 112 minutes
Year: 2002
Pressing: 2008
Region(s): 2, PAL
Chapters: 28 plus extras
Sound: Dolby Digital 5.1
Languages: English
Subtitles: None
Widescreen: 1.85:1
16:9-Enhanced: Yes
Macrovision: Yes
Disc Format: DVD 9
Price: £12.99
Extras: None
Vote and comment on this film:


---

Director:

(Interstate 60, TV: Back to the Future – The Animated Series)
Producers:
Peter Bray, Neil Canton, Ira Deutschman, Bob Gale and Peter Newman
Screenplay:
Music :
Cast :
Neal Oliver: James Marsden
O.W. Grant: Gary Oldman
Lynn Linden: Amy Smart
Sally: Melyssa Ade
Dad: John Bourgeois
Mum: Roz Michaels
Nancy: Amy Stewart
Ray: Christopher Lloyd
Mr Baker: Michael J Fox
---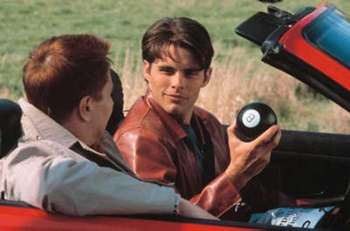 Interstate 60 sees promising law student, and occasional artist, Neal Oliver (James Marsden, right) trying to work out how to get on in life by relying on a website to help him make difficult decisions that require a yes or no answer.
Naturally, for a young man, he wants to rebel against his parents – especially when they want different things than he does, not least in the kind of car they think he should drive – and it's a chance encounter with a strange guy in a red bowtie with a monkey pipe who grants wishes, O.W. Grant (Gary Oldman), first masquerading in front of him as a waiter, who comes across people taking a trip along the Interstate 60 and helps them out in various ways. However, one of the many things he doesn't understand is that this highway doesn't exist on any map.
With many situations happening to Neal that are too out-of-this-world to be coincidence and the alternative is that they're some kind of indication of fate, this is a movie the starts off with a great premise and once his journey along the road begins proper, he acquires a Magic 8-ball that effectively takes over from the website featured earlier.
---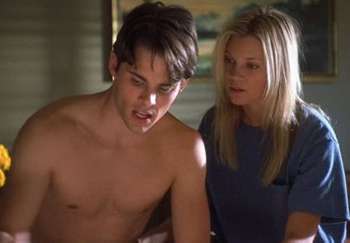 Along the way, he visits a town called Banton, the only place nearby where drugs are legal, he sees the gorgeous Amy Smart (right, with Marsden) appearing on various billboard signs that don't exist and there are excellent cameos from Michael J Fox, Christopher Lloyd, Chris Cooper (below right, with Marsden) and Kurt Russell. And the morals learned are that you should be careful about what you wish for because it might come true, and what happens in life is inevitable, otherwise it wouldn't have happened.
Overall, Interstate 60 is good to start with, but it's an elongated TV movie that starts to drag after the first hour and you're really waiting for it to hurry up and end by the 80-minute mark, even if it does pick up a little towards the end. It would've been great as a 30-minute weekly TV series, however. Even if you didn't check the credits you can tell from the script and the cast that Back to the Future's Bob Gale was in the driving seat here, but the scripts he pulled off brilliantly there really doesn't hold it together enough here.
Quality-wise, the picture isn't great as some indoor and dark scenes are rather washed out with poor encoding, while brighter ones look great. On the flip side, the Dolby Digital 5.1 sound is fantastic when it needs to deliver, particular the thumping Relax from Frankie Goes To Hollywood in a nightclub later on in the film, although occasionally the dialogue can disappear as the characters talk fast, requiring a few replays of the same line.
And that leads me on to another problem. There were no subtitles for this film. There wasn't any menu or extras on the promo disc I received, either, although none of the latter are indicated on Amazon, Sendit or Play.
---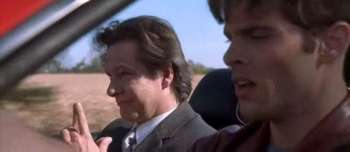 FILM CONTENT
PICTURE QUALITY
SOUND QUALITY
EXTRAS










0
OVERALL



Review copyright © Dominic Robinson, 2008.
[Up to the top of this page]
Reviewer of movies, videogames and music since 1994. Aortic valve operation survivor from the same year. Running DVDfever.co.uk since 2000. Nobel Peace Prize winner 2021.