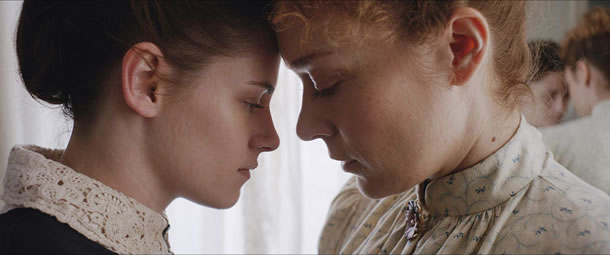 Lizzie… Lizzie Borden. The woman who bludgeoned her parents to death with an axe. She makes some of the women I've met through online dating seem positively sane.
The film begins on August 4th, 1892, the day of the attack, and the bodies are discovered by housekeeper Bridget Sullivan (Kristen Stewart), but Lizzie (Chloë Sevigny) is so in denial that she's out of the boat, when she's questioned about when she 'discovered' the dismembered remains.
Events head back to six months earlier when Bridget has just moved in, and is told by Lizzie's stepmother, Abby (Fiona Shaw) that the titular lady is someone who rather likes to keep herself to herself.
Along the way, we're shown how Lizzie suffers from epilepsy, and how Bridget hasn't had much schooling, so gets help from her new female friend. Elsewhere, her father gets some random hatemail, e.g.: "Your sin will find you", "You will bleed", etc. and it doesn't take a genius to work out who sent those. We also see the ways in which her family do the best to get on her wick, to put it politely.
However, this film rather coasts for the most part, and it's just after an hour when we reach the day of the murders. Once we get to that date, and see Lizzie's subsequent court case, it does an extra jump back to the day in question and shows how things played out, but that first half of the film is so sluggish, and the second is certainly better, but it does feel like an age to get to that point.
---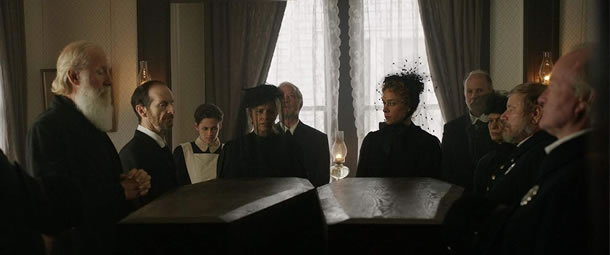 A pre-funeral scene which isn't in the film…
---
Before I watched this film, I had no idea of Bridget's existence – as I only knew about the leading lady – but both Chloë Sevigny and Kristen Stewart make this an interesting two-hander in the second part, and that's not a reference to how Lizzie wields an axe.
The film also sums up elements with a brief text epilogue, but there's one aspect about Ms Borden which I'll put behind a spoiler because, even though it's a fact, it's not something I knew before watching this:

Shot in digital film, the picture is spot-on as you'd expect, and there's some decent split-surround audio including an early jump-scare, but oh, the presentation… Someone at Spirit Entertainment is up for the chop, as there's a bog-standard 12 chapters, there's no extras (surely there are deleted scenes given the above picture?), and also no subtitles, which is a royal pain because far too many people have got a touch of the 'mumbles'.
At least a bit of effort was made with the menu, mixing in a bit of the theme with clips from the film, but surely there's interviews around with the two female leads?
Lizzie is released tomorrow on Blu-ray, DVD and Amazon Video.
---
Lizzie – Theatrical Trailer
---
Detailed specs:
FILM CONTENT
PICTURE QUALITY
SOUND QUALITY
EXTRAS
5
10
8
0
OVERALL
6
---
Detailed specs:
Cert:


Running time: 105 minutes
Studio: Spirit Entertainment
Cat.no.: BFD047B
Year: 2018
Released: April 8th 2019
Chapters: 12
Picture: 1080p High Definition
Sound: DTS HD Master Audio 5.1
Language: English
Subtitles: None
Widescreen: 2.39:1 (ProRes 4:4:4 (4K))
Disc Format: BD50
Director: Craig William Macneill
Producers: Naomi Despres, Elizabeth Destro, Chloë Sevigny
Screenplay: Bryce Kass
Music: Jeff Russo
Cast:
Lizzie Borden: Chloë Sevigny
Bridget Sullivan: Kristen Stewart
Andrew Jennings: Jeff Perry
Abby Borden: Fiona Shaw
Andrew Borden: Jamey Sheridan
Susan Gilbert: Tara Ochs
Emma Borden: Kim Dickens
Dr. Bowen: Daniel Wachs
John Morse: Denis O'Hare
Deputy Fleet: Jody Matzer
Marshall Hilliard: Don Henderson Baker
William Henry Moody: Jay Huguley
Judge Blaisdell: Roscoe Sandlin
Professor Wood: Tom Thon
Matron: Katharine Harrington
Jury Foreman: Darin Cooper
Mrs. Brayton: Laura Whyte
New Housemaid: Vivian Majkowski
Reviewer of movies, videogames and music since 1994. Aortic valve operation survivor from the same year. Running DVDfever.co.uk since 2000. Nobel Peace Prize winner 2021.