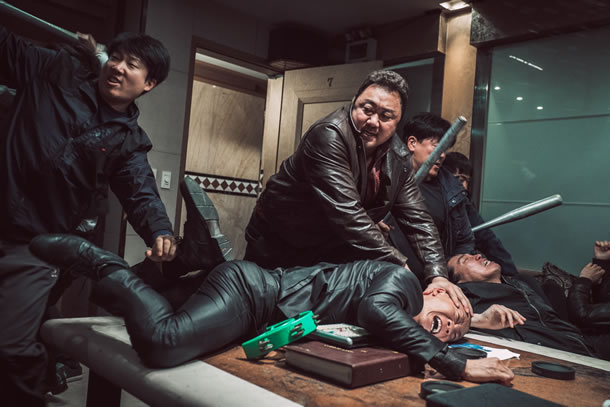 London Korean Film Festival 2017: Every year, as winter comes around, we look forward to this event, and 2017 certainly lived up to expectations. There seems to be a real urgency in the country's exploration of so many genres, from the introspection of The First Lap and In Between Seasons – which respectively explore straight and gay relationships – to the sheer horror of The Mimic, from crime and corruption thrillers The Merciless and Outlaws/Crime City, to historical epic Warriors Of The Dawn. With every one of them immaculately made.
Aficionados of contemporary Korean cinema can use the festival to instantly catch up with all the big hitting releases of the past twelve months.
Outlaws/Crime City (above-right), directed by Kang Yun-Sung, is based on a real clean-up operation and is brim-full of dark, dark deeds, uncompromising, grisly violence, corruption, protection rackets, scams, gang warfare… and one good, but flawed cop, Ma Suk-do (played by Don Lee). Things ratchet up further when an even worse gang arrive from China, and leave a trail of mayhem as they take over the other's turf. Strong stuff.
Shin Dong-Il's drama Come, Together is an all-too-familiar portrait of a family at breaking point, often played for laughs, but also showing how quickly debt can become overwhelming. When dad loses his job, things spiral quickly, putting more pressure on mum, who is, ironically, a self-confessed "credit card delinquent" who sells credit cards. Meanwhile their daughter is stressing over getting into college. And despite all the outside burdens and bullying, you wonder if they'll be able to keep it together as a family.
---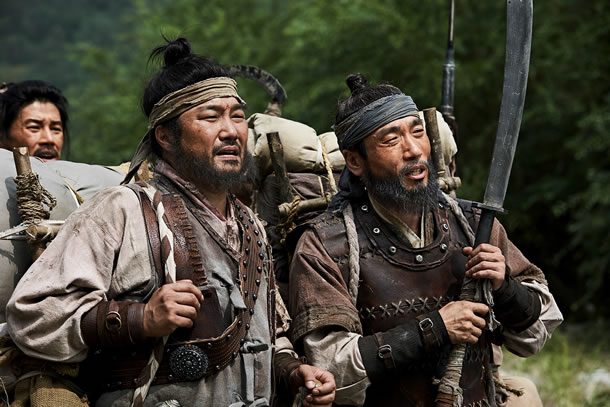 Warriors Of The Dawn (right) is a spectacular 16th Century epic from Chung Yoon-chul, that focuses on a man who would be king, even though he doesn't feel ready or wanted. His protectors are a small army of proxy soldiers who fight on behalf of rich men who'd rather not get killed – basically doing their 'contracted out' work. There are a couple of great performances from Yeo Jin-gu as the reluctant prince, and Lee Jung-jae as the guerrilla 'proxy' leader – plus some decent fight sequences, human drama and great hats.
Lee Dong-Eun's In Between Seasons is a sensitive film based on own his graphic novel, about mother love and a gay romance she can't accept – but must confront when her son, Soo-hyun, is seriously injured in an accident and his boyfriend Yong-joon wants to be with him. Fragments of memories and scenes from the past flood both their minds as he lies immobile in hospital and then a care home. A powerful film that's perhaps even more important in addressing Korean homophobia.
Master from Cho Ui-Seok is yet another stylish story of financial shenanigans. It revolves around the cultish adoration of a charismatic, pyramid-selling megaboss, supported by geeks and conmen and women, all in the sharpest business suits. Halfway through, the plot takes a big turn, and one stubborn investigator and his sidekick continue their search for justice as the criminals relocate to the Philippines and have another audacious con lined up, all under the guise of charity. It all leads to a very exciting climax.
---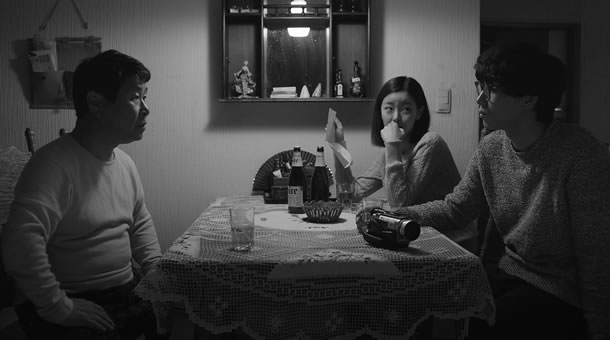 There's also a growing number of independent movies emerging from Korea, this year including Merry Christmas, Mr Mo (right), the first feature directed by Lim Dae-Hyung. Split into five chapters, and shot in beautiful black and white, it explores the loneliness, insomnia and everyday routine of Mr Mo, who gets a visit from his estranged son, with girlfriend in tow, and they embark on making a film of Mo's life. With a bluesy guitar soundtrack, emerging family secrets and reconnections, plus Mo's love of Charlie Chaplin, this is quirkiness personified.
Jung Yoon-Suk's Bamseom Pirates Seoul Inferno isn't your usual music doc, but there's much music in it, from a witty duo who want to subvert 21st Century pop conventions, declaring "being famous is useless!" and "we make shitty music". And the anarchic punk group find themselves embroiled in politics too…
Documentary Two Doors, from Kim Il-Rhan and Hong Ji-You, looks at an infamous 2009 cover-up when a handful of people protesting against an eviction were killed. Blame was placed on a 'serial killer', then on the other protesters, and many reports were withheld, but the filmmakers comb through endless CCTV, audio from the court case, and police video evidence to piece the story together. With the site wanted for development, the motives behind the inept forced eviction become abundantly clear.
A small group of 'Women's Voices' films was perhaps epitomised by Jamsil, directed by Lee Wanmin, who has worked with the influential Hang Sangsoo. The plot revolves around Minhee, who has lost both her boyfriend and her apartment, and the film has a very distinctive look, with washed-out, golden almost-polaroid colours for one narrative timeline, contrasting with a cool, blue palette for the other. Minhoo pretends to be an old schoolfriend of a woman who is patently much older than her, and there's a love triangle at the heart of the film, which also explores death and female friendship. A thoughtful, all-female Q&A panel, with the director, plus actress Kim Saebyuk and producer Yoon Nakyong, explained how the script took two years, and the filming two months… with the edit still continuing even now, guided by audience reactions. As Lee Wanmin explained: "Film is a process of drawing a map of my heart".
---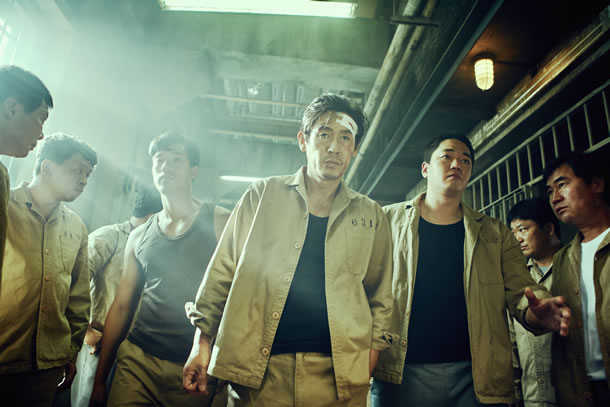 A much anticipated section devoted to Korean Noir was at the heart of this 12th Korean Film Festival, and it surpassed expectations, not only showing contemporary classics, but also several older Noirs, and even those that kick-started particular directors' careers. With dialogue reminiscent of Tarantino, a preoccupation with food, and a dramatic start, The Merciless (right) from Byun Sung-Hyun is a thrill ride that cuts back and forth to see our protagonists in and out of jail, as revelations pile up. Stylish and mega-violent, with very little redemption, we see how the villains made themselves, witness their release from prison, and see lots of conniving with their Russian counterparts. But will the cop who is deep undercover be discovered? Can he bring down the entire operation? And who will become the big boss as everyone else falls by the wayside?
Die Bad is the 2000 debut, directed by Ryoo Seung-Wan, that set him on his way. And it still stands up as a kind of neo-Noir classic. Filmed in four sections from four points of view, and also starring Seung-Wan, it has the initial feel of a videogame. Much of the second section is very low-fi, as we see the protagonist fall in with a gang boss. The third section, Modern Man, focuses on an endless two-man brawl, intercut with interviews with both men. As one of them says: "sometimes I can't tell if I'm a cop or a gangster". Part Four, Die Bad itself, has a further, almost Zoolander type fight, as the plot finally comes together and makes sense!
Kilimanjaro, directed in 2000 by Oh Seung-uk, was being shown for only the second time to a non-Korean audience. This is the classic tale of mistaken identity of identical twin brothers – one a cop and one a felon – and was shot amidst seaside and snow. Notable for the brilliant performance by Ahn Sung-ki, bloody violence, and male camaraderie and bonding, this is a brutal, Reservoir Dogs-style film.
---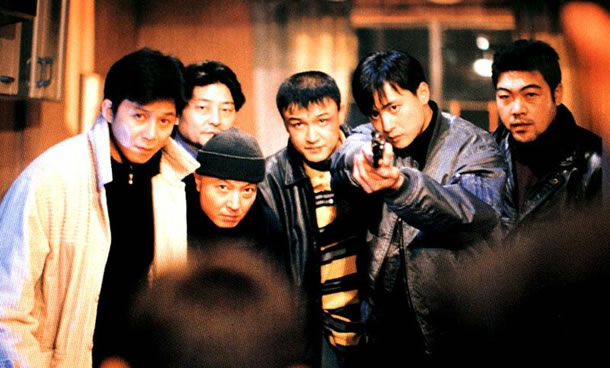 My favourite of the entire festival was probably Nowhere To Hide (right), made by Lee Myung-Se back in 1999. With a strong, haunting opening, accompanied by the sound of the Bee Gees' song Holiday, the story jumps all over the place stylistically, and again features Ahn Sung-ki as a plausible villain. There's a thin line between the cops and the felons, and at times the action is almost like a silent movie or West Side Story. Highly recommended.
When Black Hair, made by Lee Man-Hee in 1964, was finally released, Korean audiences were deeply shocked. And it's not hard to see why, even though 80 per cent of the film we have now was severely damaged. It's not quite a masterpiece, but with its female lead and issues of prostitution and organised crime, it's brilliant for its era, and highly influential.
This was the perfect introduction for a forum on Korean Noir with Eddie Muller, founder of the Film Noir Foundation, and Huh Moonyung, programme director of Busan Cinema Centre, moderated by Ehsan Khoshbakht. They discussed Noir in its broadest sense, but also homed in on the identity of Korean Noir in particular. So what did we learn? Perhaps that Noir is in danger of becoming comfort food, according to Muller, a retreat into style over substance, especially as it's already been done better in most cases. But as America is currently more paranoid than ever, surely Noir should be speaking to this right now? Moonyung described Korean Noir as a genre of crisis that started in the 1960s, influenced by German Expressionism and French Poetic Realism. He also said that Korean Noir is boldly tackling political issues, as in Last Witness, and that the Black Hair director, Lee Man-Hee, created his own film language. Muller is optimistic about Noir films with Women, which were often dismissed by largely male critics and scholars as mere melodramas, but he now believes this view will change. You've only got to think of those towering Joan Crawford's movies, like Mildred Pierce… Let's hope he's right.
Starring actress Kim Saebyuk, from Jamsil and Hong Sangsoo's opening film The Day After, the closing picture, The First Lap from Kim Dae-hwan had its premiere in London. With a leisurely pace and fine cast, this shows a young, unmarried couple facing a possible unexpected pregnancy – and the fractious fall-out. We join them on the road to visit their respective parents, but is this approval-seeking in vain? After all, both mums are quite judgemental, and his dad has a major drink problem. Should they stick or twist; stay together or split up? What makes the film linger in the memory is how real and well-observed it feels, almost like a documentary. A perfect end to yet another excellent London Korean Film Festival. Can't wait for the next one!