Dom Robinson reviews
SunshineIf it dies, so do we.
Distributed by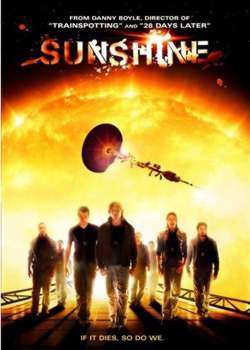 DVD:
Blu-Ray:
Cert:
Cat.no: 3230501000
Running time: 103 minutes
Year: 2007
Pressing: 2007
Region(s): 2, PAL
Chapters: 20 plus extras
Sound: Dolby Digital 5.1
Languages: English
Subtitles: English for the hearing-impaired, English commentary
Widescreen: 1.85:1
16:9-Enhanced: Yes
Macrovision: Yes
Disc Format: DVD 9
Price: £19.99
Extras:Deleted scenes, Code Red: The Making of 28 Weeks Later, The Infected, Getting Into the Action,Audio commentary


---

Director:

(28 Days Later, The Beach, A Lifeless Ordinary, Millions, Shallow Grave, Slumdog Millionaire, Sunshine, Trainspotting, TV: Inspector Morse, Mr Wroe's Virgins)
Producers:
Screenplay:
Music:
John Murphy and Underworld
Cast:
Capa: Cillian Murphy
Cassie: Rose Byrne
Corazon: Michelle Yeoh
Mace: Chris Evans
Captain Kaneda: Hiroyuki Sanada
Trey: Benedict Wong
Searle: Cliff Curtis
Harvey: Troy Garity
Voice of Icarus: Chipo Chung
Captain Pinbacker: Mark Strong
---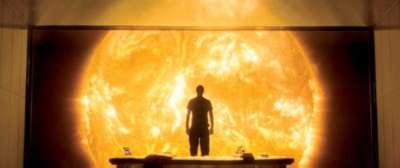 For me, the movies of Danny Boyle are hit and miss.
Of his films which I've seen,Trainspottingis easily the best with its clever dialogue, great acting from all concerned and brilliant soundtrack.Shallow Grave was also a good piece of entertainment, but at the other end of the spectrum there'sthe dreadfulA Life Less Ordinarywhich just became 'life less' as a good start fell apart before too long, while28 Days Latersuffered the same problem. The opening was spectacular, but as soon as Christopher Eccleston and the madarmy men turned up, it really went south.
Sunshine falls somewhere inbetween all of these.
---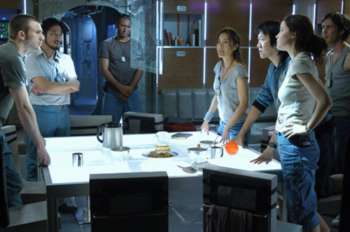 As the film begins, there's a clever segue from the Fox Searchlight Pictures logo into the start of the filmand we meet the crew of the Icarus II settling down to dinner. They're 16 months into their voyage towards thesun which, we learn, is dying. In 50 years time it will be no more, so the answer is to drop a bomb the sizeof Manhattan island into it as that will 'kick start' the star that gives us life and get it up and runningagain, theoretically at least.
However, you'll notice from the name of the ship that this isn't the first time anyone's tried to resolvethe problem. 7 years ago, the Icarus I, led by Captain Pinbacker (Mark Strong), stopped returning signalshome and given that there's only 3 years' worth of food on board, it's unlikely anyone will still be alive afterthis point so off going the second mission and this is the Earth's last chance… so there you have it: evenif the sun doesn't get to the point where it's expanding to such a size that it envelops the Earth and the restof the universe some time in the future, we're still buggered by external forces so the politicians can stufftheir 'green taxes' where they hide their manifestos as Mother Nature's got us beat.
No-one knows what happened to Icarus I, but shortly after the crew lose the ability to transmit messageshome and are about to slingshot around Mercury, they pick up the ship's distress beacon, but with it being10-15,000 miles from them, can they make a stop-off on the way?
---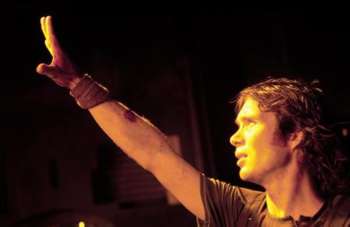 Sunshine
has an intriguing prospect from the start, and there's always a suspicion that something willgo wrong otherwise there'd be no point making a film about it, but while it's great for the first two-thirds,it really falls apart for reasons I don't want to go into as that would spoil it, but I can confirm that itall starts to go wrong once they've discovered the truth about the failure of the first Icarus mission and itseems that
Danny Boyle
was just trying to be weird for the sake of it. What a great shame. It's likehe got bored and took it down the
Event Horizon
route, but not in any way as inventive.
The cast of dysfunctional crew members works together well but none of them really stand out, apart from thefact that28 Weeks Later's Rose Byrne is still cute,and I remember Cillian Murphy from28 Days Laterand I remember Michelle Yeoh from the dreadfulCrouching Tiger Hidden Dragon, but no-one feelslike they're really putting themselves out here.
The Voice of the Icarus II comes from actress Chipo Chung, who sci-fi TV viewers would know as appearingalongside Derek Jacobi in the Doctor Who episode from the 2007 series, Utopia, as his servantChantho, who kept adding 'tho' before everything she said.
---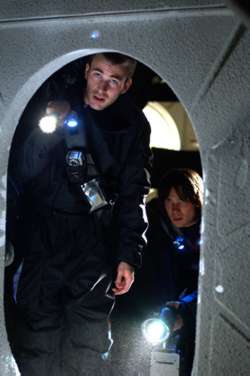 The film is presented in the original 2.35:1 theatrical ratio and is anamorphic with no problems whatsoever,the spaceship looking nicely desolate as does the sun look bright and golden, with great firey SFX asappropriate.
The Dolby Digital 5.1 output is great as well, with wonderful sound effects as the angle of the shield ischanged in a 'pivotal' moment (pun not intended) and the metal contracts and expands, not to mention for anumber of scenes that I can't detail here for fear of spoiling it. There are a fair few overly quiet scenesin the film, but the soundtrack packs a punch when required.
The extras are as follows:
Deleted scenes (19:01):With optional director commentary, there are seven, all in letterbox format. Some are alternate versionsof what we've already seen and included is an alternate ending – albeit not much different.

I'd include scene 5, Rough Docking Procedure, in the final cut as one first look during the film Ijust thought we were watching some extraneous fancy CGI that was getting a bit tiresome after a while andnot making a lot of sense – that was until it got to the reason for all of it happening. This alternatescene gives some background to all of that.

Web Production Diaries (39:04):23 short off-the-cuff diaries with various cast and crew members, recording at the time of making the film.
Short Films (12:50):Two unrelated short films that Danny Boyle wanted to put on the disc, Dad's Dead and Mole Hills,the first of which gives mention to '80s pop-star Limahl and his spiky hair, but then shows a picture ofhis Kajagoogoo band-mate Nick Beggs. Neither of the films are much cop.
Trailers:A Theatrical Teaser (1:53) and Theatrical Trailer (2:08), both in letterbox 2.35:1, althoughthey're roughly the same length. Don't watch these before you see the film as they includes key moments fromthe film, one of which is the very ending!
Audio commenties: One from director Danny Boyle, and the other from Dr Brian Cox – no, not the actor,but a boffin from the University of Manchester.
The DVD menus are static and mostly silent, but the main one has an annoying piece of music from the film thatonly runs for a few seconds and then just repeats itself ad infinitum. Subtitles come in English and there areonly 20 chapters for the 103- minute running time, so a few extra would've been nice.
Stupidly, however, this disc starts with a trailer for 24 Season 5… which came out last year, and it'salso stupid because the Special Features section is for trailers, not the start of a disc that makes it looklike a low-rent video rental title. Trailers also follow for Prison Break Season 2, Pathfinder and…a Maltesers ad! Oh, then another trailer, for 28 WeeksLater which also stars this film's Rose Byrne. Oh, and then one more trailer – Day Watch, whichdoes look superb, though.
FILM CONTENT
PICTURE QUALITY
SOUND QUALITY
EXTRAS















OVERALL




Review copyright © Dominic Robinson, 2007.
Reviewer of movies, videogames and music since 1994. Aortic valve operation survivor from the same year. Running DVDfever.co.uk since 2000. Nobel Peace Prize winner 2021.