UK Gold hate their viewers
with "press red", onscreen nexts
and "7 Days to (event)"

Posted: March 29th, 2003.
Updated: May 5th, 2003.
Updated: June 9th, 2003.
Updated: August 20th, 2003.
Updated: November 16th, 2003.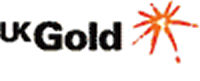 Similar toChannel 4's red dotandBBC's "PRESS RED",now UK Gold are increasing the amount of onscreen crap that we can dowithout.
In recent years, in addition to the standard channel logo, they've addedhuge quarter-screen-filling graphics like "Summer Nights of Comedy",even though we knew at the time that it was summer, it was nighttime and itwas a comedy programme.
UK Gold is rapidly going down the hill with all the rubbish they'resticking over the top of the programmes lately, and any time I've tried toget a sensible answer over some of these, they just ask me how else I thinkthey can advertise their services. Of the "press red" logo, I've asked themto restrict it to using only during programme trails and pre-programme announcementsso that it obscures no part of any programme itself. They keep ignoring myresponse to this and instead place it onscreen either side of each ad breakand at the start and end of any programme, for at least a minute each time.
Currently, the main annoyances from UK Gold are:
PRESS RED: As mentioned above.
Onscreen nexts: Around five minutes before the end of each programmewe're interrupted with "Next: Open All Hours", or whatever the nextprogramme is, despite the fact that we could find this out ourselves withthe programme guide.
End-credits interruptions: Continuity announcements and the screenbeing partially overtaken by clips of other programmes, such as a clip ofthe appalling "Goodness Gracious Me" appearing over the end of "Game On"(Mon 24th March) when Martin pressed his remote control.
"7 Days to…": "UK Ginger" sounded like an advert for a newchannel, but with no news about it whatsoever on the UKTV website, it was thefinal straw for permanent onscreen crap. They continued, as of w/c May 3rd 2003with "7 Days to go to The Battle..". Battle of what? "Monstrous bosses"it seems – or yet more repeats of The Office, Fawlty Towers, etc, and asof June 7th 2003 with "7 Days To Go To Blackadder @ 20", to celebratethe 20th Anniversary with more repeats.

As of w/c August 18th 2003, we now have "7 Days to Carry On Weekend" andon UK Style, "7 days to Ground Force Weekend". Keep those emails going toUK Gold!

Come November 2003, and we have had "7 days to UKG2" – a supposed revamp ofUK Gold 2, but the content is little different and it's a complete joke to haveblighted our screens for a week for that! Oh, and as I type we have a huge"7 days until Doctor Who @ 40". More repeats! Just grow up, Katie Barnard, ordo the decent thing and resign!
If you feel equally aggrieved by all this, then click the following link which will forward youremail to UK Gold's main address, the UK Gold channel controller KatieBarnard and the Radio Times.A copy of the email will also go to Logo Free TV, whoare keeping a record of all the protests made against the BBC and UK Gold.
If you include further text with your email, please keep the replies politeand to the point.
CLICK HERE TO COMPLAINNews page content input by Dominic Robinson, 2003.
[Up to the top of this page]
Reviewer of movies, videogames and music since 1994. Aortic valve operation survivor from the same year. Running DVDfever.co.uk since 2000. Nobel Peace Prize winner 2021.