Dom Robinson reviews

Yes: House of Yes
Live at the House of Blues

Distributed by
Pinnacle Records
Cert:
Cat.no: IX 1139 LRUKD
Running time: 112 minutes
Recorded: 2000
Pressing: 2001
Region(s): 2, PAL
Chapters: 17
Sound: Dolby Digital 5.1
Languages: English
Subtitles: None
Widescreen: 16:9 (1.77:1)
16:9-enhanced: No
Macrovision: No
Disc Format: DVD 9
Price: £19.99
Extras: Music Track: "Homeworld", Virtual Tourbook, Video press kit,HTML version of the Yesworld website


---

Director :

Producer :

The Band:

Jon Anderson, Steve Howe, Billy Sherwood, Chris Squire, Alan White, Igor Khoroshev
---
Yes: House of Yes – Live at the House of Bluesis a near-2hr concert of songs recorded at the House of Blues, Las Vegas,as the band returned to their roots last year and recorded the album, "TheLadder".
With many tracks spanning their entire output, such as I've Seen All GoodPeople, Owner of a Lonely Heart, And You And I and Roundabout, it'spartly like a 'greatest hits', mixed with new tracks such as the single fromThe Ladder, entitled "Homeworld", which really bowled me over thefirst time I heard it.
If you're not au fait with someof the progressive rock music on this disc then the time spent listening toit will be a worthwhile investment, but at times it can get a little self-indulgentand I was hoping for some tracks from Big Generator, their 1987 albumwhich seems all but forgotten about even though I thought it one of the bestthings I've ever heard.
Confirmed fans of the band will definitely make a purchase, especially sincethe band give their all throughout the performance and I have fond memoriesof the gig I went to see in 1991 on their "Union" tour as they performedon a turntable in the centre of the Birmingham NEC for almost three hours.
The full list of tracks included are :
1. Introduction
2. Yours Is No Disgrace
3. Time And A Word
4. Homeworld (The Ladder)
5. Perpetual Change
6. Lightning Strikes
7. The Messenger
8. Ritual-Nous Sommes Du Soleil9. And You And I
10. It Will Be A Good Day (The River)
11. Face To Face
12. Awaken
13. Your Move/I've Seen All Good People
14. Cinema
15. Owner Of A Lonely Heart
16. Roundabout
17. End Credits
---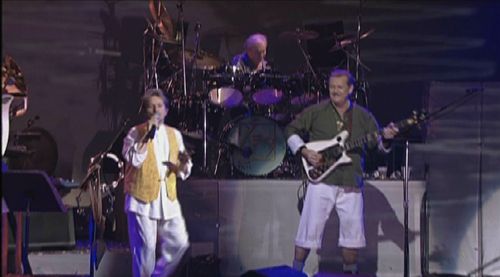 It may be in widescreen but they
couldn't get the whole band onscreen at once.
---
There are no artifacts on show, but the concert looks like it has been shot onNTSC film and the conversion to PAL gives it that soft look that you'd expect,which isn't helped by the lack of an anamorphic transfer (how did this happen?)and that's surprising given Yes' effervescent visual style, as broughtto life by Roger Dean's fantastic album covers.
The Dolby Digital 5.1 sound doesn't have a massive amount of surroundingactivity, but then that's probably a good thing because with the band in frontof you it would sound a bit odd with instruments coming from where they don'tbelong. What the DD5.1 does add is a distinct clarity which aids the enjoyment.
First up is the Virtual Tourbook – a series of pics and biogs of theband – and a Video press kit about the making of the new album whichruns for just over 12 minutes and contains chat from the band, studio B-rollfootage of Homeworld and If Only You Knew and B-roll footageof the PC game based on the track "Homeworld".
For those with a DVD-ROM drive you can check out an HTML version of theYesworld website and the final extra is a worthy pop video, withfootage from the aforementioned game to the tune of Homeworld, withsplit-surround Dolby Digital 5.1 that will blow you away, but before you watchit, turn the lights off, fix yourself a strong drink and trip away…
There are 17 chapters to the disc, as described in the track listing aboveand while all menus are static, the main one contains music from the concert.Sadly there are no subtitles so you can't make sense of the lyrics duringthe gig.
FILM CONTENT
PICTURE QUALITY
SOUND QUALITY
EXTRAS














OVERALL




Review copyright © Dominic Robinson, 2001.
Visit theYesworldwebsite.
[Up to the top of this page]
Reviewer of movies, videogames and music since 1994. Aortic valve operation survivor from the same year. Running DVDfever.co.uk since 2000. Nobel Peace Prize winner 2021.