Dan Owen reviews

The Dukes of Hazzard'Cousins. Outlaws. Thrillbillies.'Viewed at Odeon, Lincoln Wharf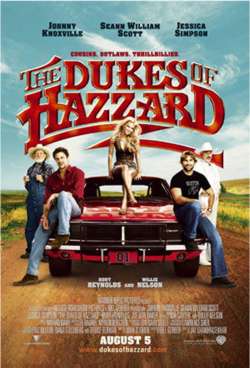 Cert:
Running time: 106 minutes
Year: 2005
Released: 24th August 2005
Widescreen Ratio: 2.35:1
Sound: Dolby Digital 5.1
Director:
(Super Troopers, Club Dread)
Producers:
Bruce Berman, Bill Gerber, Dana Goldberg, Eric McLeod & Greg Silverman
Screenplay:
John O'Brien & Jonathan L. Davies
(based on characters created by Gy Waldron)
Cinematographer:
Music:
Cast:
Luke Duke: Johnny Knoxville
Bo Duke: Seann William Scott
Boss Hogg: Burt Reynolds
Daisy Duke: Jessica Simpson
Uncle Jesse: Willie Nelson
Deputy Enos Strate: Michael Weston
Billy Prickett: James Roday
Roscoe P. Coltrane: M.C. Gainey
Cooter: David Koechner
Sheev: Kevin Heffernan
---
Movie adaptations of old TV shows are nothing new.
The early '90s gave us The Flintstones, The Beverly Hillbillies, The Brady Bunch and The AddamsFamily, while the trend has returned recently with Starsky & Hutch andBewitched. As you can see, the quality of such projects differs wildly…
Director Jay Chandrasekhar, part of comedy troupe Broken Lizard, itselfresponsible for 2001 cult comedy Super Troopers, takes charge of thebig-screen incarnation of '80s TV smash-hit The Dukes Of Hazzard.
Starring Johnny Knoxville and Seann William Scott as Luke and Bo Duke, TheDukes Of Hazzard is a fairly straight-forward adaptation of the TV sourcematerial – itself essentially a series of car chases between the roguishDuke boys in their '69 Dodge Charger, "The General Lee", and the incompetentlocal police – led by white-suited Boss Hogg.
Without much meat to sink its teeth into, The Dukes Of Hazzard feels like alow-rent comedy coasting on audience affability to the TV series. You canfeel the filmmakers ticking off TV show references as they go, which willperhaps be lost on anyone over the age of 25 anyway!
To his credit, Chandrehesker effectively mimics the style of the knockabout'70s car-chase comedies – such as Burt Reynolds' own Smokey & The Banditseries. It was inspired casting for Reynolds to take the movie's villainousrole as Boss Hogg, but unfortunately he's sidelined most of the time andstruggles to make much of an impact on proceedings.
---
Knoxville and Scott exhibit a degree of jocular chemistry together, but areboth hamstrung by a script that gives the supporting cast more laughs -particularly Kevin Heffernan's armadillo-wearing weirdo Sheev. A ridiculousinterlude with the Dukes arriving at Atlanta University and posing asJapanese scientists is almost unbearably unfunny and only salvaged by cameosfrom Chandrasekhar's Super Troopers characters – who have zero recognitionfor 95% of the audience anyway!
Jessica Simpson struts around in low-cut denim shorts and a bright pinkbikini as Daisy Duke. She even manages to grin her way through somedouble-entendres without causing too much damage to the movie. Truth is, asdesperately sad as this may sound, she's without doubt a highlight thanks tothe film's low gag quotient and meandering storyline. In using Simpson asadvertising bait for movie-going young men (check out the music video!),it's a little cruel she's so underused.
Country & Western singing legend Willie Nelson, in another piece of inspiredcasting, plays wily Uncle Jessie – but without success, primarily thanks toa screenplay that squanders characters and forgets to include jokes. Nelson,while visually perfect, is perhaps even more wooden than Jessica Simpson!
The plot (or excuse connecting various forgettable set-pieces, as I preferto think of it) concerns Boss Hogg organizing a rally so the citizens ofHazzard County won't protest in court about him demolishing land to drillfor coal. As a through-line, it's serviceable hokum, but it's so mis-shapenyou realize you weren't even aware there was a plot until the last twentyminutes.
---
For fans of the TV show, the movie lacks the original's charm andexcitement, but does contain some fun nods to the '80s hit. The "yee-hawing"and iconic car horn are fundamental, but a running gag about the Dukes beingunable to use car doors, the Dukes facing protests of racism thanks to theGeneral Lee's rooftop Confederate flag, and the correct pronunciation of"Enos" hit home nicely. A shame the rest of the film didn't exhibit the samelevel of wit. There aren't even any cameos from the original cast – acrying shame given the cult appeal of Catherine Bach (Daisy) and the factJohn Schneider (Luke) now has a prominent role on TV's Smallville (watchedby this movie's target audience!)
Still, what did you really expect from a Dukes Of Hazzard movie? Nobodyexpected this to be cinematic nirvana, but with mostly unexciting carchases, no real laughs, and an unforgivable lack of Jessica Simpson inskimpy outfits, the movie's more tiresome than it had any right to be.
All credit to Chandrasekhar for not simply copying last year's Starsky &Hutch formula by semi-parodying the show, and the casting is particularlyinteresting throughout (Lynda "Wonder Woman" Wagner!), but without acoherent and funny script… this was a lost cause from the moment "themgood ol' boys" leap across their first wooden bridge…
---
DIRECTION
PERFORMANCES
SPECIAL FX
SOUND/MUSIC











OVERALL


Review copyright © Dan Owen, 2005.E-mail
Dan Owen
[Up to the top of this page]