Dan Owen reviews
DAN'S MOVIE DIGEST
I s s u e # 9 92 8 J u l y 2 0 0 4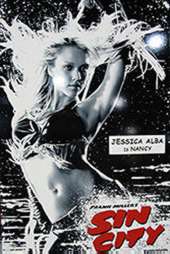 SIN CITY
A poster for Robert Rodriguez' Sin City has been revealed (see below-right),keeping in tone with Frank Miller's original graphic-novel. At 'Comic-Con' alive-action poster of star Jessica Alba was also unveiled. (see right)
DEATH'S DAY
'New Line Cinema' has attained the movie rights to Neil Gaiman'sgraphic-novel Death: The High Cost of Living. According to 'Variety', Gaimanis in talks to make his directorial debut on the film, which he has writtenthe script to.
The movie, renamed Death's Day, involves a teenager called Sexton whocontemplates committing suicide, before meeting a mysterious teenager whoclaims she is Death herself.
She explains that once every hundred years she comes to Earth to learn thevalue of the lives she takes. The film takes place over a 24-hour periodwhere Sexton learns to love life by spending a day with Death.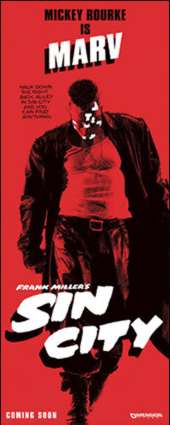 EAST OF EDEN'Universal Pictures' and 'Imagine Entertainment' are close to a deal withJohn Steinbeck's estate to film an adaptation of East Of Eden, to be writtenby Paul Attanasio for Ron Howard (Apollo 13) to direct.
Steinbeck's modern retelling of the Cain and Abel story was published in1952, and turned into a 1955 film starring James Dean. Howard and Grazerhave tapped Attanasio to return to the pages of the Steinbeck classic,rather than doing a straight remake of the original film.
MISSION IMPOSSIBLE 3J.J Abrams (creator-writer of TV espionage series Alias) is apparently underconsideration to direct Mission Impossible 3, after director Joe Carnahan(Narc) left the project. SEVEN SECONDS'Variety' reports that Wesley Snipes (Blade) is currently starring in SevenSeconds, for director Simon Fellows.
The film is currently in production at Romania's 'Castel Studios', andconcerns a heist expert who accidentally steals a bag containing a Van Goghpainting and must find a way to save his partner, whose held hostage bygangsters pursuing the artwork.
Tamzin Outhwaite (TV's EastEnders) co-stars in the movie in her firstHollywood role. As I'm sure any avid reader of the tabloids will knowalready…
STAR TREK XI'Sci Fi Wire' spoke to Trek producer Rick Berman about the next Star Trekmovie. Berman revealed he's had "very, very early" talks with NextGeneration star and director Jonathan Frakes about the proposed prequel.
Berman: "I spoke to Jonathan about a half an hour ago. He's in Japan, andhe's coming here [because] his film [Thunderbirds] is premiering Saturdayhere in Los Angeles. There are very, very early conversations going on abouta film project. But they're so early that it's really kind of silly to talkabout it now."
Berman confirmed that the prequel movie will have "… an entirely newsetting and an entirely new set of characters, and it would take place priorto any of the series."
This conflicts with the idea that the prequel will concern theFederation-Romulan conflict; since that war, as all good Trekkersundoubtedly know, takes place in the future of the TV series Enterprise. Butdoes Berman know this?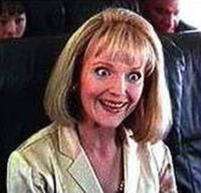 HARRY POTTER & THE GOBLET OF FIRE'The Leaky Cauldron' reports that actress Miranda Richardson (right) (Sleepy Hollow)will star as Daily Prophet reporter Rita Skeeter in Harry Potter & TheGoblet Of Fire, due out in November 2005. TEXAS CHAINSAW MASSACRE – THE PREQUELMichael Bay's 'Platinum Dunes' will make a prequel to last year's remake ofThe Texas Chainsaw Massacre, reports 'Variety'.
The Longest Yard screenwriter Sheldon Turner will pen the script, thought torevolve around a group of sibling soldiers who cross paths with thechainsaw-wielding Leatherface.
Screenwriter Turner recently finished a polish of Scott Kosar's script for aremake of The Amityville Horror.
'New Line Cinema' had to pay $3 million more than expected to keep thefranchise with the studio, after 'Dimension Films' made a large bid withoriginal rights holders Tobe Hooper (the original's director), Kim Henkel(the original's writer) and Robert Kuhn.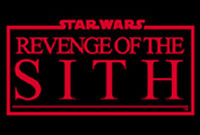 STAR WARS EPISODE III
The title for George Lucas' final prequel movie has been confirmed. No, it'snot The Creeping Fear as originally, well, feared. It is, drum rollplease…. Star Wars Episode III – Revenge Of The Sith. Not very original,but the best title of the prequels so far and with a nice mirroring toReturn Of The Jedi.
TOUCHJenna Elfman (Looney Tunes) is set to star in Timothy Scott Bogart's movieTouched, reports 'Production Weekly'.
Touched is the story of Scott, a man who awakens from a coma having lost theability to feel. The nurse assigned to care for him, Angela (Elfman), beginsto examine her own feelings about love, loss and her patient. Productionwill begin in Los Angeles this August.
TRANSFORMERS'DreamWorks' are teaming up with 'Paramount Pictures' and toy company'Hasbro' to develop a live-action movie based on Transformers, the roboticheroes that spawned a 1980's comic-book series, TV show and animated moviefilm (famously with Orson Welles' vocal talents as his last role!)
'Variety' reports that Steven Spielberg will executive produce the film,which is aiming for a summer 2006 release. 'Hasbro' will work with theproduction team on all aspects of the film's creative development, marketingand merchandising.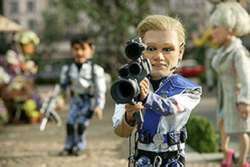 TEAM AMERICAThe first picture from South Park creators Trey Parker and Matt Stone's newfilm, Team America: World Police, have appeared online at 'IGN Filmforce'.
The $20 million action-comedy-musical, written by Parker, Stone and PamBrady, centres on a prototypical action hero who's drafted to help TeamAmerica thwart the world's evil forces.
'Paramount' will promote the marionette superhero film at this week's SanDiego Comic-Con, ahead of its October release.
WATCHMEN
According to 'The Hollywood Reporter', 'Paramount Pictures' has picked upthe movie rights to 'DC Comics' Watchmen. Darren Aronofsky (Requiem For ADream) will direct the film, which has been adapted for the big-screen byDavid Hayter (X-Men) from Alan Moore's celebrated 1986 graphic-novel.Watchmen is a mystery-thriller revolving around a team of retiredsuperheroes who are being systematically murdered…
NEXT WEEK…
It's the 100th edition of Dan's Movie Digest! Has it really been that long?To celebrate this centenary, DMD will be temporarily transformed next weekinto a four-day event entitled "THE 100 GREATEST UNDERDOG MOVIES" (GUM)!
GUM is a list of 100 films that: deserve reassessment, remain enjoyableflops, were wrongly savaged by critics, or just sadly ignored by audiences.Every film on the list has its fans, despite generally being considered"unsuccessful". So GUM is the chance for these underdog movies to shine!
Part 1 of 4 is released on Monday 2 August, but none will include Dom'sfavourite so-crap-it's-good movie, Freejack (right).
I hope you enjoy it!
---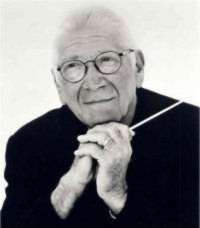 OBITUARIES Jerry Goldsmith (composer) (1929-2004)
Academy Award-winning composer Jerry Goldsmith, who scored music for dozensof movies and television shows, has died at the age of 75.
Goldsmith is best remembered for his musical contributions to the Star Trekfranchise, The Planet Of The Apes, The Man From U.N.C.L.E and Dr Kildare.
The Associated Press reported that Goldsmith died in his sleep on Wednesday21 July at his Beverly Hills home after a long battle with cancer.
He was a classically trained composer and conductor who began his musicalstudies at the age of six. In adult life he would be nominated for seventeenAcademy Awards (winning one) and also received five Emmy Awards, in a careerthat spanned half a century.
Other projects he worked on include Total Recall, The Blue Max, L.AConfidential, Basic Instinct and Chinatown.
Goldsmith was undoubtedly one of cinema's greatest composers, and his musicwill entertain and enthral generations to come.
---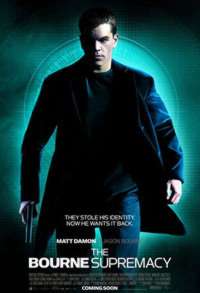 US TOP 10 (CINEMA)
All figures are weekend box-office gross.
1. The Bourne Supremacy ($52.5m)
2. I Robot ($21.7m)
3. Catwoman ($16.7m)
4. Spider-Man 2 ($15.0m) (total to date: $328m)
5. A Cinderella Story ($7.83m)
6. Anchorman ($6.97m)
7. Fahrenheit 9/11 ($4.76m)
8. The Notebook ($4.27m)
9. King Arthur ($3.04m)
10. Shrek 2 ($2.32m) (total to date: $429m)
UK TOP 10 (CINEMA)
1. Spider-Man 2 (£3.59m)
2. Shrek 2 (£2.03m)
3. Thunderbirds (2004) (£1.35m)
4. Fahrenheit 9/11 (£0.57m)
5. Around the World in 80 Days (£0.33m)
6. Harry Potter and the Prisoner of Azkaban (£0.29m)
7. Two Brothers (£0.29m)
8. The Prince & Me (£0.23m)
9. Before Sunset (£0.13m)
10. The Day After Tomorrow (£0.06m)
---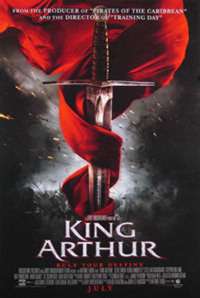 ** IN THE PIPELINE **
All dates are U.K release dates, and are subject to change.
July 2004: Garfield (30), King Arthur (30), The Stepford Wives (30)
August 2004: Catwoman (6), I Robot (6), Blade Trinity (13), Sky Captain & The World Of Tomorrow (13), The Chronicles Of Riddick (20), The Village (20)
September 2004: The Bourne Supremacy (3), Hellboy (3)
October 2004: Terminal (1), Constantine (15), Shark Tale (15), Alien Vs Predator (22)
November 2004: Alexander (5), The Ring 2 (12), Bridget Jones 2 (19), The Polar Express (26), Bad Santa (26)
December 2004: The Incredible (3), Phantom Of The Opera (10)Page Content copyright © Dan Owen, 2004.

Email Dan Owen