Elly Roberts reviews

Santana: Ultimate Santana

Distributed by
Sony/BMG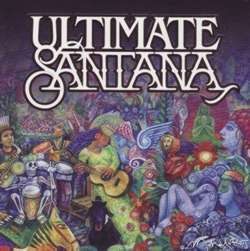 October 2007
Rating: 8/10
---
With the music scene awash with reunions and compilations, here comes another – with a difference.
In an attempt to keep his music fresh, Grammy winner Carlos Augusto Alves Santanahas done several collaborations over the years. His biggest success in recentyears was the magnificent album Supernatural and single Smooth inthe summer of 1999. Now he keeps going with a helping hand from pop stars J-Lo,Tina Turner and Chad Kroeger.
Having already sold in excess of 90 million albums to date, this adds to hisworldwide appeal, drawing in a new generation of new fans.
There are four new songs (see tracklisting *).
Chad Kroeger – lead singer with rock band Nickelback – adds his penchant huskyvoice which juxtaposes superbly with Carlos Santana's delicate touch. In sharpcontrast, Michelle Branch's dulect tones bring a defining beauty and charm toThe Game Of Love, which won a Grammy in 2004, so it's not exactly newas such, but new to the Santana collection. Tina Turner's version is equallystylish. J-Lo's collaboration on This Boy's Fire is totally lacklustre,and doesn't save the song, which is average by Carlos' high standards.
---
Elsewhere, the usual fodder turns up. Smooth, from Supernatural, which effectivelyresurrected his career in 2000, remains one of his best songs in a generation.Predictably the biggies – Black Magic Woman (a cover of Peter Green'smasterpiece) built of the origianl bluesy Fleetwood Mac classic. One of Santana'sgreatest moments was an instrumental (used on a recent M&S TV ad) is theincomparable Samba Pa Ti. It features Carlos' best guitar solo ever,from the gradual buld-up on to the rippling crescendo, again showing a nod toGreen.
In the mid-70s they had a top 20 hit with a mesmerising cover of The Zombies1964 classic She's Not There. Another classic was Oye Como Va,originally done by Latin jazz legend Tito Puente in 1963, it was covered ontheir first hit album Abraxas in 1970. One of the collection's bestmoments is a much more Latino roots-based Corazon Espinado, co-writtenby Fher Olvera of Latin rock group Mana, again found on Supernatural.
Santana were never considered a singles band, so they invariably lift albumtracks. There's a good mix here to keep everybody happy.
Weblink:santana.com
---
The full list of tracks included are :
1. Into The Night (feat. Chad Kroeger) *
2. Smooth (feat.Rob Thomas)
3. Maria Maria (feat.The Product G&B)
4. This Boy's Fire (feat. Jennifer Lopez & Baby Bush) *
5. She's Not There
6. Black Magic Woman
7. The Game Of Love (feat.Michelle Branch)
8. Samba Pa Ti
9. Evil Ways
10. Put Your Lights On (with Everlast)
11. Corazon Espinado (feat.Mana)
12. Why Don't You And I (feat. Alex Band of The Calling)
13. Just Feel Better (feat. Steven Tyler)
14. Europa
15. No One To Depend On
16. Oye Como Va
17. Interplanetary Party *
18. The Game Of Love (feat.Tina Turner) (bonus track) *
[Up to the top of this page]