The Shape Of Water centres around a weird water-dwelling creature which, on first encounter, almost thuds through the container it's within, giving every unspecting Tom, Dick or Harriet a fright.
Elisa Esposito (Sally Hawkins) and Zelda D Fuller (Octavia Spencer) are the facility's resident cleaners, the former being a mute and the most curious about the new arrival, potentially getting herself in hot (ahem) water as she occasionally nips in to feed it, teach it sign language, as well as let it listen to music, specifically the sounds you'd hear in a jazz club… nice.
As you quickly learn, the creature clearly trusts her, while the Russians want to take it apart and find out what makes it tick. Where the facility's Richard Strickland (Michael Shannon) comes into it is that he just wants it out of the building before it causes too much trouble, and he can then get on with being his usual surly self, although it doesn't take long before you see why he wants shut of it.
---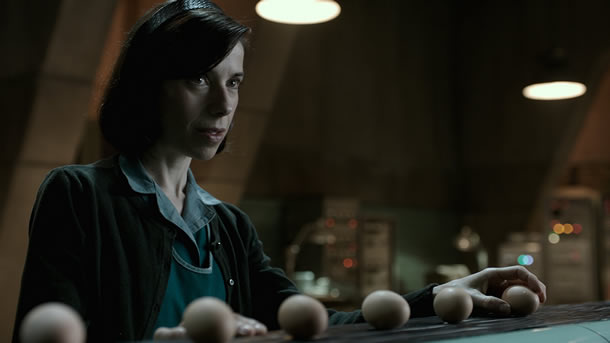 Sally Hawkins looks to make the film very eggs…citing…
(Eh? Eh? No, you shut up!)
---
I loved the look of this at first, and it was interesting while I was watching it, but it's rather empty in terms of basic story, and comes across as yet another of those movies that all the supposed big critics are giving top marks to, when it clearly doesn't deserve that. Yes, it's good, and it also has an engaging, complementary score, but I didn't love it. It's amusing, but it's starts getting beyond ridculous at times and feels like it's turning into every film we've seen before. It also gets a bit silly along the way and feels like it's… (ahem) treading water. As such, I wouldn't rush to watch it again.
However, what is great about The Shape Of Water is, particularly, Ms Hawkins and Mr Shannon. The latter can usually just snarl and it's entertaining, while it's high time the former was given the recognition she's deserved for over ten years including Mike Leigh's Happy Go Lucky, and her occasional turn as Ping in Radio 4's Ed Reardon's Week. When the Godzilla sequel comes round, she MUST be given a higher profile role, surely!
What's also great, is a late scene while Elisa is in her kitchen. I'll say no more than that, but you'll know it when you see it. Plus, don't think that it's an easy thing to NOT have to learn verbal lines, since Ms Hawkins also had to sign every intent, as well as bring forth all her facial gestures.
Richard Jenkins (Six Feet Under, Cabin in the Woods) has a neat turn as Elisa's neighbour, Giles, who has an obsession with key lime pie, as well as dropping in the line that cornflakes were invented to prevent masturbation… which I somehow doubt, while Shannon, as Strickland, says how washing your hands both before AND after using the toilet points to a weakness in a man's character, and how you should only do it before OR after… and he does it only BEFORE. Ewwwww!!!!
---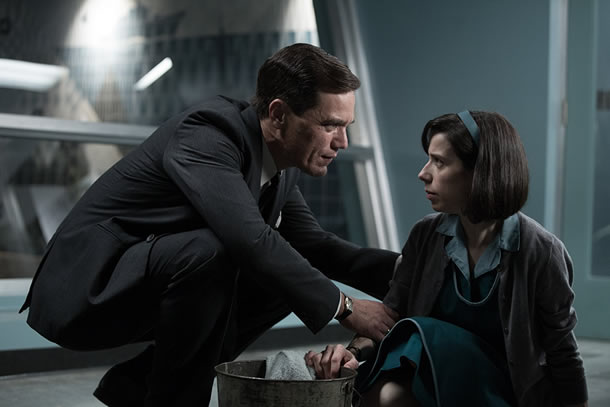 With a static image, you can't hear Michael Shannon shouting…
---
Overall, is The Shape Of Water worth seeing? Well, you might have to seek it out as not every cinema is giving it high priority or even showing it!
It certainly looks amazing with its often sweeping camerawork, but is it worth all those BAFTA and Oscar nominations? Well, we've seen motion-capture and prosthetics suits before, so it's not like it's doing anything 100% new.
I've not seen too many films from Guillermo del Toro, before (Mimic, Blade II and Hellboy) and they ranged from okay to good, but none of them really blew me away, and neither does The Shape Of Water. It's entertaining for two hours, but I wasn't thinking about it too much afterwards, because it's the first act that's most interesting, and the subsequent two do take away from that.
The credits also give thanks to James Cameron, Alfonso Cuarón (Gravity), Alejandro G. Iñárritu (Birdman), Joel Coen, Ethan Coen, Edgar Wright (Shaun of the Dead, Baby Driver) and others, so he's clearly enlisted help from other great visionary directors.
And a bit you should only read if you've seen the film.

The Shape Of Water is available to pre-order on Blu-ray, 4K Blu-ray and DVD, and click on the packshot for the full-size image.
Also available is the Soundtrack CD.
---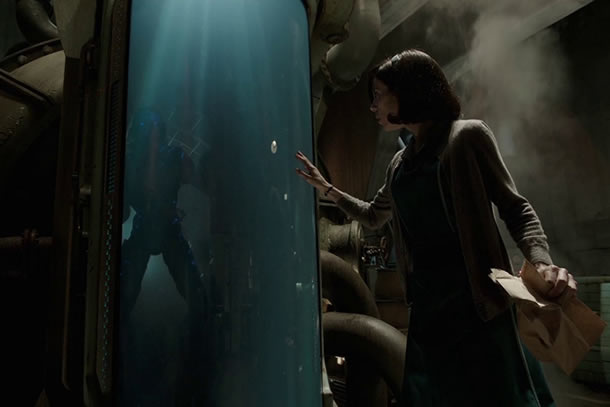 "U ok, hun?"
---
Detailed specs:
Cert:


Running time: 123 minutes
Studio: 20th Century Fox Film Co. Ltd
Year: 2018
Format: 1.85:1 (ARRIRAW (3.4K))
Released: February 14th 2018
Rating: 6.5/10
Director: Guillermo del Toro
Producers: J Miles Dale and Guillermo del Toro
Screenplay: Guillermo del Toro and Vanessa Taylor
Music: Alexandre Desplat
Cast:
Elisa Esposito: Sally Hawkins
Richard Strickland: Michael Shannon
Giles: Richard Jenkins
Zelda D Fuller: Octavia Spencer
Dr. Robert Hoffstetler: Michael Stuhlbarg
Amphibian Man: Doug Jones
Fleming: David Hewlett
General Hoyt: Nick Searcy
Bernard: Stewart Arnott
Mihalkov: Nigel Bennett
Elaine Strickland: Lauren Lee Smith
Brewster Fuller: Martin Roach
Yolanda: Allegra Fulton
Mr. Arzoumanian: John Kapelos
Pie Guy: Morgan Kelly
Burly Russian: Marvin Kaye
Military Policeman: Dru Viergever
Sally (Secretary): Wendy Lyon
Tammy Strickland: Madison Ferguson
Timmy Strickland: Jayden Greig
Cadillac Salesman: Dan Lett
Wet Cinema Patron: Clyde Whitham