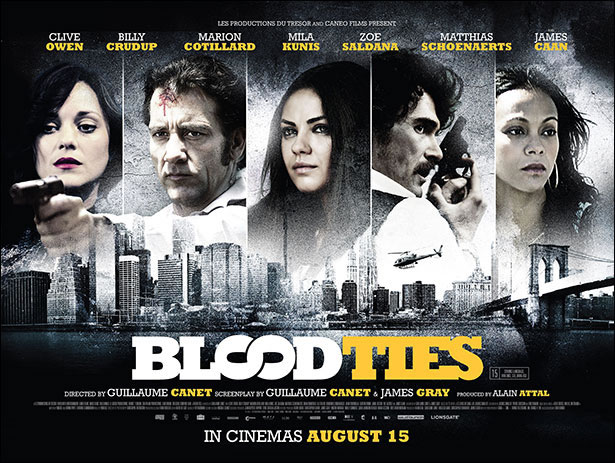 This weekend there are five new films out for you to choose from: a thriller in Blood Ties, action in The Expendables 3, something bizarre in The Congress, CGI for kids in The Unbeatables, and drama in To Love Somebody.
Blood Ties
Blood Ties is set in New York, 1974, and fifty-year-old Chris (Clive Owen) has just been released on good behavior after several years in prison following a gangland murder. Reluctantly waiting for him outside the gates is his younger brother, Frank (Billy Crudup), a cop with a bright future. Chris and Frank have always been different, and their father, Leon (James Caan), who raised them alone, seems to favor Chris despite all his troubles.
Yet blood ties are the ones that bind, and Frank, hoping that his brother has changed, is willing to give him a chance – he shares his home, finds him a job, and helps him reconnect with his children and his ex-wife, Monica (Marion Cotillard). But Chris' inevitable descent back into a life of crime proves to be the last in a long line of betrayals, and after his brother's latest transgressions, Frank banishes him from his life. But it's already too late, as the brothers' destiny is bound together, forever.
Starring Clive Owen, Marion Cotillard, Billy Crudup, Mila Kunis, Zoe Saldana, James Caan, Noah Emmerich, Lili Taylor, Domenick Lombardozzi, and Griffin Dunne, this looks fantastic and I really want to see this.
And if you click on the poster, you'll see the full-size version.
Hit or Miss? Verdict: Hit!
---
The Expendables 3
Well, the basic – and only – thing you need to know about The Expendables 3 is that Mel Gibson is the bad guy. He's called Stonebanks, and he set up the Expendables together with Barney Ross (Stallone), but went rogue along the way and was assumed dead by Barney's hand. Or actions, somehow. At least I think that's the gist of it.
You can read the DVDfever review here.
Hit or Miss? Verdict: Miss!
---
The Congress
The Congress is a bizarre new film from Ari Folman, visionary director of 2008's Waltz With Bashir, and features Robin Wright as an aging, out-of-work actress accepts one last job, though the consequences of her decision affect her in ways she didn't consider. If you think that it's weird that her character's name is also Robin Wright, wait until the animation kicks in…
Also in the film are Harvey Keitel, Jon Hamm, Paul Giamatti, Kodi Smit-McPhee, Danny Huston and Sami Gayle, and it looks like a must-see.
Hit or Miss? Verdict: Hit!
---
The Unbeatables
Or "The Unwatchables" with another load of CGI-filled rubbish for kids as a young man named Amadeo sets off on an unexpected adventure with the players of his beloved Foosball game.
It stars Rupert Grint, Peter Serafinowicz, Anthony Head, Rob Brydon, Darren Boyd, Ralf Little, Simon Greenall, David Schneider and Alistair McGowan.
Hit or Miss? Verdict: Miss!
---
To Love Somebody
Two couples, who have been close friends for years, face several traumas out of their control. The one couple, Meryl and Mike, are recovering from their son's death and their inability to communicate. The second couple, Joanna and Tim, are trying to conceive their first child, after several failed attempts. Through the span of several weeks, the couples contrast one another, quickly developing an intimate study of human nature.
Starring no-one famous (Darren O'Connor, Lee Peck, Johanna Taylor, Tanya Winsor), even the two-minute ponderous trailer felt like it lasted two hours. God knows how long the film feels like it lasts!
Hit or Miss? Verdict: Miss!
Reviewer of movies, videogames and music since 1994. Aortic valve operation survivor from the same year. Running DVDfever.co.uk since 2000. Nobel Peace Prize winner 2021.