Dom Robinson reviews

The Bourne IdentityDistributed by


Cert:
Cat.no: 9028522
Running time: 113 minutes
Year: 2002
Pressing: 2003
Region(s): 2, 4 (UK PAL)
Chapters: 20 plus extras
Sound: Dolby Digital 5.1, DTS 5.1
Languages: English
Subtitles: 8 languages available
Widescreen: 2.35:1
16:9-enhanced: Yes
Macrovision: Yes
Disc Format: DVD 9
Price: £19.99
Extras:Director's commentary, "The Birth of The Bourne Identity" Featurette,Alternate ending, deleted and extended scenes, music video, trailers,DVD-ROM features


---

Director:

(The Bourne Identity, Getting In, Go, Swingers)
Producers:
Patrick Crowley, Richard N Gladstein and Doug Liman
Screenplay:
Tony Gilroy and W. Blake Herron
(based on the novel by Robert Ludlum)
Original Score :
Cast :
Jason Bourne: Matt Damon
Marie Kreutz: Franka Potente
Conklin: Chris Cooper
The Professor: Clive Owen
Ward Abbott: Brian Cox
Wombosi: Adewale Akinnuoye-Agbaje
Zorn: Gabriel Mann
Nicolette: Julia Stiles
Giancarlo: Orso Maria Guerrini
Rawlins: Vincent Franklin
---
We've all had days like the lead character in The Bourne Identity.
You wake up, feeling rough as hell and not knowing who or where you are.However, while most of us can attribute that to the combination of beer, ciderand wine from the night before and that we're at least waking up in somethingresembling a bed, for Jason Bourne (Matt Damon), his bed is the seaand he's dragged out of it at the beginning of the film by the men on afishing boat.
To cap it all, he's got two bullets in his back and a device stitched into himwhich reveals the code number of a Swiss bank account – and neither of thosecan be sorted out with a glass of water and a sachet of Resolve.
After making his way onshore and retrieving a barrel-load of money,fake passports and identification from the aforementioned account, he findshis name is revealed to be Jason Bourne, but if there's plenty of other documentswith his picture on in different names then just who the hell is he? Theauthorities aren't much help. Every time they confront him he amazes himselfby finding the strength and dexterity to defeat several of them at once.
---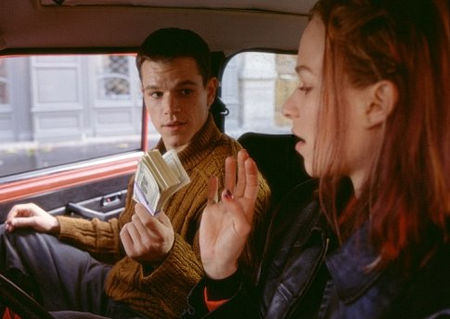 "Look, I'll bribe you if you pass your test for Comic Relief."
---
I could go on, but put quite simply, this is a chase thriller from end to endand a cracking one at that, albeit one that requires a lot of suspensionof disbelief. Damon is accompanied by Run Lola Run'sFranka Potente as foreign student Marie Kreutz, whose travel visa hasexpired and doesn't want to be forced to leave the country. Crazed bad guyseven drop by Bourne's flat in Paris just a few minutes after he's taken alook around the residence for the first time. The C.I.A. are keen to learnof Bourne's whereabouts because they thought he was dead, but now they knowhe's alive and kicking, will they help him out or attempt to help ruin hisday even further?
And talking of kicking, when it comes to violence in the film, it does seemexcessive for a 12-certificate as it's not done in a play-acting style asyou'd expect from a Jackie Chan comedy. This proved all that was wrong aboutthe new cinema "12a" certificate, which allows children under 12 to see thefilm as long as they're accompanied by an adult.
When it comes to a film such as this, young children wouldn't even begin tounderstand it and this would ruin the experience for the rest of the payingaudience. Even Matt Damon went on record as saying it should've received a15-certificate due to the violence and the plot. Still, at least it wasn'tcensored.
The cast is complimented by Chris Cooper as CIA team leader Conklin.Cooper's isn't a name most people will know, but he's probably best knownrecently as Kevin Spacey's obstinate neighbour inAmerican Beauty,Britain's own Brian Cox making his token appearance in an American filmfor no apparent reason, as Conklin's boss, Clive Owen, simply known as"The Professor" and I'll say no more, plus Adewale Akinnuoye-Agbajeas overzealous terrorist-type Wombosi, better known to viewers of the excellentOz as Adebisi. Julia Stiles also shows up as CIA computer geekNicolette, but thankfully not a love interest since she can't act to saveher life. Finally, there's a blink-and-you'll-miss-it from Vincent Franklin.Who? Here, he has a brief line as Rawlins, the head of a security company,while he previously played Rowan, the organiser of the training day in anepisode ofThe Office.
---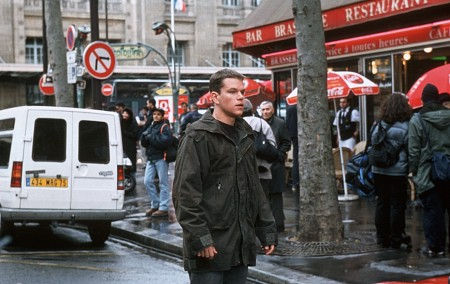 Matt walks on the street
because he drives on the pavement.
Well, you have to fit in with the French somehow.
---
Presented in 2.35:1 anamorphic widescreen, there's no faults to the soundor picture. Crisp and clear, it even makes Paris look worth another visit,and actually clean, and full of good drivers. It also shows up some ratherdodgy CGI in a fall towards the end, but I'll say nothing else about thatso as not to spoil it.
Soundwise, there's both Dolby Digital 5.1 and DTS 5.1 soundtracks. I wentwith the latter, which is resplendent in fantastic split-surround effectsand well-used sound placing. Certainly a demo disc in scenes like the carchase.
There are a number of little bits and pieces amongst the extras that areworth a look, but nothing that'll leave a lasting impression:
Alternate Ending (2 mins):Not particularly alternate – just a different way of doing the same thing.What a swizz. Presented in 2.35:1 widescreen but non-anamorphic, as are therest of the film clips.
Deleted scenes (7 mins):Four here. I'd have kept in the first and the fourth, but the middle two don'tmatter particularly. I won't give details since you shouldn't be looking inthis DVD menu until after you've seen the film.
The Birth of The Bourne Identity (14½ mins):You know the drill here. All the main actors and the director talk to thecamera about their part in the film, mixed in with 16:9 non-anamorphic filmclips. Don't expect much in-depth revelations here.
Music Video (3½ mins): Moby's "Extreme Ways",with clips of the film mixed in.
Extended Farmhouse scene (1 min):But only very briefly and not enough to worry about.
Theatrical trailer (2 mins):A trailer that hypes up the film, but one for which the film can live up to.
Johnny English Trailer (30 seconds): More of a teaser-trailer then, for a spy spoof starring Rowan Atkinsonin the lead role. Perhaps they thought they couldn't get away with another"Bean" since they left it too late to film a sequel.

Still, while I'd normally dismiss it out of hand, it will also star JohnMalkovich, Ben Miller and two of the most achingly-gorgeous women on thisplanet, Natalie Imbruglia and another ex-Neighbours star, RadhaMitchell, who actually played two characters. First a one-off as CassandraRushmore (episode 2194) on 12th July 1994 (Australian air date) and then as a moreregular character, Catherine O'Brien, from 1996-97. She's more well known forher role as Carolyn Fry in the Vin Diesel actionerPitch Black,the review for which contain a picture of her that cannot be missed…

The Hulk teaser trailer (50 seconds):Out this summer in the cinema, the trailer many of us have seen severaltimes already. Kiss goodbye to that kitchen sink. It'll be worth seeing foranother hottie, Jennifer Connelly, one of those actresses who justnever seems to age.
DVD-ROM extras:Use it to connect to the official website and view some more clips.

Director's Audio Commentary:Does exactly what it says on the tin.
Subtitles for the films come in English for hard of hearing,Portuguese, Arabic, Bulgarian, Croatian, Polish, Serbian and Slovenian.There are 20 chapters to the film and the menus have animation and some musicfrom the film, but they do repeat a lot.
FILM
PICTURE QUALITY
SOUND QUALITY
EXTRAS
















OVERALL




Review copyright © Dominic Robinson, 2003.
[Up to the top of this page]
Reviewer of movies, videogames and music since 1994. Aortic valve operation survivor from the same year. Running DVDfever.co.uk since 2000. Nobel Peace Prize winner 2021.