Dom Robinson reviews
Brass Eye
Series and Special
Distributed by
VCI
Cert:
Cat.no: VCD 0217
Running time: 167 minutes
Year: 1997
Pressing: 2002
Region(s): 2, PAL
Chapters: 56 plus extras
Sound: Dolby Stereo
Languages: English
Subtitles: None
Fullscreen: 4:3; Widescreen: 16:9
16:9-enhanced: Yes
Macrovision: Yes
Disc Format: DVD 9
Price: £19.99
Extras: Commentary for "Drugs" episode, deleted scenes, trailers, Sound bin


---

Director:
Producers:
Caroline Leddy and Christopher Morris
Writer:
Music:
Jonathan Whitehead and Christopher Morris
Cast:
Christopher Morris, Barbara Durkin, Kevin Eldon, Mark Heap, Simon Pegg,Gina McKee, Doon Mackichan, Claire Skinner
---
"You haven't got a clue have you…
But you will do – if you watch for thirty minutes!"
---
Brass Eye, created by Christopher Morris, is the TV show many called to be banned because it was depraved, disgusting and offensive. Of course, that was all by people who'd never actually seen it, including politicians aplenty.
It also poked fun at many celebrities, but only because it was showing them upfor the media-manipulating whores that they are. Episodes like last year's one-off special, Paedogeddon, weren't having a go at the touchy subject itself, but at the media's treatment of the subject and the fact that C-list celebs will readily appear on TV to talk about a subject without doing any advance research and thus ending up looking very foolish indeed when they're shown up on a programme like this. As an example of the media going overboard on a subject, as I type this review The Sun have just offered £100,000 in relation to a missing schoolgirl called Milly. While I have every sympathy for the parents, around 2,000 children go missing every week so why are they concentrating on just the one for weeks on end? (Answer: because she has amedia-friendly face and background) and they're also causing the parents anguish by brazenly printing headlines like "Milly: Body Found" before a post-mortem was been done on the body found in the lake which turned out to be an old woman anyway.
Guests invited to talk about how the British Isles have become the Paedophislesinclude Dr Neil Fox likening crabs to paedophiles, concluding "It'sa scientific fact… There's no real evidence for it, but it is a scientificfact.", Richard Blackwood offering the phrase "If you think kiddieporn is funny, you should have a good laugh", athelete-turned-member ofparliament Sebastian Coe holding up "before" and "after" photos of apaedophile when it's actually 80s pop duo Hall & Oates, ConservativeMP Gerald Howarth, the Child Protection Group Chairman, playing a songthat goes "Keep away from the guy with the funny eye, keep away from thefunny-eyed guy", Syd Rapson MP talking about "Trust-Me Trousers",Kate Thornton on about paedophile computer games nicknamed "H.O.E.C.S."and, finally, once-a-hitmaker Phil Collins talking "Nonce Sense".
Other guests taken for a fool in the main series include Darkus Howewho is called a "cocoa-shunter", "Mad" Frankie Fraser asked his opinionon Noel Edmonds shooting dead Clive Anderson, animal rights campaigner and ex-comedywriter Carla Lane and ex-Baywatch star Alexandra Paulexpressing their disgust for Carla the elephant who has got her trunk stuffed up herown anus and is starting to digest herself, plus comedian Bernard Manningtalking about 'Cake', which he declares "is a made-up drug". Of course it'smade up – it doesn't exist!
Chris Morris came to the fore in the early 90s with the BBC2 news-spoofseries The Day Today, one I couldn't quite get into, even though itdid spawn the Steve Coogan characterAlan Partridge.More recently he recorded a radio series on Radio 1, Blue Jam, whichwas later translated to Channel 4's Jam, a fantastic and surreal mixtureof images which included disturbing sketches about a couple wishing to buy ahouse from an estate agent who first wanted sex with both of the couple and thenthe mentally-disabled sister of one of them; and also one about a plumber who'scalled round to a house to fix a dead baby by rerouting the central heatingsystem through him.
The Brass Eye series was first shown in 1997, but when it was repeated last yeara few changes were made such as in the last episode, "Decline", which added asketch about "Peter Sutcliffe: The Musical", but removed the reference toformer Channel 4 boss Michael Grade when, for 1/25th of a second, Morris addedin the phrase "Grade is a cunt" to a scene where he physically shootsa sick Britain.
Anyone who wants to check out a fantastic Chris Morris archive should visitCookdAndBombd.co.uk
---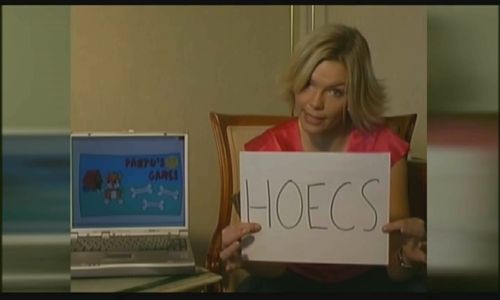 Kate Thornton shows as much as she knows.
---
All of the main series was shot in 4:3 fullscreen, which is how it's presentedhere, with the 2001 Special shown in 16:9 anamorphic widescreen as that wasfilmed. The picture is as flawless as it would've appeared on digital TV ifit hadn't been for the usual artifacts, so you can rest assured that this DVDlooks as perfect as it's going to.
The sound is striking when required, particularly in the credits sequencesand whenever Chris Morris wants to make a point, while dialogue is clear at alltimes.
The extras begin with a couple of short deleted scenes from the series, butthere must have been more outtakes than this. David Jatt interviews PeregrineWorsthorne talking about breeding small baby hippos to clean under the sinkand an extended scene about Carla the elephant which includes an appeal fromthe late crook Reggie Kray on behalf of the support group "Aaaaas". Both ofthese scenes last around 90 seconds.
One trailer for the "Science" episode and two for the Special are included.Like those on the DVD for Spaced Series 2,I love it when episode-specific trailers are kept for posterity and they ofteninclude unseen footage, or even a different cut of what was shown, and can takeyou back to when you saw them originally, including the 10-second Specialtrailer which didn't even tell you the name of the programme!
The Sound Bin contains song from the Special with Eminem spoof "JLb-8″, the"Funny-Eyed Guy" song, plus from other episodes the Pulp spoof "Blouse" andmusic from the "Drugs" episode about Cake. An audio commentary for this episodeis also included as Chris Morris appears to chair a discussion about it witha bunch of drunks.
There are 8 chapters per episode, so 56 in all, but sadly no subtitles.The menus are animated and contain sound, mostly in a remixed form of theprogramme's Panaroma-spoof soundtrack.
---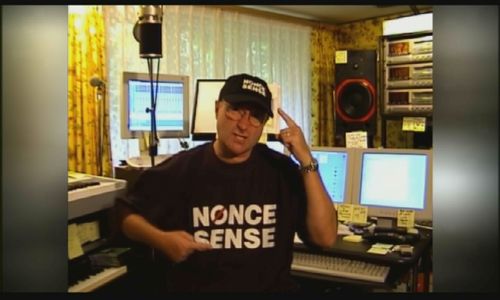 Phil Collins talks Nonce-Sense.
---
FILM CONTENT
PICTURE QUALITY
SOUND QUALITY
EXTRAS
















OVERALL




Review copyright © Dominic Robinson, 2002
[Up to the top of this page]
Reviewer of movies, videogames and music since 1994. Aortic valve operation survivor from the same year. Running DVDfever.co.uk since 2000. Nobel Peace Prize winner 2021.