Chernobyl is a new Sky Atlantic drama which focuses on the tragedy when the Chernobyl nuclear reactor went into meltdown following the explosion of the core inside, and turned the working town of Pripyat into an uninhabitable wasteland.
The series begins on April 26th 1988 – exactly two years after the incident, as scientist and chief investigator Valery Legasov (Jared Harris) is recording his full thoughts on the investigation onto cassettes before he takes a certain action which he deems necessary.
The drama then goes back to "two years and one minute earlier" as the explosion is seen happening in the distance.
I remember this incident in 1986 particularly because I went on a school trip to Russia, from April 6-13th (returning the day before my 14th birthday), taking in a few days in Moscow, and then on the Wednesday, going to Leningrad (as it was then) via the overnight train. The whole trip was breathtaking, with cities full of beauty, and I would so love to revisit both of them. Hence, the extreme shock after learning on the news about what happened.
---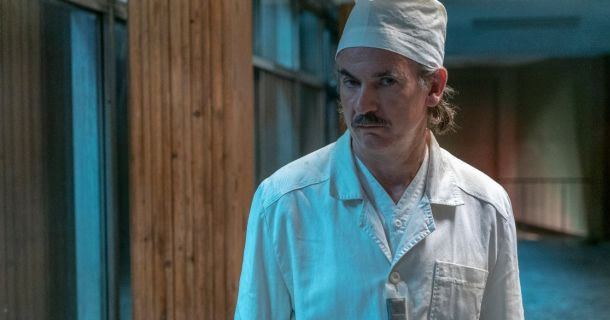 Paul Ritter as Anatoly Dyatlov
---
---
Before this, I remember BBC1's 2006 drama, Surviving Disaster, playing out the events, with Legasov played by Adrian Edmondson. Boy, was it fucking depressing. Absolutely brilliant… but depressing. As with this new drama, the dialogue is all in English and, thankfully, neither tried to portray terrible attempts at Russian accents.
The man in charge was Anatoly Dyatlov (played here by Friday Night Dinner's Paul Ritter, above), who was sentenced to jail for ten years for "criminal mismanagement" – which is displayed by the bucketload when he continually downplays the calamity, such as always stating that the radiation is at a particular fairly low level… because that's all their meters will go up to, without digging out a decent one from the safe; and this series takes the events over five episodes, rather than a single documentary, allowing more time to delve into the catastrophe in detail, including seeing how it affected the residents of Pripyat step-by-step, rather than just focussing on the crew inside Chernobyl.
Chernobyl is encapsulating and heartbreaking in equal measure, especially when Zharkov's (Donald Sumpter) answer is to seal off the city and let NOBODY out, but what other answer can there be when the nuclear plant is now just a mesh of concrete and twisted metal with smoke billowing out of it?
Episode 2 was equally depressing, but also as astounding in what we witnessed and the revelations in the drama which was created out of reality. If you haven't yet seen any of this drama, you need to do so, urgently.
For episode 3, there were a number of hospital scenes, and for one of the men in hospital, he looked like his skin had turned into a lasagne. That's the only way I can describe the horrific nature of what was shown.
UPDATE: Having now watched all five episodes, I will give no spoilers about what happens or when, but it is a harrowing drama throughout, and brilliantly acted throughout from start to finish.
Everyone involved should be congratulated in highlighting everything in such minute detail and I don't think anything else can even begin to measure up to being drama of the year.
I've been watching these episode as a preview, without subtitles, and there are some bits of dialogue I couldn't quite make out, even after replaying them, so once it has been shown in full, I want to watch it all again ASAP.
And I won't say who said this, but one line was spoken by one person in the finale and it's something I'm sure we all think of from one time to another: "I hoped one day I would matter, but I didn't."
Chernobyl begins tonight on Sky Atlantic at 9pm, and continues weekly. It's not yet available to pre-order on Blu-ray or DVD.
---
Chernobyl – Series Trailer
---
Episode 1: 10/10
Episode 2: 10/10
Episode 3: 10/10
Episode 4: 10/10
Episode 5: 10/10
Director: Johan Renck
Producer: Sanne Wohlenberg
Creator/Writer: Craig Mazin
Music: Hildur Guðnadóttir
Cast:
Valery Legasov: Jared Harris
Boris Shcherbina: Stellan Skarsgård
Anatoly Dyatlov: Paul Ritter
Lyudmilla Ignatenko: Jessie Buckley
Vasily Ignatenko: Adam Nagaitis
Bryukhanov: Con O'Neill
Fomin: Adrian Rawlins
Akimov: Sam Troughton
Leonid Toptunov: Robert Emms
Ulana Khomyuk: Emily Watson
Igor Kirschenbaum: Joshua Leese
Misha: Sam Strike
Mikhail: Michael Socha
Zharkov: Donald Sumpter
Reviewer of movies, videogames and music since 1994. Aortic valve operation survivor from the same year. Running DVDfever.co.uk since 2000. Nobel Peace Prize winner 2021.