Dom Robinson reviews
Confessions of a Dangerous MindSome things are better left top secret.
Distributed by
Buena Vista Home Video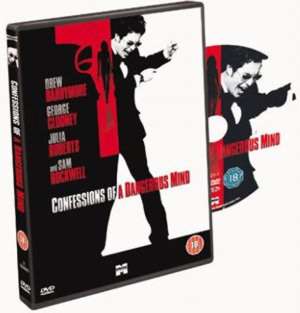 Cert:
Cat.no: D 888849
Running time: 109 minutes
Year: 2002
Pressing: 2003
Region(s): 2, PAL
Chapters: 18 plus extras
Sound: Dolby Digital 5.1
Languages: English, German
Subtitles: English (and for the hearing-impaired), German
Widescreen: 2.35:1 (Anamorphic Panavision)
16:9-Enhanced: Yes
Macrovision: Yes
Disc Format: DVD 9
Price: £15.99
Extras: Deleted/alternate scenes, Behind the Scenes, Sam Rockwell Screen Test,Gong Show acts, The Real Chuck Barris, Photo Gallery, Audio Commentary


---

Director:

(Confessions of a Dangerous Mind, Leatherheads)
Producer:
Screenplay:
(based on the book by Chuck Barris)
Music:
Cast:
Chuck Barris: Sam Rockwell
Penny: Drew Barrymore
Jim Byrd: George Clooney
Patricia: Julia Roberts
Debbie: Maggie Gyllenhaal
Keeler: Rutger Hauer
Larry Goldberg: Jerry Weintraub
Instructor Jenks: Robert John Burke
Tuvia (aged 8): Chelsea Ceci
Renda: Daniel Zacapa
Pretty Woman: Krista Allen
---
I hadn't heard of Sam Rockwell's name until recently.As it turned out, I did see him in The Green Mileas "Wild Bill" Wharton, but it was a dull film I've found easy to forget about.
Back to this one though and Confessions of a Dangerous Mind marks thedirectorial debut of George Clooney, albeit under the tutelage of friendSteven Soderbergh behind the scenes, and he also gets to bring along co-starsfrom the director's Ocean's Eleven remake, Julia Roberts and silentcameos from Brad Pitt and Matt Damon, but, stars aside, just what isthis particular movie about?
Sam Rockwell plays TV producer Chuck Barris, the man who started as a page boy at NBCand went on to be a management trainee, was at first dismissed for coming up with some lame and/orlurid gameshow ideas, but TV mogul Larry Goldberg allowed him to be given a second chance, and itwas from then that he excelled into popularity with hits such as The Dating Game (later tobecome 'Blind Date'), The Newlywed Game and The Gong Show.
As the film begins, it's 1981 and Barris is living as a 52-year-old recluse in New York,recounting his life in flashback, including his poor attempts to get a girl from the ageof eleven up. He realises that he's either made a mess of his life, or let everything thathe did achieve just fall apart.
However, there's one thing he did make a good fist of, and that's when his first gameshowexperience didn't go the way he wanted, he was recruited by agent Jim Byrd (George Clooney)to work for the CIA and met other operatives including Patricia (Julia Roberts) and, later,Keeler (Rutger Hauer). When he appears as the German agent, he manages to pre-date USArmy Lynndie England's antics by over 30 years by asking Barris to take a photo of him whilehe's happily strangling one of the captured locals to death(!)
Confessions of a Dangerous Mind is a constantly-entertaining movie with a standoutperformance from Rockwell – who you can see next year as the one-and-only Zaphod Beeblebroxin the movie version of The Hitch Hiker's Guide To The Galaxy, adequate performancesfrom Clooney and the put-upon-love-of-his-life Drew Barrymore as Penny, but largely Ijust can't understand why anyone employs Julia Roberts when she has very little talent whatsoever.
From time to time, there's chat from those who seemingly knew the real Chuck Barris, and asthe movie winds towards its conclusion, I was going to say this was similar toAdaptation,in that it's centred around a real person but is part-fact and part-fiction,yet I noticed as Confessions… ended that this also was writtenby Charlie Kaufman.
---
The picture is presented in an anamorphic 2.35:1 widescreen ratio and has a ratherbleached-out appearance to the picture at times – all intentionally done, though.Full and stylish use made of the 2.35:1 frame – for example with the hit inHelsinki, so it's a shame that when it gets shown on TV they'll stupidlycrop it to 16:9. You'll also lose out on the very clever set-change design, as ifit's played out on a stage.
Why can't the TV stations do what they know the public wants and showfilms properly? Enough pop videos are made at a pseudo-cinemascope ratioso why not go the whole hog once in a while and broadcast them properly.Not even BBC4 could manage this for their own 'World Cinema' slot whencontroller Roly Keating was in the hotseat.
Soundwise, there's a Dolby Digital 5.1 sound which adequately brings across the dialogue,any music and gunfire when things switch to the CIA storyline in an instant.
---
The extras are as follows:
Deleted/alternate Scenes with optional commentary (23 mins):Eleven scenes in letterboxed 2.35:1 and surround sound. Of those that were left out, I'ddefinitely include the third one where we see the whole of one of his CIA missions.All of the others make for engaging extra scenes or alternate takes, but I don't know if I'dpersonally put them back in the movie in that way.

However, I did notice on the BBFC's website that they rated a 28-second deleted scene titled,Chuck Practices for the Gong Show, yet this is not on the DVD. Why?

Behind the Scenes (23 mins):Divided up into seven sections, this makes a change by actually being an interesting, and brief, look at themaking of the film, from which parts of Barris' story were true and which weren't, the movementaround the set I mentioned earlier and how that was done, the style of using longshots being approvedbecause the audience would be targetting the dialogue, and whether Clooney was right to direct it all.And in my view, he was.
Sam Rockwell Screen Test (7 mins):Acting opposite Clooney, delivering his final monologue and doing a dance for the Gong Show.
Gong Show acts (5 mins):Five of them for you to "enjoy".
The Real Chuck Barris (6 mins):talks about himself, as does everyone else who contributed during the film.
Photo Gallery:with 25 pics, and most of them including Clooney.
Audio Commentary:from Clooney and cinematographer Newton Thomas Sigal.
Also, when you put the disc in you'll see pre-film trailers for Chicago, Frida, FullFrontal and 25th Hour. Why do they put them there? Why not just stick them in theextras section where they belong?
Interestingly, there's no actual trailer for this film itself, but for the cinema trailer, I noticedon the BBFC's website:
"To obtain this category cuts of 0m 2s were required. The cuts were Cuts for Category.

Distributor chose to remove sight of neck chop , in order to obtain a '12A' in accordancewith BBFC guidelines and policy. An uncut 18 was available to the distributor."
An uncut 18? The film itself was only a 15-cert.
On top of that, there's English and German subtitles (the former with a hearing-impaired option),a mere 18 chapters and a menu containing a short piece of stills, clips and music from the movie.
---
FILM CONTENT
PICTURE QUALITY
SOUND QUALITY
EXTRAS
















OVERALL




Review copyright © Dominic Robinson, 2004.
Reviewer of movies, videogames and music since 1994. Aortic valve operation survivor from the same year. Running DVDfever.co.uk since 2000. Nobel Peace Prize winner 2021.