Dan Owen reviews
DAN'S MOVIE DIGEST
I s s u e # 2 16 D e c e m b e r 2 0 0 2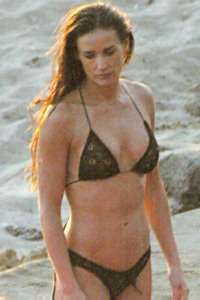 CHARLIE'S ANGELS 2The 'Daily Mirror' spoke with John Cleese about his cameo in nextsummer's "Charlie's Angels 2". He said: "I was asked to be in the filmand they sent me the script and I said 'I don't see which part I'mplaying' and they said 'Well we haven't rewritten it yet'."
"It was rewritten three days before I was due on the set. This is a $66million movie and I get the scene an hour before I'm supposed to do it.The wardrobe people said they didn't know what they were filming thenext day. Crazy."
In related news, here's a gratuitous shot of Demi Moore from the"Charlie's Angels 2″ beach set – where she plays a lead villainess. Latenews has also arrives that Robert Patrick ("Terminator 2", "TheX-Files") also has a role as a villain in the movie.
THE AMAZING SPIDER-MANTed Raimi, brother of director Sam Raimi, talked briefly with 'ComicsContinuum' about the "Spider-Man" sequel, saying: "'Spider-Man 2' hasbegun shooting already, and we don't even have a script. That's verytypical Hollywood: 'Let's shoot it!', 'What are we shooting?', 'I don'tknow, roll cameras! Get Tobey Maguire in here, where is he?'"
"I have more scenes with J.K. Simmons, who is J. Jonah Jameson [inthis]… there's a bunch more scenes. We've done some preliminaryrehearsal, even if we don't have a script."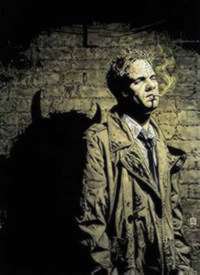 CONSTANTINE'Variety' confirms that Keanu Reeves will indeed start shooting"Constantine" next year – a film based on the character John Constantinefrom the "Hellblazer" comic-books.
Constantine is a working-class British occultist who stars in a seriesof graphic-novels that satirize politics and society through demonology.Already the screenplay is making some fundamental changes to the"Hellblazer" series – most notably the Americanization ofactors/locations.
In relates news, Reeves will also complete a love triangle with JackNicholson and Diane Keaton in an as-yet-untitled comedy, and also starin "Thumbsucker"; an independent adaptation of the Walter Kirn novel.
HOUSE OF 1000 CORPSESThe website 'Bloody Disgusting' interviewed Rob Zombie about hisupcoming schlock horror movie "House Of 1000 Corpses".
Rob Zombie revealed the film's premise, saying: "There are four college-agekids driving cross-country, researching a book on weird roadsideattractions… This stuff has kind of disappeared now, but it was veryprevalent in the 70's – like 'World's Biggest Ball of String,' 'BigfootMuseum', things like that."
"So they stumble upon this place called 'Captain Sapulding's Museum ofMonsters And Madmen.' It's basically a serial killer museum in themiddle of nowhere, and Captain Sapulding is played by Sid [Spider Baby]Haig – he's the crazy-looking clown guy."
"So they go there and learn about this local legend in that area, amurderer called Doctor Satan, whom they find out was killed not too faraway. So they want to go take pictures of this site, and once they gooff-road in search of this thing, that's when all hell breaks loose…"
HARRY POTTER III" / "LORD OF THE RINGS 3'The Guardian' printed an article about upcoming IMAX movies for 2003.IMAX's joint chief executive Brad Wechsler said the company plan torelease one re-mastered classic: "like 'Lawrence Of Arabia', and two bigevent-type pictures like 'Harry Potter III' and 'Lord Of The Rings [TheReturn Of The King'] on the same day as the normal release next year".
The article revealed that tests have already been done by IMAXtechnicians on "Harry Potter & The Sorcerer's Stone" and the first two"Lord of the Rings" instalments – with director Peter Jackson adding:"This is the way I dreamt my movie would be shown."
Should "The Return Of The King" be shown on IMAX, it will apparently notbe cut down in duration or have scenes deleted (like the trimming of20-minutes from "Star Wars Episode II" because IMAX reels can onlyhandle a 2-hour running time). Instead they will incorporate anintermission to change the movie reel and give audiences a break fromthe visual onslaught.
HELLBOYComposer Marco Beltrami has been chosen to score the music for"Hellboy", and will also be in charge of musical duties for "Terminator3".
Beltrami has previously scored the films "Mimic" and "Blade II" – bothfor "Hellboy" director Guillermo Del Toro.
INVISIBLE'Spyglass Entertainment' has reportedly hired screenwriter Mick Davis topen a US remake of his Swedish supernatural drama "The Invisible".
The original film, directed by Joel Bergvall and Simon Sandquist,revolves around a teenager who is assaulted and killed, only to returnas a ghost to find his killer. Yeah, that old chestnut…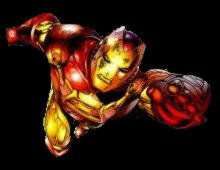 IRON MAN'Coming Attractions' have revealed that the adaptation of the "Iron Man"comic-book franchise appears to be dead – for now. The news came as"Buffy" creator/writer/director Joss Whedon left the troubled project.Screenwriter Tim McCanlies draft has also bitten the dust.
"Joss Whedon decided that he should spend time on properties he creates,and opted to do [his new TV series] 'Firefly'… so you can count himout of this one. He was off the film before he ever got on. TheMcCanlies script is dead, and so is the project for now."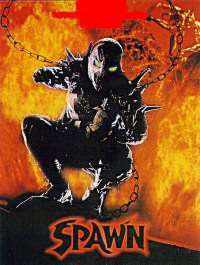 SPAWN IIScreenwriter Steve Niles has commented on his official website that the"Spawn II" screenplay he wrote with Todd McFarlane is now in the handsof a new writer.
Steve Niles explains: "The version Todd and I wrote was handed off to anotherwriter. We were pretty sure this was going to happen from the beginning.The script had some pretty big problems, anyway. The biggest being thatSpawn never actually appeared in it! From what I hear, the script is invery good hands now and there's a great producer [Don Murphy] attached."
He goes on to say that he is no longer involved with the project. Thenew screenwriter is now known to be Hans Rodionoff – who will move thefocus back a little toward the title character rather than stickingentirely on the 'Sam' & 'Twitch' detective characters as McFarlane'sdraft did.
Producer Don Murphy explains: "The problem is it became solely a Sam andTwitch movie and there wasn't enough Spawn. The way that I see these twocharacters… these guys are more like Riggs and Murtaugh [from "LethalWeapon"]. If you dropped Blade into 'Lethal Weapon', you've got sort ofwhat I'm going for."
"When the Spawn elements play out it'll be more about watching him scarethe crap out of bad guys. His power comes from how damn scary he is.He's a character who is evil for the sake of good. He comes down out ofthe rafters and, if you're a bad guy, you know you can't escape thisthing".
Rodionoff's new first draft is expected early next year.
SPIDER-MAN 3'Zentertainment' received an interesting rumour about the villains for apossible third "Spider-Man" movie – with Venom and Carnage the likelycandidates.
'Marvel' have apparently already petitioned director Sam Raimi to usethese characters as the lead villains instead of supporting characters -in an effort to avoid the mistake 'Warner Brothers' made in 'Batman &Robin', when Bane was recast as a retarded henchman.
Extremely early casting suggestions have action heroes Vin Diesel orWWE's The Rock as Eddie Brock, and Sam Rockwell ("Charlie's Angels") orChristian Bale as Cletus Kassady.
Of course, this kind of speculation should always be taken with afistful of salt…
STAR TREK – NEMESISScreenwriter John Logan ("Gladiator") talked with 'Dreamwatch' magazineabout why we won't see either Spock or "The Next Generation" characterSela – played by Denise Crosby – in the new movie.
He said: "We had a great deal of discussion about Ambassador Spock andhow he may or may not have played into what's happening, because of theway the plot developed there wasn't really a need for him."
"As much as I love Spock – and what writer in the world wouldn't want towrite Spock – there was just no way to make it work elegantly, so itwouldn't just seem like we were throwing Spock in there. Believe me;thought was given to every possible Romulan permutation that you couldpossibly imagine. But because of what we have to do with our featuredRomulans we could not use Denise [Crosby]."
VAN HELSINGMore casting confirmations on Stephen Sommers' "Van Helsing". To recapso far; Hugh Jackman plays the titular Van Helsing, Kate Beckinsale hisplucky daughter Anna, Richard Roxburgh ("Moulin Rouge") is the sinisterDracula, and now we have… Shuler Henly as Frankenstein's Monster,David Wenham as Carl the friar, Will Kemp as Anna's brother Velkon,Kevin J. O'Connor ("The Mummy") as Igor and Elena Enaya as a Dracula'sBride.
There is also talk that Paul Hogan ("Crocodile Dundee") is in talks toplay a villain – possibly the Wolfman.
---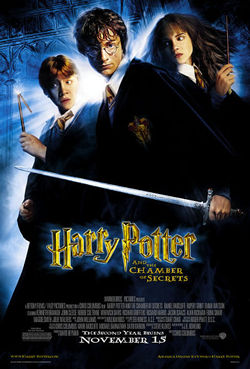 US TOP 10 (CINEMA)
1. Harry Potter and the Chamber of Secrets ($32.1m)
2. Die Another Day ($31.0m)
3. The Santa Clause 2 ($12.1m)
4. Treasure Planet ($12.0m)
5. 8 Crazy Nights ($9.4m)
6. Friday After Next ($7.3m)
7. Solaris ($6.7m)
8. 8 Mile ($5.7m)
9. The Ring ($5.2m)
10. They ($5.1m) UK TOP 10 (CINEMA)
1. Die Another Day (£5,3m)
2. Harry Potter and the Chamber of Secrets (£4.6m)
3. The Santa Clause 2 (£0.95m)
4. Enough (£0.34m)
5. Anita and Me (£0.32m)
6. The Quiet American (£0.24m)
7. 28 Days Later (£0.19m)
8. Mr Deeds (£0.12m)
9. 8 femmes (£0.11m)
10. Bowling for Columbine (£0.10m)
---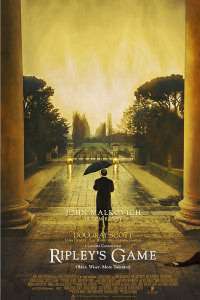 ** TRAILERS ** Ripley's GameBased on the novel by Patricia Highsmith, "Ripley's Game" revolvesaround a man called Tom Ripley – who persuades someone to commit amurder for a large sum of money…
Buzz Rating: 1.5/5 – the movie stars John Malkovich and Ray Winstone, soa certain quality is assured, but so far the only buzz is surroundingMalkovich's apparently excellent performance.
Click here for trailer
---
** IN THE PIPELINE **
December 2002: The Lord Of The Rings: The Two Towers
January 2003: Gangs Of New York, Catch Me If You Can
February 2003: Daredevil, Solaris
April 2003: Timeline, Dreamcatcher
May 2003: X-Men 2, The Matrix Reloaded
June 2003: The Italian Job (2003), The League Of Extraordinary Gentlemen
July 2003: Charlie's Angels 2: Full Throttle, Lara Croft & The Cradle Of Life, The Hulk
August 2003: Terminator 3: Rise Of The Machines, Bad Boys 2
September 2003: The Fast & The Furious 2, American Wedding
October 2003: Kill Bill
November 2003: The Matrix Revolutions, The Last Samurai
December 2003: The Lord Of The Rings: The Return Of The KingPage Content copyright © Dan Owen, 2002.

Email Dan Owen
Reviewer of movies, videogames and music since 1994. Aortic valve operation survivor from the same year. Running DVDfever.co.uk since 2000. Nobel Peace Prize winner 2021.