Dan Owen reviews
DAN'S MOVIE DIGEST
I s s u e # 8 02 7 F e b r u a r y 2 0 0 4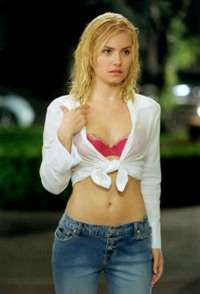 HOUSE OF WAXElisha Cuthbert (TV's 24, right) is in final talks to star in 'Dark CastleEntertainment"s House of Wax, to be produced by Joel Silver (The Matrix),Robert Zemeckis (Back To The Future) and Susan Levin.
House Of Wax is a remake of the 1953 original about a mad professor who useshuman bodies covered with wax in his wax museum. The new version, written byChad and Carey Hayes, will depart from the original slightly but stillretain the gruesome "human bodies in wax" element and focus on a group ofteens who fall prey to demented killers who like to encase their victims inwax.
Commercial director Jaume Collet-Serra will make his feature film debut withthe movie, which begins shooting this April in Australia.
STAR WARS EPISODE IIIThere's still over a year to go until Episode III completes George Lucas'prequel trilogy, but executive producer Rick McCallum has revealed a newvillain for the final instalment – General Grievous.
McCallum: "In Attack of the Clones, we saw that former Jedi Count Dooku wasthe political leader behind the Separatists movement and instigator of theClone Wars. In Episode III, we'll meet General Grievous, the military leaderof all the Separatist armies. He's part alien and part robot. Grievous is amaster strategist and the greatest hand-to-hand Jedi killer the galaxy hasever known."
But for fans who can't wait – General Grievous will feature in the upcomingStar Wars Clone Wars animated series, according to 'StarWars.com'.
The Star Wars: Clone Wars micro-series begins on 26 March in the U.S., andwill be available for download via the official site to subscribers.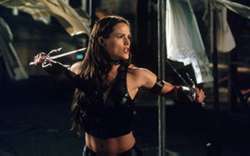 ELEKTRA'20th Century Fox' and 'Regency Enterprises' are in talks with director RobBowman (Reign Of Fire) to direct Elektra, the Daredevil spin-off movie withJennifer Garner (TV's Alias, right) set to reprise her role.
'Horseshoe Bay' partners Mark Steven Johnson and Gary Foster are producingwith 'Marvel Studios' executive Avi Arad.
The script has been written by Zak Penn and draws heavily from the Elektragraphic novels The Elektra Assassin and The Elektra Saga, as she battles theHand, an organization of killers that trained her and then betrayed her.
Casting will begin shortly for a May start on the production. One majorcharacter already confirmed for involvement will be Stick, a martial artstrainer and revered 'Marvel Comics' character.
EVEL KNIEVELDirector McG (Charlie's Angels) is attached to helm 'Universal Pictures'biopic of legendary 70's stuntman Evel Knievel, entitled Pure Evel.Screenwriter Andrew Walker (Seven) will write a new draft of the script.
McG and Walker plan to visit Knievel himself, who is recuperating from backsurgery, and interview him for the film. Pure Evel will focus on a narrowslice of Knievel's life, tracking the stuntman's rise to fame.
McG already envisions ending the movie after Knievel's much-hyped failure torocket jump across the Snake River Canyon.
---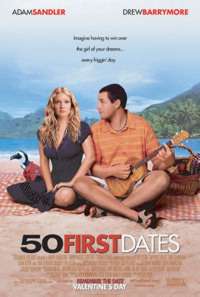 US TOP 10 (CINEMA)
All figures are weekend box-office gross.
1. 50 First Dates ($20.4m)
2. Confessions of a Teenage Drama Queen ($9.3m)
3. Miracle ($7.8m)
4. Welcome to Mooseport ($6.7m)
5. Eurotrip ($6.7m)
6. Barbershop 2: Back in Business ($6.2m)
7. Mystic River ($3.0m)
8. Against the Ropes ($3.0m)
9. The Butterfly Effect ($2.9m)
10. The Lord of the Rings: The Return of the King ($2.8m)
UK TOP 10 (CINEMA)
1. The Haunted Mansion (£1.56m)
2. Cheaper by the Dozen (2003) (£1.32m)
3. School of Rock (£1.22m)
4. Looney Tunes: Back in Action (£0.96m)
5. Something's Gotta Give (£0.84m)
6. Lost In Translation (£0.54m)
7. Big Fish (£0.48m)
8. The Lord of the Rings: The Return of the King (£0.45m)
9. Sex Lives of the Potato Men (£0.35m)
10. Tooth (£0.30m)
---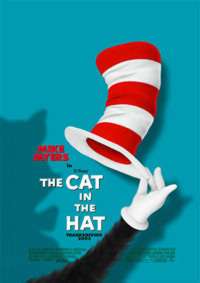 ** IN THE PIPELINE **
Note that these are UK release dates.
April 2004: Dr Seuss' The Cat In The Hat (2), Scooby Doo 2 (9), Kill Bill – Volume II (16), Hellboy (23)
May 2004: Troy (21), Van Helsing (21), The Day After Tomorrow (28)
June 2004: Harry Potter & The Prisoner Of Azkaban (4), Shrek 2 (4),Spider-Man 2 (16), Thunderbirds (23), Garfield (30)
August 2004: I, Robot (13), The Chronicles Of Riddick (20) Page Content copyright © Dan Owen, 2004.

Email Dan Owen
Reviewer of movies, videogames and music since 1994. Aortic valve operation survivor from the same year. Running DVDfever.co.uk since 2000. Nobel Peace Prize winner 2021.