Dom Robinson reviews
Downfall
Distributed by
Momentum Pictures
Cert:
Cat.no: MP409D
Running time: 149 minutes
Year: 2004
Pressing: 2005
Region(s): 2, PAL
Chapters: 35 plus extras
Sound: Dolby Digital 5.1, DTS 5.1
Languages: German
Subtitles: English for the hard of hearing
Widescreen: 1.85:1
16:9-Enhanced: Yes
Macrovision: Yes
Disc Format: DVD 9
Price: £15.99
Extras: Making of (60 mins), Cast and filmmaker interviews, Historical Personalities and their Actor's Biographies,The Bunker – A Virtual Tour, Shooting In Russia: behind the scenes look with production crew commentary,About Shooting: behind the scenes look with director's commentary.


---

Director:

(Downfall, The Experiment, Invasion, Mein letzter Film)
Producer:
Screenplay:
Bernd Eichinger (based on the books "Inside Hitler's Bunker" by Joachim Festand "Until The Final Hour" by Traudel Junge and Melissa Müller)
Music:
Cast:
Adolf Hitler: Bruno Ganz
Traudl Junge: Alexandra Maria Lara
Magda Goebbels: Corinna Harfouch
Joseph Goebbels: Ulrich Matthes
Eva Braun: Juliane Juliane Köhler
Albert Speer: Heino Ferch
Prof. Dr. Ernst-Günter Schenck: Christian Berkel
Prof. Dr. Werner Haase: Matthias Habich
SS Group Leader Hermann Fegelein: Thomas Kretschmann
Artillery General Helmuth Weidling: Michael Mendl
SS Brigade Leader Wilhelm Mohnke: André Hennicke
SS Reich Leader Heinrich Himmler: Ulrich Noethen
Gerda Christian: Birgit Minichmayr
Infantry General Hans Krebs: Rolf Kanies
Infantry General Wilhelm Burgdorf: Justus von Dohnanyi
General Field Marshall Wilhelm Keitel: Dieter Mann
Colonel General Alfred Jodl: Christian Redl
Aide to the SS Main Tower Leader, Otto Günsche: Götz Otto
Heinz Linge: Thomas Limpinsel
Martin Bormann: Thomas Thieme
Walter Hewel: Alexander Held
Peter Kranz: Donevan Gunia
Constanze Manziarly: Bettina Redlich
Hanna Reitsch: Anna Thalbach
General Field Marshall Robert Ritter von Greim: Dietrich Hollinderbäumer
Dr. Ludwig Stumpfegger: Thorsten Krohn
Young Naval Soldier: Klaus B Wolf
Inge Dombrowski: Yelena Zelenskaya
Herself: Traudl Junge (uncredited)
---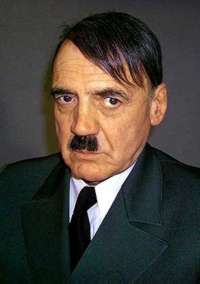 Downfall begins in 1942when Adolf Hitler takes on the youngest of his secretaries, Traudl Junge.
We then fast-forward to 20th April 1945, Hitler's 56th birthday and a time when he (played in a powerhouse performance bySwiss actor Bruno Ganz, right) still thinks he has a chance of victory, despite all obstacles,particularly the one that spells out the cold, hard fact that the Russians are closing in on all sidesand bombing the city to near-oblivion, and when those shells rained down in clear DTS 5.1 sound, theexplosions made me think "Fuck me!" as they met the ground. It really was that outstanding and ifyou're not watching this with all the speakers necessary then you're really missing out.
Back to the plot and with 'Clausewitz' in effect and Hitler's men burning books aplenty rather thanletting the Russians get their hands on any of the German's knowledge, his 9th Army are fighting theRussians, yet losing spectacularly. He tries to come up with other ways for his remaining armies tomove about and take on the enemy but he refuses to believe that defeat is inevitable, even thoughall his men are outnumbered 10-to-1. He also has bitter disregard for all remaining civilians, claimingthey should be on his side as he intends to destroy all transport links and fuel supplies so the Russianscan't take them for themselves. As we see German soldiers shooting dead civilians in the street, we'releft in no doubt of their loyalty to their Führer and this makes the cold, heartless reality all themore shocking.
What's also more of a surprise is that Downfall is a German-made film, and yet gives an honestand harsh account on a man whose maniacal leadership has brainwashed almost all those around him intothinking his way is the right way – even to the point that when his time has come, to realise that he cannotwin, those following him must take a similar course of action. It even highlights a problem I didn'tknow about until now, a muscular/nerve problem controlling his left hand. This causes a number of peopleto look directly at it while he's trying to conceal it.
---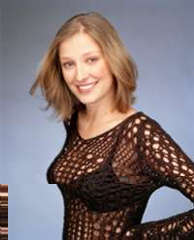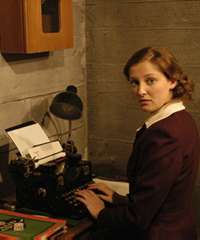 As well as telling his story, the movie also follows what's seen through the eyes of Professor Dr.Ernst-Günter Schenck (Christian Berkel), as he tries to make the best of what he can with hismedical knowledge, 14-year-old Peter Kranz (Donevan Gunia) who's simply trying to make senseof it all and his youngest secretary, Traudl Junge (Alexandra Maria Lara, shown right both asher character and the actress in reality which proves what an absolute stunner she is).
All three won't beleaving Berlin any time soon, whether it's so they can stay and help patients, or because of the factthey're too young to go anywhere, or because of their belief to their Führer. In fact, the latter isshown in the stubborness of Goebells' wife and others in saying they don't want to leave Berlin even thoughnot all will survive by doing so.Similarly, earlier on we also see children and young soldiers planning to remain standing in a street,resolute in the belief that they'll defeat the Russians when they come.
To go into more detail would rob potential viewers of discovering just how excellent this drama is,and it's even laced with one or two bits of humour. Suffice to say that it charts Hitler's final tendays in detail, including his marriage to Eva Braun on 29th April, 1945 and their eventual comeuppancethe following day.
Yes, Bruno Ganz is terrific as the oppressive dictator and there are even moments where you start tofeel sorry for the man, but to only focus on him is to do a disservice to the rest of the cast whereevery single member plays their part perfectly, making you feel like you're there watching what's goingon and experiencing it with them and each leave a lasting impression as a character who made their markand not a single one could be overlooked.
Both the picture and sound are fantastic here. The film is presented in its original cinematic ratioof 1.85:1 and is anamorphic, with a gritty feel to the outdoor scenes and the dull, grey interior ofthe bunker making you long for some fresh air and feeling reminiscent of many games ofReturn To Castle Wolfenstein.And as stated at the start, while there's a DD5.1 option,there's fantastic use of DTS 5.1 sound for explosions, gunfire and even atmosphere such as an air-raid siren.
It's an absolute must-see, but I'd give it 9/10 as it's not a film I'd watch repeatedly.
As for extras, yes, there are some as listed atop this review but they're all on the second disc whichwasn't supplied by the PR company.
The subtitles are in English for the hard of hearing, there's a well-received 35 chapters and the main menucontains a small amount of motion and music on a loop.
---
FILM CONTENT
PICTURE QUALITY
SOUND QUALITY
EXTRAS
















n/aOVERALLn/a
Review copyright © Dominic Robinson, 2005.
Reviewer of movies, videogames and music since 1994. Aortic valve operation survivor from the same year. Running DVDfever.co.uk since 2000. Nobel Peace Prize winner 2021.