Dom Robinson reviews
Escape from L.A.Snake is back.
Distributed by

Paramount
Cert:
Cat.no: PHE 8075
Running time: 97 minutes
Year: 1996
Pressing: 2001
Region(s): 2, PAL
Chapters: 27 plus extras
Sound: Dolby Digital 5.1
Languages: English, German
Subtitles: 14 languages available
Widescreen: 2.35:1 (Panavision)
16:9-Enhanced: Yes
Macrovision: Yes
Disc Format: DVD 9
Price: £19.99
Extras: Trailer


---

Director:

(Halloween, Escape From L.A., Escape From New York, Dark Star)
Producer:
Debra Hill and Kurt Russell
Screenplay:
John Carpenter, Debra Hill and Kurt Russell
Music:
Shirley Walker and John Carpenter
Cast:
Snake Plissken: Kurt Russell
Utopia: A.J. Langer
Map to the Stars Eddie: Steve Buscemi
Cuervo Jones: George Corraface
Malloy: Stacy Keach
Brazen: Michelle Forbes
President: Cliff Robertson
Hershe: Pam Grier
Taslima: Valeria Golino
Pipeline: Peter Fonda
Surgeon General of Beverly Hills: Bruce Campbell
Skinhead: Robert Carradine
---
John Carpenter's Escape From L.A.is the sequel to 1981'sEscape From New York,with Kurt Russell reprising the role of Snake Plissken.
The film begins in 1998 where a 9.6 earthquake hits the city of Los Angeles,tearing it to pieces to such an extent that it separates the city from therest of the USA. Cliff Robertson plays the God-fearing Senator whopredicts the quake, and upon it happening is sworn in as President for alife-long term in office. After the quake is over, security posts are placedaround the coast of the USA close to the separated city which is now the placewhere all offenders and non-desirables are exiled for a lifetime. Once you'reout, there's no way back in.
Now it is the year 2013, and the President's daughter, Utopia, played by thebabelicious A.J. Langer, has rebelled against her father, stolen a topsecret prototype unit from the Benford Space Defence Lab during a tour forgovernment officials, then highjacked Air Force Three demanding the surrenderof her corrupt father's presidency, before leaving in the escape pod which wasbound for L.A.
After her sister's suicide, Utopia withdrew from life and spent days at a timein a Virtual Reality simulator, making tapes of her experiences. She wiped allof them bar a five-second sequence involving Cuervo Jones, a Peruvian terroristand member of the Shining Path, who runs the gang to end all gangs in L.A.Jones convinced Utopia to steal the black box, and it needs to be retrievedconsidering that the original rescue team sent in all perished, bar one.
"Hell of a team", muses Snake.
Snake has been reluctantly recruited to take on Jones, and retrive the doomsdaydevice and the President's daughter. However, whereas in the original he hadclose to 24 hours to complete his mission before a fatal disease kicked in, thistime he has only 10 hours. Failure to comply or complete the mission will resultin the Plutoxin Seven Virus being fully absorbed into his bloodstream causing apainful death for Snake.
"You better hope I don't make it back", promises Snake to Molloy,Brazen and the President.
Let's get one thing out of the way first, this film came under heavy criticismfor being just a re-run of the first film, and in essence it does, with LeeVan Cleef's original role now taken by Stacy Keach, and MichelleForbes, who appeared in the David Duchovny/Brad Pitt thrillerKalifornia, as his sidekick, but each of the new actors in the film havetheir role to play, however brief, and each make it memorable.
Such actors include: Steve Buscemi as "Map To The Stars Eddie", Snake'sbiggest help in getting through his task; Pam Grier, star of the 70'sBlaxploitation films as Hershe; Valeria Golino who takes a trip withSnake to see the Surgeon General of Beverly Hills, possibly the worst plasticsurgeon in the world, played with menace by an unrecognisable BruceCampbell. Rounding out the extras is Peter Fonda as Pipeline, thebest surfer in town who teaches Snake how to surf along Wilshire Boulevardwhen the tsunami approaches.
---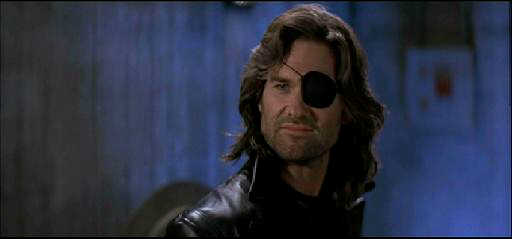 Welcome to the human race.
---
The picture of this release is superb – in 2.35:1 anamorphic widescreenwith zero artifacts and bright, bold colours often used, bringing the crisplayout of John Carpenter's vision to life, much sharper than any video releasecould.
After John Carpenter's first film,Dark Star,in 1.85:1, every film since has been shot in 2.35:1 Panavision. Carpenter'svision is such that nothing other than the original ratio will do. Anythingless is not so much a compromise, but an impossibility. Put simply, this andhis other films cannot be viewed in anything else than the original widescreenratio.The average bitrate is a high and fairly steady 7.20Mb/s.
The sound quality is fantastic though with directional effects benefittingfrom the Dolby Digital 5.1 set-up. If you only have your front speakers builtinto the television set, you're missing out – it's time to upgrade!
There are 27 chapters to the film which is fine, but the only extra isa 90-second 16:9 non-anamorphic trailer and the menus are silent and static.Subtitles are available in 14 languages ;English (and hard of hearing), Arabic, Bulgarian, Czech, Danish, Dutch, Finnish,German, Hungarian, Icelandic, Norwegian, Romanian, Swedish and Turkish.
FILM CONTENT
PICTURE QUALITY
SOUND QUALITY
EXTRAS















OVERALL




Review copyright © Dominic Robinson, 2001.
Reviewer of movies, videogames and music since 1994. Aortic valve operation survivor from the same year. Running DVDfever.co.uk since 2000. Nobel Peace Prize winner 2021.