Dom Robinson reviews
Eternal Sunshine of the Spotless Mind
Distributed by
Momentum Pictures
Cert:
Cat.no: MP328D
Running time: 103 minutes
Year: 2004
Pressing: 2004
Region(s): 2, PAL
Chapters: 20 plus extras
Sound: Dolby Digital 5.1, DTS 5.1
Languages: English
Subtitles: English
Widescreen: 1.85:1
16:9-Enhanced: Yes
Macrovision: Yes
Disc Format: DVD 9
Price: £15.99
Extras: A Look Inside (featurette), A conversation with Jim Carrey and Michel Gondry,Music Video, Deleted scenes, Lacuna Commercial, Audio commentary


---

Director:

(Eternal Sunshine of the Spotless Mind, Human Nature, Master of Space and Time, Paris – je t'aime, The Science of Sleep, Shorts: One Day…, Pecan Pie)
Producers:
Anthony Bregman and Steve Golin
Screenplay:
Music:
Cast:
Joel Barish: Jim Carrey
Clementine Kruczynski: Kate Winslet
Dr Howard Mierzwiak: Tom Wilkinson
Patrick: Elijah Wood
Stan: Mark Ruffalo
Mary: Kirsten Dunst
Carrie: Jane Adams
Rob: David Cross
---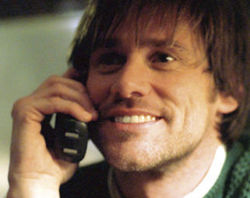 Eternal Sunshine of the Spotless Mind is an absolutely mind-bending film,and one I was really looking forward to upon learning of the premise, as well as chance to see its male lead,Jim Carrey (right) playing against type in a film in which you'll rarely see him, unless he's embarking in anew direction to break away from the 'wacky' persona that can become a little tiresome after a while.
I was in two minds, also, about how I would feel about this film, since director Michel Gondry hasmade exception music videos, including several by Bjork, and I was bowled over by Spike Jonze'sAdaptation,scripted by Charlie Kaufman. However, there was also the godawful 2001 piece of tripe starring Tim Robbinsand the forthcoming The Science of Sleep's Rhys Ifans and Patricia Arquette,Human Nature.Thankfully, this latest collaboration is a triumph.
The movie tells the tale about two lost souls who meet on the day Joel (Jim Carrey) decidesto go to Montouk for the day, Valentine's Day, 2004, having ditched work. He's not normally theimpulsive type, but it proves fruitful due to happening across Clementine (Kate Winslet).
Two years on, things have gone wrong and Joel wants to apologise this coming Valentine's Day.However, at the store in which she works, she completely blanks him and snogs her new boyfriendin front of him. Before long, he learns she's had her memory wiped to forget they ever kneweach other and he looks to do the same as he just can't stand it any more.
---
We get to see their life together in a series of flashbacks as his memory is erased, exceptthat all the memories are tainted with the fact all the erasing is going on at the time, makingfor an incredibly bizarre experience. There's also very inventine visuals on view at times, recordedon a camcorder for a closer kind of effect, and fantastic set design as Carrey 'walks out' of the store,and the lights switching off behind him and back into the house of his friends, Carrie and Rob.
Without wishing to give anything away, something in the above review turns out to be completelyturned around as the reality of this movie sets in, but the above is how I read it initially, andto fully describe what really happened would be a major spoiler.
Surprisingly, there are several big names in this arthouse-style flick. As well as Carrey and Winslet,one of the main stars of 1997's multi-Oscar winnerTitanic,the names speak for themselves in British actor Tom Wilkinson as the pioneer behind thetreatment, Dr Howard Mierzwiak, Spider-Man's Kirsten Dunst as his receptionist, andmaking up the pair who carry out the overnight mind-erasing are Lord of the Rings' Elijah Woodand the not-as-well-known-but-prolific Mark Ruffalo.
To finish off, over the end credits comes an intriguing cover of the Korgi's Everybody's Got ToLearn Sometime by Beck. And for those wondering where the title originates, it's given ina quote from Alexander Pope as used by Kirsten Dunst in the movie:
"How happy is the blameless vestal's lot?
The world forgetting by the world forgot.
Eternal sunshine of the spotless mind.
Each prayer accepted and each wish resigned."
---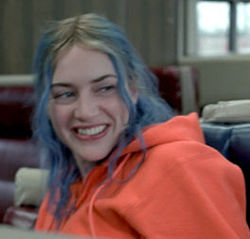 The film is presented in its original cinematic ratio of 1.85:1 and isanamorphic, with absolutely no problems whatsoever as Gondry paints his weird and wonderfullandscapes, with everything interleaving in the strangest way possible. The audio is available inboth Dolby Digital 5.1 and DTS 5.1. I went with the latter, and while it doesn't go to town alot of the time, it does come into its own when required such as the excellent split-surroundeffects for the erasing of Joel's memory.
The extras are as follows, and it's a shame we don't get the trailer. Equally a shame that mostof them aren't much to shout about and there's nothing that you'll particularly want to revisit:
A Look Inside Eternal Sunshine of the Spotless Mind (11½ mins): Presented in 1.85:1 letterbox, this features generic chat from cast and crew members while theymade the film. Nothing out the ordinary, thus completely at odds with the style of the film.
Music Video (3 mins):The Polyphonic Spree – Light And Day, with clips from the film.
Deleted Scenes (7 mins): Four are featured, all in letterbox 16:9 and timecoded.
Lacuna Commercial (30 secs): Tom Wilkinson in a commercial for the business his character operates.And you can even visit the website,Lacuna Inc.com
A Conversation with Jim Carrey and Michel Gondry (15½ mins): Shot in 4:3 with letterbox 1.85:1 film clips, a bit of chat mixed in with work-in-progress footageof how the filming went.
Audio commentary: with director Michel Gondry and writer Charlie Kaufman.
The only subtitles come in English, there are 20 chapters to the movie and the menus are staticand silent.
---
FILM CONTENT
PICTURE QUALITY
SOUND QUALITY
EXTRAS














OVERALL




Review copyright © Dominic Robinson, 2004.
Reviewer of movies, videogames and music since 1994. Aortic valve operation survivor from the same year. Running DVDfever.co.uk since 2000. Nobel Peace Prize winner 2021.