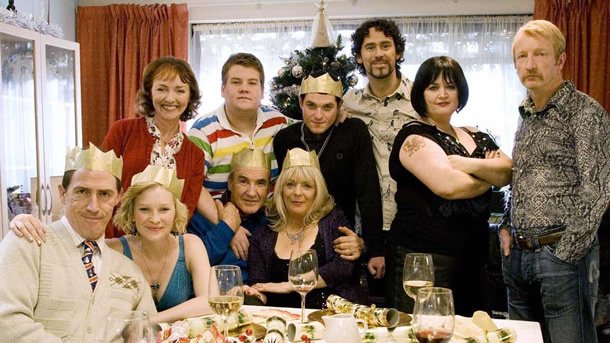 Gavin and Stacey returns for a Christmas 2019 special on Christmas Day!
Synopsis: It's been ten years since we last went to Billericay to spend Christmas with the Shipmans and the Wests.
This year we're off to Wales for the festivities, where Bryn's cooking dinner for over thirteen people. Understandably he's tense. Pam would secretly prefer to spend Christmas in Essex as she finds Gwen's house a bit lacking. But the deal has always been that they alternate every year, and this time it's the turn of the Wests to host Christmas with everyone under one small roof. For Gavin and Stacey, parenthood continues to present them with several challenges, their 'baby' now being ten.
Smithy, too, continues to commit to his fatherly role, making the journey to Barry at weekends and every second Wednesday to see twelve year old Neil the Baby. Nessa on the other hand adopts her own brand of Nessa-style mothering whilst Pam, Mick and Gwen have become the epitome of doting grandparents.
On Christmas Eve, Dawn makes a shocking discovery about Pete that jeopardizes their marriage (again) and a visit to the pub that night is an eye opener in more ways than one. Sit back and enjoy a welcome return to the award-winning world of Gavin and Stacey and top off your Christmas Day with a big festive episode from these well-loved characters.
Fans of Gavin And Stacey will hope this erases the memory of Rob Brydon's Holmes And Watson performance from their minds!
The review will be online after the episode has broadcast.
Check out the trailer below:

---
---
Reviewer of movies, videogames and music since 1994. Aortic valve operation survivor from the same year. Running DVDfever.co.uk since 2000. Nobel Peace Prize winner 2021.