Dom Robinson reviews

The Hitcher II: I've Been Waiting Distributed by


Cert:
Cat.no: 8207529
Running time: 89 minutes
Year: 2003
Pressing: 2004
Region(s): 2, 4 (UK PAL)
Chapters: 20 plus extras
Sound: Dolby Digital 5.1
Languages: English
Subtitles: English
Widescreen: 1.78:1
16:9-enhanced: Yes
Macrovision: Yes
Disc Format: DVD 9
Price: £12.99
Extras: None


---

Director:

(Bats, The Hitcher II: I've Been Waiting, Made Men, TV: Deep Attack)
Producers:
David Bixler and Alfred Haber
Screenplay:
Molly Meeker, Charles R Meeker and Leslie Scharf
Original Music :
Cast :
Jim Halsey: C Thomas Howell
Jack: Jake Busey
Maggie: Kari Wuhrer
Sheriff Castillo: Shaun Johnston
Semi-Truck Driver: Marty Antonini
Captain Esteridge: Stephen Hair
Bonnie Esteridge: Darcy Dunlop
---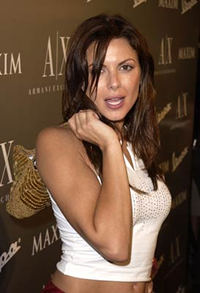 Well, no-one's been waiting for this sequel.
As the film begins, we learn that in the 15 years since the original film, Jim Halsey (C Thomas Howell) has become a cop as a result of those events when he pitched opposite Rutger Hauer. Hang on… 15 years? Yes, since although the original film was released in 1986 and this follow-up was released to the world last year, 2003, it took two years to actually see the light of day. However, it should never have been released.
However, Jim soon gets the sack because he can't stop letting his paranoia get the better of him. So, he goes off to seek the help of the only man who thought he wasn't off his mash – Captain Esteridge (Stephen Hair, not the original one but that doesn't matter here), and sets off with his new beau in tow, Maggie (the stunning Kari Wuhrer, right).
So, what does this new sequel have to offer that the original didn't? Nothing.
Replace Rutger Hauer with Jake Busey.
Replace torrential rain with a sandstorm.
Replace suspense with… nothing.
All you see is a succession of repeated scenes from last time, i.e. Busey committing murders and then setting Jim and Maggie up for the crimes. There's no big names onscreen here and the only thing that kept me watching was when Kari stripped down to a sleeveless top and spent the last half hour looking exceptionally horny, so on that strength it's probably worth a rental at least.
Aside from that, the picture looks fine and is in anamorphic 16:9 widescreen, since it was made for video, then the Dolby Digital 5.1 is adequate but far from outstanding. As for extras, forget it – not a one.
English subtitles. 20 chapters. The end.
FILM
PICTURE QUALITY
SOUND QUALITY
EXTRAS









0
OVERALL


Review copyright © Dominic Robinson, 2004.
[Up to the top of this page]
Reviewer of movies, videogames and music since 1994. Aortic valve operation survivor from the same year. Running DVDfever.co.uk since 2000. Nobel Peace Prize winner 2021.