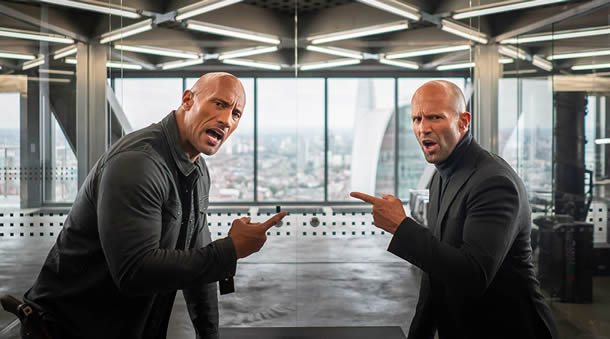 Hobbs And Shaw now has another trailer, and I was laughing like a drain during this. I'm really looking forward to it.
The film is released in UK cinemas on August 2nd.
Check out the trailer below:

---
Hobbs And Shaw – who? It's Fast and Furious' Luke Hobbs (Dwayne Johnson) and Deckard Shaw (Jason Statham), or as the title technically is – Fast And Furious Presents: Hobbs And Shaw, or you could replace the 'and' with the & sign, but then an & sign is not at all conducive to SEO on websites, so I'm using 'and'.
And since Fast And Furious 9 isn't coming until 2020, surely this is Fast And Furious 8½? Their attempt at Fellini's 8½? No, that's crazy talk.
The pair have to save the world against cyber-genetically enhanced villain Brixton (Idris Elba) who acts like Milo in The Last Boy Scout by announcing himself as 'the bad guy', and there's a lot of punching and driving and shooting and all sorts, and it looks ace, especially since the director is David Leitch who co-directed the first John Wick movie.
I'd never seen a F&F movie before 2017's Fast And Furious 8, and while I've since caught up with the first two, No.8 was more like a Bond film than anything from the franchise since 2006's Casino Royale!
Also stars: Eiza González, Vanessa Kirby, Eddie Marsan, Joe Anoa'i, Teresa Mahoney, Stephanie Vogt, Sonia Goswami, Viktorija Faith
Hobbs And Shaw is released in UK cinemas on August 2nd.
Check out the trailer below:

Reviewer of movies, videogames and music since 1994. Aortic valve operation survivor from the same year. Running DVDfever.co.uk since 2000. Nobel Peace Prize winner 2021.