Dom Robinson reviews
Hollyoaks: Indecent Behaviour Sex. Lies. Betrayal.
Distributed by
Momentum Pictures
Cert:
Cat.no: MP106D
Running time: 90 minutes
Year: 2001
Pressing: 2001
Region(s): 2, PAL
Chapters: 20 plus extras
Sound: Dolby Digital 2.0 (Stereo)
Languages: English
Subtitles: English
Widescreen: 1.55:1 (14:9)
16:9-Enhanced: No
Macrovision: Yes
Disc Format: DVD 9
Price: £19.99
Extras: Cast Interviews, Video Diary, Out-takes, Make-up shots


---

Director:
Producer:
Screenplay:
Music:
Steve Wright and Gordon Higgins
Cast:
Geri Hudson: Joanna Taylor
Jason Cunliffe: Alex Thorne
Luke Morgan: Gary Lucy
Ben Davies: Marcus Patric
Izzy Cornwell: Elize Du Toit
Alyson: Sarah Jayne Steed
Adam Morgan: David Brown
Beth Morgan: Kate Baines
Dion: Gary Webster
Eddie: David Selling
Scott: Daniel Hyde
Matt: Kristian Ealey
---
Hollyoaks started life as a 2-days-a-week soap on Channel 4. Since then it's already spawned a one-off video, Off on One – which I haven't yet seen but should be on TV before long – and a 16-part offshoot series for some of its characters, Movin' On – and has grown to showing four episodes a week (Mon-Thurs), which I think is one too many, like most soaps, because you still get 2-3 episodes of content spread over four.
Now we have a second one-off, Indecent Behaviour: 48 hours in the life of several main cast members over the weekend of November 17th and 18th, 2001, so if you were wondering why Luke was sporting big bruises the Monday after and why everyone was in a mood with each other for reasons we hadn't found out about, this is your chance to discover. Before the opening credits though, you see footballer Jason having sex in the shower with a brunette so you know Geri's in for a disappointment too.
During this episode we find out why Dan didn't like going out with Izzy and it wasn't because he was gay (why else wouldn't he go with her?) and as a result, Ben thinks he's on a promise. Geri starts to enjoy the party at Jason's house after they go to a club, but her desires start to take an overly dangerous turn. And the next morning, the new incarnation of Beth Morgan, since her return to the soap, calls Luke to pick her up the next morning, causing him to have his mind set on revenge.
There's also a rather pointless non-sub-plot with lovers Chloe and Matt about how they love each other and it's just in there to eek out the running time up to 90 minutes.
---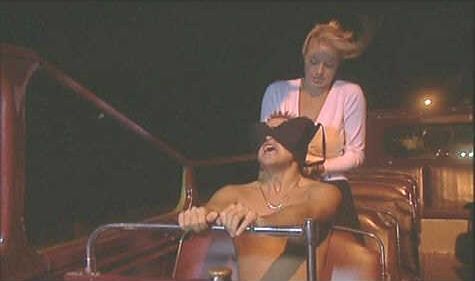 Izzy takes Ben for a bus ride to remember.
---
The one thing that's really annoying about this DVD is that while the programme has always been filmed in 16:9 and presented anamorphically on digital TV, those who transferred this particular one-off special saw fit to only do it in the 14:9-centre-cropped non-anamorphic disappointment you usually only expect on analogue TV. Why? It's even more annoying to find out… well, you'll see shortly.
As such, while the general quality of what you can see is fine, the subtitles get cropped off the bottom of the screen as I zoom it in to fill my widescreen TV. Oh, what a let-down.
Sonically, everything's fine, but then a soap opera in stereo doesn't often get much chance to shine.
All the extras, apart from the last part which doesn't feature video footage, are in 16:9 anamorphic which is so damn irritating because the main feature isn't!! Which brainiac was in charge here?
Trying to stay positive, there are 16 minutes of Cast interviews and 37 minutes in the Video diary section as this one-off show took a staggering 12 days to film.
The Out-takes, lasting three minutes, are actually deleted scenes, not cock-ups of the Denis Norden variety. The Make-up shots are stills of all the main characters after they've been through the wars in one way or another.
Subtitles are in English only, there's a decent number of chapters in 20 and the menus are subtly animated and scored with the main theme tune.
Overall, this isn't really going to be a DVD you'll watch time and again – no more than you'd watch any other episode of Hollyoaks, especially due to the picture cock-up, so I'd advise a rental only unless you think it's a must-have afterwards.
FILM CONTENT
PICTURE QUALITY
SOUND QUALITY
EXTRAS









OVERALL


Review copyright © Dominic Robinson, 2001.
Reviewer of movies, videogames and music since 1994. Aortic valve operation survivor from the same year. Running DVDfever.co.uk since 2000. Nobel Peace Prize winner 2021.