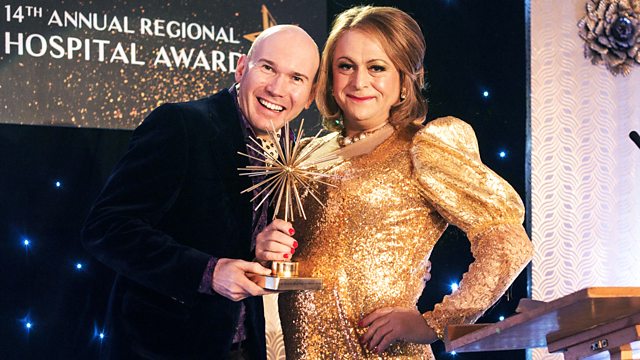 Hospital People is the spoof fly-on-the-wall documentary about those who work in said establishment, and a pet project for Tom Binns who takes the multiple lead, best known as inept hospital radio DJ Ivan Brackenbury, with annoying and dodgy jingles such as "Ivan Brackenbury – Out and about, reaching out, and touching patients".
Another of his roles is as busybody manageress Susan Mitchell, busily preparing for the 14th Annual Hospital Awards, referring to the staff hierarchy, "everyone has a voice, no matter where they come in my triangle"; and on being given a red rug for the awards instead of a red carpet, "I don't want them looking at my entrance and finding my rug's a mess", so there's plenty of innuendo, even if most of it comes across better in, say, Doctors, than here.
His other main roles are as porter Ian, masquerading as a psychic healer, and resident priest Father Kenny.
Binns re-uses some jokes from last year's Comedy Playhouse pilot, including the one in the trailer about "Mrs A", but then all of those were shoved after the 10pm news for everyone to ignore, so you can understand that, given that this has a more prime 9.30pm slot.
---
Additional cast regulars includ Amit Shah as Susan's No.1, and Janine Duvitski as Kenny's assistant, Mrs. Leydon, taking over from the pilot's Madeleine Bowyer, but one of the best members, here, is the lovely Mandeep Dhillon as Ivan's student assistant, Shaz, often saying little but getting everything across perfectly with a wry look. If her name is familiar, then that's because she's been in a zillion things from Some Girls, Fried, 24: Live Another Day and Knock Knock – episode 4 of the current series of Doctor Who, airing on May 6th.
As a guest star in the first episode, The Thick Of It's Alex Macqueen is one of the best additions to the cast, as actor Jeremy Lace, who played a doctor for eleven years in BBC drama Good Medicine.
So, Hospital People is okay, but far from revolutionary. Still, it could be worse… it could be Peter Kay's Car Share….
And to that end, episode 2's guest star is Car Share's Sian Gibson, as Head of Hospital Security Hilary. She was not only in Phoenix Nights, but also The Services, a one-off for That Peter Kay Thing, where Kay played a similar number of roles to this including her female boss. Ah, remember the days when Peter Kay was still funny, and not taking the credit for everyone else's work as he did with Phoenix Nights? Ah, golden days…
Hospital People begins tonight at 9.30pm on BBC1 and will then be available on the BBC iPlayer for 30 days, but isn't yet available to pre-order on Blu-ray or DVD.
---
Hospital People – Series trailer
---
Episodes 1 & 2: 4/10
Director: David Kerr
Producer: Jon Petrie
Screenplay: Tom Binns and Matt Morgan
Cast:
Ivan/Kenny/Ian/Susan: Tom Binns
Shaz: Mandeep Dhillon
Sonny: Amit Shah
Mrs Leydon: Janine Duvitski
Jeremy Lace: Alex Macqueen
Hilary: Sian Gibson
Reviewer of movies, videogames and music since 1994. Aortic valve operation survivor from the same year. Running DVDfever.co.uk since 2000. Nobel Peace Prize winner 2021.