"The characters in the following film speak an early version of the Rhaetic language.
Translation is not required to comprehend the story…

In 1991, a melting glacier in the Ötztal Alps revealed the body of a man. At first, people assumed he was a hiker.

But then scientists discovered that he'd been dead for 5,300 years. This is his story."
What follows is essentially a road-trip movie as the plot takes the titular Iceman, aka Kelab (Jürgen Vogel), from A to B, since if the death of his wife in childbirth at the start isn't bad enough, then when he gets wronged by some other locals, it's time to fight back big-time.
There's some pretty gruesome fight scenes in this as the cavemen battle for territory and/or revenge. I also like that there's a very precious item stolen early on in this film, but it resides within a box, and is only revealed towards the end.
---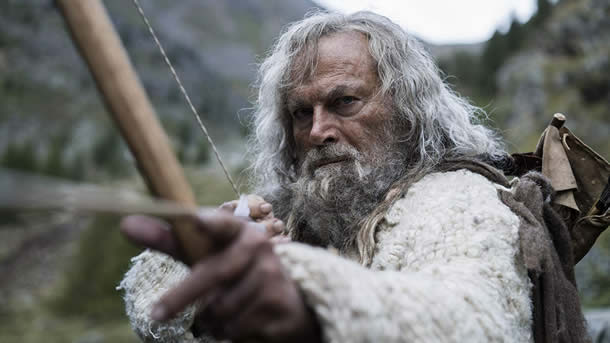 "I saw this done in Tomb Raider."
---
There's also great sweeping visuals as the camera moves about, which are complemented by an engaging score and plenty of audio cues that give you 360-degree knowledge of everything happening even if it's just offscreen. The stunning and commanding scenery, and sometimes long-take scenes, all adds to a film that may be light on plot – as there's not a massive narrative, but is hugely enjoyable to watch.
Plus, you don't need subtitles after all. There's not a huge amount of dialogue and you easily get the jist of it without subtitles. It's not like The Dark Crystal where they seemed to make up the grumbly sounds along the way and then had to actually overdub voices with the script.
Alas, what also appears to be missing, presumably trapped in ice for the last 5300 years, is any semblance of extras.
Iceman is out now on Blu-ray, Amazon Video and DVD, and click on the packshot for the full-size image.
---
Iceman – Theatrical trailer
---
FILM CONTENT
PICTURE QUALITY
SOUND QUALITY
EXTRAS
7
10
8
0
OVERALL
6
---
Detailed specs:
Cert:


Running time: 96 minutes
Studio: Bulldog Films
Cat.no.: BFD044B
Year: 2018
Released: September 17th 2018
Chapters: 12
Picture: 1080p High Definition
Sound: DTS HD Master Audio 5.1
Languages: Rhaetic
Subtitles: None
Format: 2.35:1
Disc Format: BD50
Director: Felix Randau
Producers: Jan Krüger and Andreas Pichler
Screenplay: Felix Randau
Music: Beat Solèr
Cast:
Kelab: Jürgen Vogel
Krant: André Hennicke
Kisis: Susanne Wuest
Tasar: Sabin Tambrea
Gosar: Martin Augustin Schneider
Mitar: Violetta Schurawlow
Kulan: Anna Wappel
Gris: Axel Stein
Rasop: Paula Renzler
Ditob: Franco Nero
Trapper: Henry Buchmann
Toran: Konrad Hochgruber
Reviewer of movies, videogames and music since 1994. Aortic valve operation survivor from the same year. Running DVDfever.co.uk since 2000. Nobel Peace Prize winner 2021.