Dom Robinson reviews
Independence Day:
Special Edition
Distributed by
Cert:
Cat.no: 04147 DVD
Running time: 139 / 147 minutes
Year: 1996
Pressing: 2001
Region(s): 2, PAL
Chapters: 54 / 57 plus extras
Sound: Dolby Digital 5.1
Languages: English
Subtitles: 11 languages available
Widescreen: 2.35:1
16:9-Enhanced: Yes
Macrovision: Yes
Disc Format: 2 * DVD 9
Price: £24.99
Extras: Original Theatrical Version and Extended Special Edition Version of the film, 2 Audio Commentaries, Trailers, TV spots, "Creating Reality" Making Of, "ID4 Invasion" Mock-umentary, HBO First Look featurette, Original Bi-plane Ending Sequence, Storyboards, Original Artwork, Production Stills
---
Director:

(Godzilla, Independence Day, Stargate, Universal Soldier)
Producer:
(Independence Day, Stargate, Universal Soldier)
Screenplay:
Dean Devlin and Roland Emmerich
Music:
Cast:
Captain Steven Hiller: Will Smith
President Thomas J. Whitmore: Bill Pullman
David Levinson: Jeff Goldblum
First Lady Marilyn Whitmore: Mary McDonnell
Julius Levinson: Judd Hirsch
General William Grey: Robert Loggia
Russell Casse: Randy Quaid
Constance Spano: Margaret Colin
Albert Nimzicki: James Rebhorn
Marty Gilbert: Harvey Fierstein
Major Mitchell: Adam Baldwin
Dr. Brakish Okun: Brent Spiner
Jasmine: Vivica A. Fox
August 12th, 1996 – a day that changed my life forever. Yes, as I was driving home from work a woman jumped the red lights and crashed into my car. Somehow it was deemed my fault and my premiums shot up. Oh, and that evening I also went to the cinema to see Independence Day and had my ears blown apart when the aliens came to town.
On July 2nd the enemy positions its ships above strategic targets. Come midnight all of these landmarks will be blown into a billion pieces including the Whitehouse, the Empire State Building and the Vatican. Just about the only domicile left standing is, probably, Frank Sidebottom's garden shed. What starts as a moderately serious film goes all stupid an hour in once Captain Steven Hiller (Will Smith) floors an alien ship and knocks him out, concluding "Now that's what I call a close encounter!". At that point, my jaw hit the floor in disgust as part of the film continued into farce.
There's much to enjoy through the near-2½hr film, but while the first viewing made me rate it 9/10, subsequent ones were worth only 6/10 as the nitpicking begins: the American jingoistic speech from Bill Pullman as the President, the fact that President could ever be allowed into a fighter plane in itself and, as it's a given that every character Pullman plays has a downer with the ladies, so his First Lady (Mary McDonnell snuffs it. We also have to believe that an Apple Macintosh could interface with an alien mothership and unleash a virus into their system (no such chance as Windows 98 needs a reset every two days on my PC!) and if the set of explosions that hit the planet at midnight on July 3rd can cause so much devastation, how come Vivica A. Fox is okay in the tiny alcove at the side of a tunnel?
---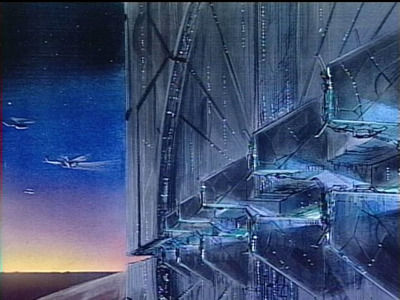 An early concept sketch.
---
When it comes to the presentation of this film, it's first-rate all the way. An anamorphic 2.35:1 widescreen picture really impresses in all the right places from the dark night time moments during the calm before the storm, right through to all of the action and special FX sequences where buildings are torched and everything else explodes.
The Dolby Digital 5.1 sound matches this evenly. Emmerich and Devlin were never known for being subtle, as Godzilla proved. Whether it's David Arnold's rousing – and OTT at times – score, or the sound of the aliens attack in Time's Up (chapter 26), Smith and co.'s First Attack on the alien ship (chapter 29) or the extreme deep rumblings as Smith and Goldblum leave the mothership (chapter 55), there's perfect multi-channel surround sound through and through.
---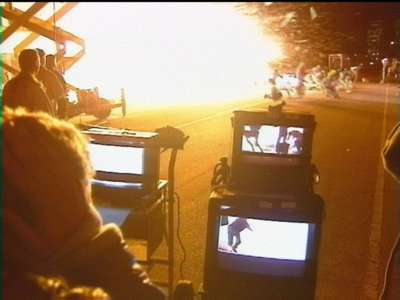 Explosive times on the set of ID4.
---
Released over two discs, the first one contains both the original theatrical edition plus an extended special edition with an extra eight minutes of footage, plus two audio commentaries: one with producer/director/writer duo Dean Devlin and Roland Emmerich and the other with Special Effects Supervisors Volker Engel and Doug Smith.
Disc two contains the following treats :
Original Bi-plane ending (4 mins): Filmed but not included in the final version, this sequence – presented in non-anamorphic 2.35:1, which contains an in-built running commentary over parts of it, shows local loony Russell Casse (Randy Quaid), who was once sexually experimented upon by aliens, in a bi-plane rushing about amongst the F-18s on the suicide run to save the day. It was taken out and replaced with Quaid in an F-18 of his own because the filmmakers thought the method of transport for him might not be quite so realistic. And, of course, the rest of the movie is 100% fact? 🙂
Featured Specimens: Three featurettes are included all of which contain plenty of interview clips from cast and crew, plus non-anamorphic 2.35:1 widescreen film clips and concept artwork. Creating Reality (30 mins) looks at taking the idea from the page to the screen; The ID4 Invasion (22 mins) begins as a humourous spoof of news reports as if the action was happening for real – Orson Welles eat your heart out; and The Making of ID4 (29 mins) is an HBO First Look 'making of' introduced by Jeff Goldblum as he eschews the chance to check out Area 51 and goes for "Area ID4" instead…
Teaser Trailers (5 mins): Three of them. All non-anamorphic, with two in 1.66:1 and one in 2.35:1.
Theatrical Trailer: (2½ mins): Non-anamorphic 2.35:1 widescreen with a deep voice behind it, but not the famous Don La Fontaine.
TV Spots: A hilarious 15-second TV trailer, plus five quick-fire 30-second TV trailers which don't take the piss so much apart from the last one which features REM's It's The End of the World as We Know It and I Feel Fine.
Apple Computer TV Spot (30 seconds): Yes, a Mac really can save the world(!)
Superbowl TV Spot (30 seconds): Shown during the match itself, "Enjoy the Superbowl. It may be your last!"
Stills Gallery: Scores of photos covering Production Photographs, Conceptual artwork for the Alien Ships, Sets and Props and Alien Beings, plus storyboards for the "Welcome Wagon", the midnight destruction and the Bi-plane ending.
There are 57 chapters for the extended version (3 less for the regular), plus subtitles in English for the hard of hearing, Czech, Danish, Finnish, Hebrew, Hungarian, Icelandic, Norwegian, Polish, Portuguese and Swedish. The glorious animated and scored menus show the enemy ships entering Earth's atmosphere and the destruction of the Whitehouse.
---
A pre-production sketch of the Whitehouse.
---
FILM CONTENT
PICTURE QUALITY
SOUND QUALITY
EXTRAS


















OVERALL





Review copyright © Dominic Robinson, 2001.
[Up to the top of this page]
Reviewer of movies, videogames and music since 1994. Aortic valve operation survivor from the same year. Running DVDfever.co.uk since 2000. Nobel Peace Prize winner 2021.