Dom Robinson reviews
I'm Alan Partridge Distributed by


Cert:
Cat.no: BBCDVD 1053
Running time: 174 minutes
Year: 1997
Pressing: 2001
Region(s): 2, 4 (UK PAL)
Chapters: 36 plus extras
Sound: Stereo
Languages: English
Subtitles: English
Fullscreen: 4:3
16:9-enhanced: No
Macrovision: No
Disc Format: DVD 9
Price: £19.99
Extras: Unseen footage, Character biographies


---

Director:
Producer:
Screenplay:
Peter Baynham, Steve Coogan & Armando Iannucci
Music:
Cast:
Alan Partridge: Steve Coogan
Susan: Barbara Durkin
Ben: James Lance
Sophie: Sally Phillips
Lynne: Felicity Montagu
Tony Hayers: David Schneider
Dave Clifton: Phil Cornwell
Michael: Simon Greenall
---
Alan Partridge is the biggest tit in the world. He failed his last chance at a TV chat show, "Knowing Me, Knowing You with Alan Partridge" and now, busted down to the position of early morning radio DJ for Radio Norwich after accidentally shooting a guest dead on his show, who hands over to breakfast show DJ Dave Clifton (Phil Cornwell), who's thought of by Alan as being a "dosser" and a "dwad".
Having been thrown out of his house, Alan 'Billy no-mates' Partridge is living at Linton Travel Tavern, just off the motorway, so his only friends are the staff who all think he's an idiot too, from manageress Susan (Barbara Durkin) to receptionist Sophie (Smack The Pony's Sally Phillips) – who keeps sniggering at Alan's off-hand comments, but there was one in which she's later said that did really lose control, but hasn't specified which one. I'd hazard a guess at the "Cock, Piss, Partridge" comment in the first episode, or perhaps the 'two soaps' suggestion in episode two.
Making up the rest of the cast is porter Ben (James Lance, recently also seen in an Archer's advert), Geordie barman/handyman and ex-Royal Marine Michael (Simon Greenall), who alienates Alan by causing him not to have a clue what he's on about, Lynne (Felicity Montagu), Alan's harrassed P.A. and David Schneider has a regular part as BBC TV programme commissioner, who Alan irritates extensively in episode one and then has fantasies about throughout the series.
And during that, there's not so much a laugh-a-minute, but several laughs-per-minute with scores of one-liners in each episode of the six episodes. It makes you wish they'd make a second series of it, but surely they'd have only written one if they could maintain the same comedy quotient.
---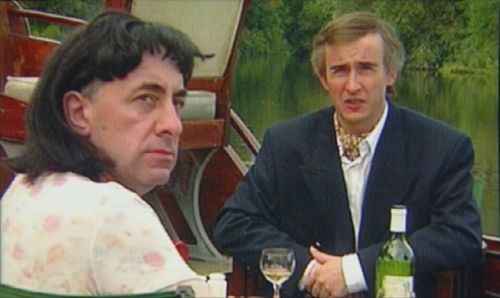 Alan and his "wife"
---
The first episode, A Room with an Alan starts with Alan's intent to finally leave the travel tavern and move into a new house, it sees his first problems trying to understand Michael and contains both the graffiti sprawl across Alan's car – "Cock, Piss, Partridge" – and the ill-fated Tony Hayers meeting ("Smell my cheese, you mother!").
Alan Attraction sees him get some love action on Valentine's Day when having a romantic chocolate-covered liaison with the receptionist at his company, Peartree Productions, after he's sacked the rest, all the while giving himself easy access to Dixons… ("Shall I do it faster, or maintain the same speed?")
Episode three, Watership Alan, which guest-stars Spaced's Simon Pegg and this programme's co-writer Peter Baynham, finds him doing a promotional video for a boating company and drinking "ladyboys", definitely not related to the late-night film he watched, "Bangkok Chick-Boys" and at the end of the episode, there's the classic cry of asking Susan to put his porn back on for him. Also, in the episode, he annoys farmers and interviews a representative from the Norfolk Farmers' Union played by Christopher Morris (Brass Eye).
Basic Alan is set on a very boring Saturday afternoon. There's no-one about and the hotel is closed for repairs, although the only essential one is to Alan's Corby trouser press after he dismantles it. To while away the time he pays a visit to the petrol station to buy twelve bottle of windscreen washer fluid and phones Curry's to ask about buying "two supplementary auxilliary speakers, apropos achieving surround sound", asking out the male assistants in each shop for a drink and getting a knock-back. Not to mention there's the moments where he pretends to shoot Michael and then himself, as well as attempting to interrupt Ben and Sophie's 15-minute break.
In To Kill a Mocking Alan, he hosts "An Afternoon with Alan Partridge" but guest Sue Cook cancels at the last minute and Alan embarrasses himself in front of two representatives from Irish station RTE TV, first by stressing that U2's "Sunday Bloody Sunday" really encapsulates the frustrations of a Sunday, missing the song's original intent and later by inadvertently taking them to the house of his Number One fan, Jed Maxwell. ("No way, you big spastic! You're a mentalist!")
Finally, in Towering Alan, he gets his big shot at stardom. Tony Hayers is dead, giving Alan a chance to really make a fool of himself at the wake and then the new guy in charge believes in him and wants to give Alan the contract he's always wanted, just as soon as he's signed it. ("Jurassic Park!")
If I had only one complaint it's that I wish they'd left out the canned laughter. It should have optional soundtracks for this, although I presume that the only available one is the one used here and shown endlessly on UK Gold and Play UK.
My final question here will be: Just what is in Alan's bedroom draw? It's as big a mystery as the glowing suitcase in Pulp Fiction.
---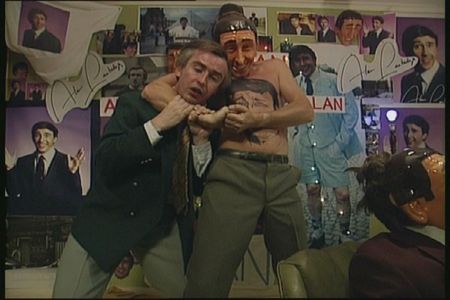 Alan with his new best friend.
---
For a programme that's just four years old everything should look perfect and it does, with zero artifacts, even though it's largely shot with a hand-held camera that can jitter about in some scenes. Filmed in 4:3 fullscreen as shown the same way, the look of desperation comes across Alan's face perfectly.
The extras begin with Add On Alan, 20 minutes of excellent unseen footage. Most are finished clips that could easily be put back into the programme and I wish they were because they retain the same quality of comedy and obviously were only cut for timing reasons. There's also a few outtakes within.
The Partridge Family Tree provides character biogs on all the main people and Alan's Ideas brings together four minutes of all the ideas he ever had, all of which has been bizarrely squeezed vertically a little. Why?
The stereo soundtrack is purely functional, giving clear English dialogue, but nothing else is necessary.
There are 36 chapters to the series, each episode having an equal six and the menus feature some subtle animation and clips from the show, the theme tune and plenty of soundclips. Subtitles are in English.
FILM CONTENT
PICTURE QUALITY
SOUND QUALITY
EXTRAS















OVERALL




Review copyright © Dominic Robinson, 2001.
[Up to the top of this page]
Reviewer of movies, videogames and music since 1994. Aortic valve operation survivor from the same year. Running DVDfever.co.uk since 2000. Nobel Peace Prize winner 2021.