Inside Llewyn Davis starts off at the Gaslight Cafe, 1961, where Llewyn Davis (Oscar Isaac) sings "Hang Me, Oh Hang Me".
From there, we follow a week in the life of this struggling folk singer, continuing with him getting punched in the face by a mysterious man in the alley after the gig, and then waking up and leaving a flat owned by his friends, Mitch and Lillian Gorfein (Ethan Phillips and Robin Bartlett). Unfortunately, their ginger cat just skips out as the door closes, and he's forced to carry it about – surely not an envious prospect when he has to take the subway, as it's not the place you want to be trying to hold onto an animal which, all to often, has a mind of its own.
He also stays over with folk-singing duo Jim and Jean (Justin Timberlake and Carey Mulligan), the former completely unaware that she and Davis share a history. Our titular hero is a drifter who also drifts through other people's lives, including Roland Turner (John Goodman), as a man who's constantly looking rather listless, for reasons which will become clear in due course. Davis is also forever trying to get to the Gate of Horn club, hosted by Bud Grossman (F. Murray Abraham).
---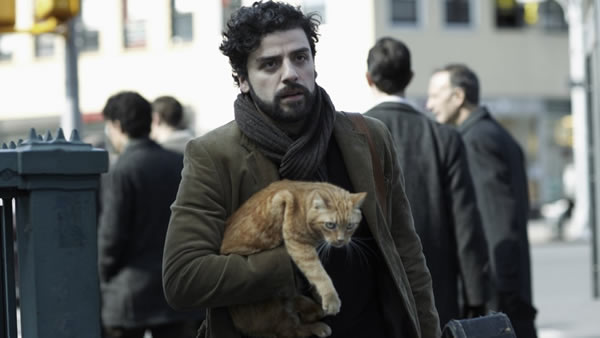 ---
Inside Llewyn Davis is a comfortable and satisfying movie, like putting on an old pair of slippers. It's also a road movie, so you shouldn't expect every last thing to make sense. There's always some oddities in a Coen Brothers film, one of my favourites in this being the ridiculously tight apartment block corridors that certainly wouldn't pass building regulations today, in the light of 'health and safety'.
Shot in soft focus tones, and lit so well, especially with bright lights indoors and dark scenes outside, the locations in this film are ones I just want to jump right in and enjoy them for myself. I don't know a great amount about folk music, either, but this film grabbed me from the start and carried me through with it. The musical numbers will have you tapping along in no time.
I still don't get Justin Timberlake as an actor, but Inside Llewyn Davis is an intriguing film which draws you in for its duration. And any film starring Carey Mulligan is always worth a watch. Well, except for Wall Street: Money Never Sleeps, which was terrible, and a failure as a sequel.
And when it comes to a film's duration, I've always thought the perfect length for a movie is 105 minutes, and this one clocks in at exactly that.
Go to page 2 for the film's presentation and extras.
---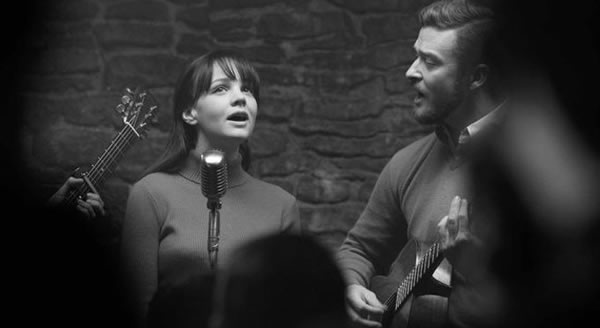 ---
---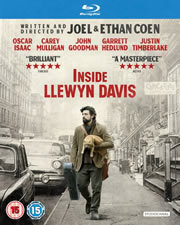 The film is presented in the original 1.85:1 widescreen theatrical ratio and is in 1080p high definition. The picture on the disc is faultless, which just makes you want to jump into the sumptuous locations all the more.
The sound is in 5.1 DTS-HD Master Audio, but while such a film isn't one for special effects, the music does come through sharp and clear and is a joy to listen to.
There's one main extra on this disc:
Inside, Inside Llewyn Davis (42:48): Presented in HD, this breaks down many aspects of the film – the usual about why they chose the time period they did, why they chose Oscar Isaac, and so on, and how it all came about. Interestingly, all the music in the film was played live.

I loved the film so I found this a very intriguing supplemental. It's a great shame there's nothing else of any real use to me. One of the Coens (I can't tell them apart) says that they have a lot of spare footage of cats doing things you don't want them to do, but doesn't know if there's a market for that…. well, that's what the extras are for!

Audio description: Describes the film… audiobly.
The menu is a simple affair, showing the titular character singing the main theme.
There are subtitles in English, but when it comes to the chaptering, I feel one should come every five minutes on average. Studiocanal, like many other distributors, go for a low 12 however long the film. I would like them to increase this number.
Once again, Studiocanal put trailers before the main menu. These should go in the extras section, hence I won't publicise them here.
Inside Llewyn Davis is out now on Blu-ray and DVD, and a CD Soundtrack has also been released.
---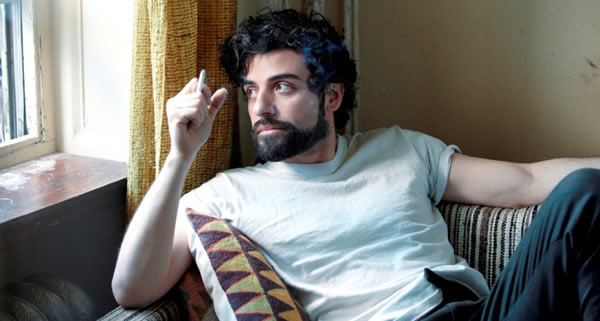 ---
FILM CONTENT
PICTURE QUALITY
SOUND QUALITY
EXTRAS
9
10
7
3
OVERALL
8
---
Cert:


Running time: 105 minutes
Cat.no: OPTBD2542
Year: 2014
Released: May 26th 2014
Chapters: 12
Picture: 1080p High Definition
Sound: 5.1 DTS-HD Master Audio, DTS 5.1, Dolby Digital 5.1
Languages: English
Subtitles: English
Widescreen: 1.85:1 (Spherical)
Disc Format: BD50
Director: Ethan Coen and Joel Coen
Producers: Ethan Coen, Joel Coen and Scott Rudin
Screenplay: Ethan Coen and Joel Coen
Cast:
Llewyn Davis: Oscar Isaac
Jean: Carey Mulligan
Jim: Justin Timberlake
Mitch Gorfein: Ethan Phillips
Lillian Gorfein: Robin Bartlett
Pappi Corsicato: Max Casella
Mel Novikoff: Jerry Grayson
Joy: Jeanine Serralles
Al Cody: Adam Driver
Troy Nelson: Stark Sands
Roland Turner: John Goodman
Johnny Five: Garrett Hedlund
Marty Green: Alex Karpovsky
Man in Gate of Horn: Samuel Haft
Bud Grossman: F. Murray Abraham
Reviewer of movies, videogames and music since 1994. Aortic valve operation survivor from the same year. Running DVDfever.co.uk since 2000. Nobel Peace Prize winner 2021.