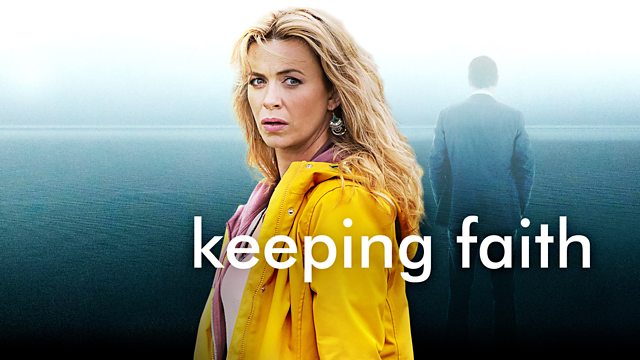 Keeping Faith is a new 8-part drama starring Torchwood's Eve Myles in the lead role, which starts next Thursday, July 12th, but which has already aired on BBC Wales.
Aside from the cheesy title, lawyer Faith finds herself in rather a quandry as her husband and business partner, Evan (Bradley Freegard), goes AWOL one morning with no rhyme or reason, especially following a seemingly happy home and family life.
Ms Myles is very good as the woman who tries to keep the family together at this time – for example dealing with all that while also having a case where a man has been fighting a neighbour over land for eight whole years – whilst also turning detective to discover why Evan's run off.
So that's the good side of it, but when real life gets in the way, it feels a bit kitchen sink drama at times – although that can be considered necessary at times because Faith has to keep reality ticking along for the rest of the family. That said, when it does, it is the sort of thing we see regularly in dramas so does make things drag a little.
---
---
That said, you will get some answers in the first episode, and they are enough to make me want to stick with it and see where this is going. Sadly, although it's already shown on BBC Wales, it's not all available on the iPlayer just yet. I think they missed a trick by not allowing us to instantly binge on this boxset.
I'll conclude my episode 1 review by stating that and while this is worth showing on all BBC1 variants, it was originally commissioned for BBC1 Wales, and you really need subtitles as the strong accents speak way too fast.
I have since seen episodes 2 and 3, and note that I won't give any spoilers about anything not yet shown on the main BBC1 variant, and if I have to discuss anything within future episodes, I'll put it behind a spoiler header, below, so you can't stumble across anything by accident.
I will say that so far, while the first episode started to set things out nicely, everything certainly got better – particularly with the way it drip-feeds the plot to you, including going back to before the series began to show us how events got to where they are.
There's also the glorious cinematography of Wales and an original soundtrack for this series, which is something you don't often see happen with UK TV shows.
Keeping Faith begins on Thursday on BBC1 at 9pm, and is available to pre-order on DVD – ahead of its release on September 3rd, and you can watch each episode on BBC iPlayer for 30 days after transmission.
---
Episode 1 Score: 7/10
Episode 2 Score: 8/10
Episode 3 Score: 9/10
Directors: Pip Broughton and Andy Newbery
Producers: Pip Broughton and Nora Ostler
Writer: Matthew Hall
Cast:
Faith Howells: Eve Myles
Evan Howells: Bradley Freegard
Rhodri Howells: Seren Letherby, Harry Unsworth and Oscar Unsworth
Alys Howells: Demi Letherby
Eira Howells: Menna Trussler
Gareth Taxi: Morgan Hopkins
Megan Howells: Lacey Jones
Lisa Connors: Catherine Ayers
Cerys Jones: Hannah Danie
Marion Howells: Rhian Morgan
Arthur Davies: Alex Harries
Judge Walker: Gilly Adams
Delyth Lloyd: Suzanne Packer
Alun Jekins: Llion Williams
Terry Price: Matthew Gravelle
Alwyn Thomas: Boyd Clack
Tom Howells: Aneirin Hughes
Dr Samantha Beynon: Jenny Livsey
Gavin John: Gareth Jewell
Bethan Price: Mali Harries
Steve Baldini: Mark Lewis Jones
Reviewer of movies, videogames and music since 1994. Aortic valve operation survivor from the same year. Running DVDfever.co.uk since 2000. Nobel Peace Prize winner 2021.