Dom Robinson reviews

The Long Kiss Goodnight Eight years ago she lost her memory.
Now a detective must help her remember
the past before it buries them both. Distributed by



Entertainment In Video
Cat.no: EDV 9006
Cert: 18
Running time: 115 minutes
Year: 1997
Pressing: 1999
Region(s): 2 (UK PAL)
Chapters: 12
Sound: Dolby Digital 2.0 (Dolby Surround)
Languages: English
Subtitles: English
Widescreen: 2.35:1 (Super 35)
16:9-enhanced: No
Macrovision: No
Disc Format: DVD 9
Price: £17.99
Extras : Scene index, trailer, 'making of' featurette, Stunt scenes.

---

Director:

(Cutthroat Island, Cliffhanger, Die Hard 2, Nightmare on Elm Street 4)
Producers:
Renny Harlin, Stephanie Austin and Shane Black
Screenplay:
Shane Black (Lethal Weapon)
Music:
(Back To The Future)
Cast:
Samantha Caine (Charly): Geena Davis (Accidental Hero, Beetlejuice, Cutthroat Island, Earth Girls Are Easy, The Fly, A League of Their Own, Quick Change, Speechless, Thelma and Louise)
Mitch Henessey: Samuel L. Jackson (187, Amos and Andrew, Die Hard With a Vengeance, Eve's Bayou, The Great White Hype, Jackie Brown, Jungle Fever, Jurassic Park, Kiss of Death, The Negotiator, Pulp Fiction, Sphere, A Time To Kill)
Caitlin: Yvonne Zima
Timothy: Craig Bierko (Sour Grapes)
Hal: Tom Amandes
Nathan: Brian Cox (The Boxer, Chain Reaction, Desperate Measures, Hidden Agenda, Iron Will, Kiss The Girls, Manhunter, Rob Roy, TV: Inspector Morse, Sharpe)
Perkins: Patrick Malahide (Cutthroat Island, A Month in the Country, TV: Inspector Morse, Middlemarch, Minder, The New Avengers, The Singing Detective)
Luke/Daedalus: David Morse (The Crossing Guard, Extreme Measures, The Getaway, The Good Son, The Indian Runner, The Negotiator, The Rock, Stephen King's The Langoliers, TV: St. Elsewhere)
Larry King: Himself
---
---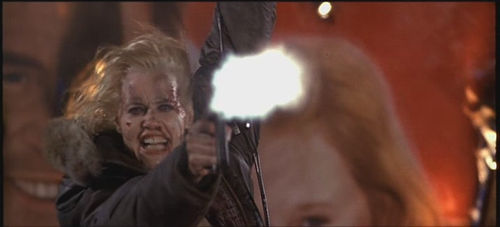 One mean mother…
The Long Kiss Goodnight is the follow-up to their last husband-and-wife big screen adventure, Cutthroat Island, which didn't set the box-office alight for star Geena Davis, and her husband, director Renny Harlin, who made two of my favourite action films of the 90's, Die Hard 2, and Cliffhanger. The plot, scripted by Lethal Weapon's Shane Black, requires immense suspension of disbelief, but creates a thoroughly enjoyable film.
Geena Davis plays mild-mannered schoolteacher and amnesia-sufferer Samantha Caine who, eight years after the incident, is still trying to piece her life together in full, but for now things are going well as she enjoys her job, the company of her family, and lives a peaceful life with her boyfriend Hal, and her daughter Caitlin.
Then one day (yes, you knew something had to go wrong), as she drives one of her relatives back to his house after a family do, the car crashes after running over a deer, tragically killing her passenger (Alan North, from TV's Police Squad) and Samantha is thrown clear of her car. She's alive, but her life will never be the same again.
Her memory comes flooding back, and she remembers that she was once a lethal assassin for the CIA named Charly Baltimore, and now her former employers want her dead. Pursued by a high-tech army of corrupt government renegades, she teams up with a wise-cracking private detective, Mitch Henessey, who tries to help her put the pieces back together again before they get themselves killed.
Once the plot is established, the majority of the two hours that passes is one superb action-packed film, worthy of any action fan's attention. When I saw it at the cinema, the last five minutes of the film were worth the price of admission alone.
---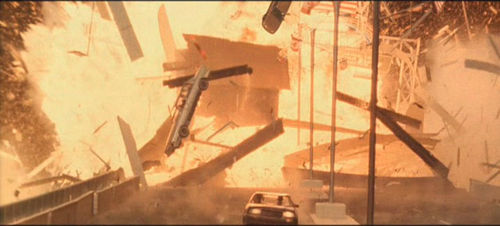 Whoops !
---
Over recent years, Geena Davis has proved herself to be deserved of a place in the Hollywood A-list of actresses, and she proves she can easily handle a physically-demanding role such as this. Before and after her transformation into a cold-blooded killer, Geena looks good in every scene – just another reason to buy this disc.
And another good reason is the presence of Samuel L. Jackson, an excellent actor who in recent years has made the best choices possible for the roles he has played, as well as some curious ones, giving memorable performances in Hollywood blockbusters such as Die Hard With a Vengeance, Jurassic Park and Quentin Tarantino's Pulp Fiction, as well as appearing in low-budget films such as 187 and The Great White Hype.
He also gets some of the best lines in the film, beginning with a bust on a man in bed with a prostitute. Pulling a gun on the man he says :
"Now you're assuming I won't shoot your sorry ass…
and everyone knows when you make an assumption,
you make an ass out of you, and 'umption'."
On the bad guy front, those on her tail are led by Craig Bierko, a complete psycho who, told of a colleague, One-Eyed Jack, having escaped prison after seeing something on TV that disturbed him, says, "Yes, I saw it too. It's called Baywatch Nights".
Another actor who's made a career out of playing the bad guy in recent years is David Morse who has starred in a number of big films such as The Rock, the 1994 remake of The Getaway, and last year's Extreme Measures. This is certainly not the sort of career I'd have imagined for a man who, fifteen years ago, started out in television as the doctor with the Leo Sayer perm in St. Elsewhere.
Alas, the only let down in the bad-guy department are those played by Brian Cox, an experienced actor who looks like he sleepwalked his way throughout the whole film, and Patrick Malahide, once the hard-nosed and downtrodden Inspector Chisolm in TV's Minder, but now returning to the world of Harlin after Cutthroat Island by playing an American in this film, although he sounds less like an American, and more like a man with the worst case of sore throat and catarrh that not even the world's leading brand of cough mixture could cure.
Finally, at the end of it all is a cameo from US TV chat-show legend, Larry King.
---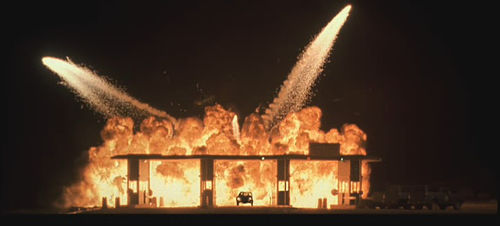 Now you see the toll bridge…
---
The picture looks very good, the widescreen framing being essential for Renny Harlin's action-filled visuals. On fullscreen video, this might not look as bad as a regular pan-and-scan film as it was shot in Super-35, but to retain the director's intended vision, the ratio used fulfills that job. However, it's another case of a non-anamorphic transfer from EiV, whereas the Americans get what we all want. Artifacts are few and far between though.
The average bitrate is a very good 7.32Mb/s, occasionally peaking over 8Mb/s.
As you'd expect for an action film, once the bullets start to fly, you'll soon know about it, and so might your neighbours depending on how loud you have the volume. The sound also comes across very effectively even in the quietest moments coming across clear as a bell. It's just a shame that we don't get the Dolby Digital 5.1 soundtrack that the Americans get.
---
Extras :
Chapters & Trailer : The Americans get 29, we get 12. Do the math. The original theatrical trailer is also included.
Languages & Subtitles : Just one language for this disc – English in Dolby Surround – and only English subtitles.
'Making of' featurette : A six-minute 'making of', which behaves more like an extended trailer with soundbites from Messrs. Jackson, Davis, Bierko and Harlin, looking like they've been shot in a cheesy American studio with a rotating camera. If it makes your DVD-ROM player lock up, then the output will also appear to stutter.
Stunt scenes : What looked like it might give some background info on how the stunts were done, turns out to be nothing of the sort. For "Stunt scenes", read "four more chapters", since each one links to either "Skating", "Santa Sleigh Pursuit", "Bridge Explosion" or "Truck crashing". Nice to see once, out of context, but not something you'll go back to again unless you want to wake up the neighbours.
Menu :
The menu is static and silent with a picture, replicating the front cover as seen above.
---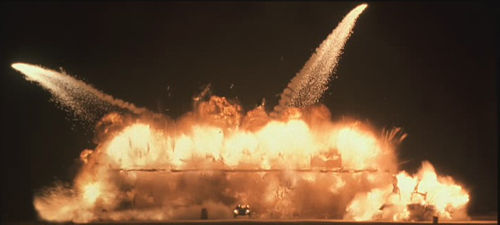 …now you don't.
---
As good as this film is, don't expect another husband-and-wife collaboration again, as Geena and Harlin went their separate ways recently. However, if you enjoyed this film in the cinema or on rental video it deserves a place in your home cinema system, but it's hard to recommend EiV's release when the Americans score better in the sound and picture stakes. The only other extras they seem to get though are biographies.
N.B.: If you are playing this title on a Creative Dxr2 DVD-ROM player, it will lock up the player when fast-forwarding the trailer and the 'making of' featurette, so you have to close the player down and start it up again. This problem also affects Last Man Standing and Long Kiss Goodnight, both of which also suffer this problem when fast-forwarding during the final chapter.
FILM : ***** PICTURE QUALITY : **** SOUND QUALITY: **** EXTRAS: *½ ——————————- OVERALL: ***½
Review copyright © Dominic Robinson, 1999.
[Up to the top of this page]
Reviewer of movies, videogames and music since 1994. Aortic valve operation survivor from the same year. Running DVDfever.co.uk since 2000. Nobel Peace Prize winner 2021.