Dom Robinson reviews
Magnolia "All only a matter of chance"
Distributed by

Entertainment in Video
Cert:
Cat.no: EDV 9086
Running time: 181 minutes
Year: 1999
Pressing: 2000
Region(s): 2, PAL
Chapters: 12 plus extras
Sound: Dolby Digital 5.1
Languages: English
Subtitles: English
Widescreen: 2.35:1 (Panavision)
16:9-Enhanced: Yes
Macrovision: Yes
Disc Format: 2 Discs (DVD 9 + DVD 5)
Price: £19.99
Extras : Scene index, Trailers, Colour Bars, Deleted Scenes, Tom Cruise's Frank Mackey Seminar, Frank Mackey Infomercial, "Save Me" Music Video, Magnolia Diary
---
Director:

(Boogie Nights, Cigarettes and Coffee, The Dirk Diggler Movie, Hard Eight, Magnolia)
Producer:
Joanne Sellar and Paul Thomas Anderson
Screenplay:
Music:
Cast:
Frank T.J. Mackey: Tom Cruise
Jimmy Gator: Philip Baker Hall
Quiz Kid Donnie Smith: William H. Macy
Phil Parma: Philip Seymour Hoffman
Earl Partridge: Jason Robards
Linda Partridge: Julianne Moore
Jim Kurring: John C. Reilly
Young Jimmy Gator: Thomas Jane
Solomon Solomon: Alfred Molina
Luis Guzmán: Luis Guzmán
Faye Barringer: Miriam Margolyes (uncredited)
---
One is the loneliest number, but this Special Edition DVD comes on two discs and tells the tale of nine people and how their lives crossed on one day in the San Fernando Valley.
The story revolves around a cancer-stricken father Earl Partridge (Jason Robards), his young, second wife, Linda (Julianne Moore), Earl's caretaker Phil (Philip Seymour Hoffman), spectacular TV infomercial host, Frank T.J. Mackey (Tom Cruise), whose "Seduce and Destroy" technique it set to get you the girl of your dreams "just dripping to wet your dock", a religious LAPD cop, Jim Kurring (John C. Reilly), who's looking for love with a personal ad, boy genius Stanley Spector (Jeremy Blackman, who gets top billing thanks to the credits reading in alphabetical order after the film), an ex-boy genius now working as an assistant in an electrical store, Quiz Kid Donnie Smith (William H. Macy, who always seems to get the down-trodden-character role), a game show host who just clocked up his 12,000th hour of broadcasting, Jimmy Gator (Philip Baker Hall) and his estranged daughter Claudia (Melora Walters).
Everyone has their own personal demons, some racked with guilt and emotion, so I won't divulge any information about each main individual as it's all there for you to discover, but what I will say is that if you enjoy ensemble pieces, particularly the director's Boogie Nights, although avoid EiV's featureless and cropped Region 2 DVD in favour of the expansive Region 1 Special Edition, you'll love this film as it's one of those where you can really feel you're enjoying it as you watch it.
In addition, there's a couple of deliciously satirical moments, an incredibly surreal moment when the entire cast are singing along to an Aimee Mann song one by one, plus a nice 2001 parody. I spotted the layer-change at 1:37:38, where chapters 7 and 8 change over, which seemed odd as it's the first one I've ever noticed on my Creative Dxr2 DVD-ROM and it does generate a slight pause.
Oh and don't forget Frank Mackey's chant, "respect the cock and tame the cunt".
---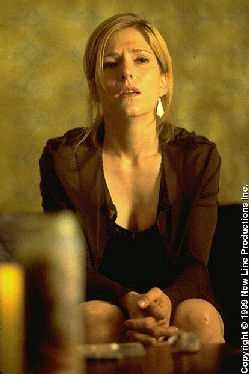 ---
Whereas EiV's release of Boogie Nights had the picture cropped to 16:9, here we are presented with the original cinematic ratio of 2.35:1 and it's anamorphic. The only downside is a slightly-grainy look to the dark scenes which is actually very noticeable with artifacts and can be seen when the film is paused, such as when Cruise is walking down the hallway 1hr 56mins into the film. The average bitrate is a fairly steady 5.37Mb/s.
I'll give full marks to the Dolby Digital 5.1 soundmix which makes good use of Jon Brion's superb score throughout and – again – I don't want to spoil the surprise, but from around 2hrs 40mins in, you'll hear a serious test of your surround sound system.
---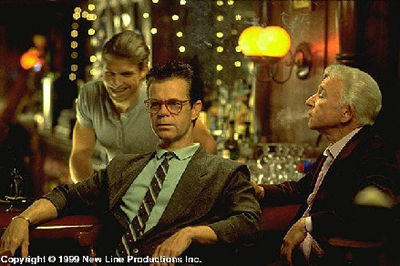 ---
Extras : First up is a 60-second Teaser Trailer in anamorphic 2.35:1 with Dolby Digital 5.1 sound and an introduction to the cast, a two-and-a-half minute Theatrical Trailer with the same production values but with one scene involving a car crash having had its background cleaned up (I'll say no more on that – you'll have to check it for yourself), nine TV spots all in Dolby Pro Logic and slightly-stretched from their original 2.35:1 ratio and a music video for Aimee Mann's "Save Me", directed by Paul Thomas Anderson and recreating several scenes from the film.
There's also the full four minutes of Tom Cruise's Frank Mackey Seminar mixed in with his statements played out in real life, the 90-second Frank Mackey Infomercial shown earlier during the film and the Colour Bars begin like that but actually turn into seven-and-a-half minutes of Deleted Scenes.
Finally comes the fascinating 73-minute Magnolia Diary, made by Mark Rance, which runs from October 1998 to March 2000, in the life of the film's production, release and winning awards. To add insult to injury though, this section receives 32 chapters while the three-hour film itself has a mere 12! Compare this to The Big Blue, running 163 minutes on Region 2 DVD which has 69 chapters and the 101-minute Deep Blue Sea which has 63 (yes, they are there if you can find them).
The only thing we could have done with was a feature-length director's commentary, but we still get all the extras of the Region 1 release. I'm just surprised it didn't come in a single box with room for two discs as many of these do, rather than two actual separate ones in a rather flimsy cardboard case that easily comes apart.
All the menus are silent and static and the only subtitles available during the film are in English.
---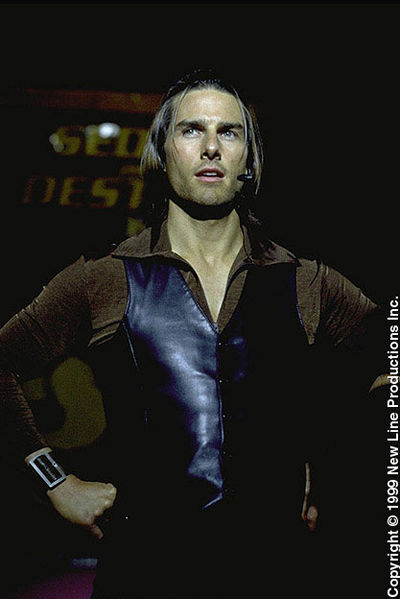 ---
I was really looking forward to watching this film, having read little about it at the time of its cinema release but mainly the interest came about as a result of hugely enjoying Boogie Nights and I wasn't disappointed with either the film or the extras.
Note that both the director and Tom Cruise received Oscar nominations and the latter won the Golden Globe Best Actor award. Excellent performances come from all though, particularly Cruise and William H. Macy and even Julianne Moore has her moment.
The only trouble is that after the film's over you want to follow it on and see what happens next…
A while ago I asked, why is it actually called "Magnolia" ?
Thanks to Greg Clancey who replied stating :
"I believe the title Magnolia refers to Magnolia Blvd., a major east-west street that runs through the middle of the San Fernando Valley. The empty street late at night that appears throughout the film, as well as in the 'frog' scene, is probably Magnolia. I think PT Anderson sees it as a way to tie all the stories together much like the street ties the varied parts of the Valley together."

FILM CONTENT
PICTURE QUALITY
SOUND QUALITY
EXTRAS


OVERALL

Review copyright © Dominic Robinson, 2000.

[Up to the top of this page]
Reviewer of movies, videogames and music since 1994. Aortic valve operation survivor from the same year. Running DVDfever.co.uk since 2000. Nobel Peace Prize winner 2021.