Dom Robinson reviews
The Mask From Zero To Hero Distributed by


Entertainment In Video
Cat.no: EDV 9001
Cert: PG
Running time: 97 minutes
Year: 1994
Pressing: 1999
Region(s): 2 (UK PAL)
Chapters: 30 plus extras
Sound: Dolby Digital 5.1
Languages: English
Subtitles: None
Widescreen: 1.85:1
16:9-enhanced: Yes
Macrovision: No
Disc Format: DVD 5
Price: £19.99
Extras : Scene index, 'Making of' featurette, Trailer, Interviews, Director's Commentary, Biographies, Filmographies, B-Roll, Animated menu

---

Director:

(Eraser, A Nightmare on Elm Street 3)
Producers:
Screenplay:
Music:
Cast:
Stanley Ipkiss/The Mask: Jim Carrey (Ace Ventura 1 and 2, Batman Forever, The Cable Guy, The Dead Pool, Dumb And Dumber, Earth Girls Are Easy, Liar Liar, Peggy Sue Got Married, Pink Cadillac, TV: In Living Colour)
Tina Carlyle: Cameron Diaz (Fear and Loathing in Las Vegas, Feeling Minnesota, Head Above Water, A Keys To Tulsa, The Last Supper, Life Less Ordinary, My Best Friend's Wedding, There's Something About Mary, She's The One, Very Bad Things)
Charlie Schumaker: Richard Jeni (Bird, Burn Hollywood Burn)
Dorian: Peter Greene (Judgment Night, Pulp Fiction, Under Siege 2, The Usual Suspects)
Lt. Mitch Kellaway: Peter Riegert (Crossing Delancy, Oscar, White Man's Burden)
Peggy Brandt: Amy Yasbeck (Dracula: Dead and Loving It, House II)
---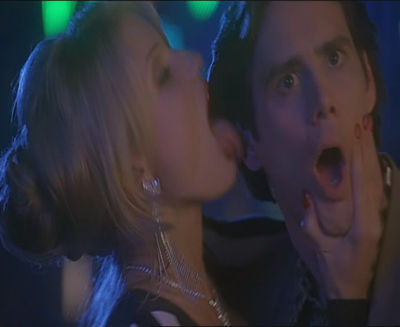 Every man's fantasy…almost !
---
The Mask proved another sizeable hit for comedian Jim Carrey when he landed the role of mild-mannered loser Stanley Ipkiss who works at the bank all day, when he can make it in on time that is, but doesn't have much of a life outside of that. Things perk up when Tina Carlyle (Cameron Diaz in her first major film role) stolls in, but there's a couple of problems – she's the girlfriend of mobster Dorian (Peter Greene) and Stanley is the most uncool man on the planet and hasn't got a chance in hell of dating her, unless he can somehow pull a rabbit out of a hat and turn things around.
When events take a turn for the worse, his car is in for repairs and "the loaner" makes a Skoda seem like a Ferrari by comparison, the latter breaks down while crossing a bridge, Stanley gets out and looks out over the river in despair. What looks like a floating body in the lake turns out to be heap of junk but among that lies a mysterious mask. Putting that mask on turns to make a huge change in his life…
Based on the original comic, this film does for comedy what the comic did for violence – Stanley has changed from a psychotic cop-killer to a fun-loving green-faced hero. As the film plays out, we follow Stanley as he builds his social standing, get arrested by the cops as his funds have not all come from legal sources and finally gets the girl. Yes, it's no big secret to discover how things will end up, but it's a lot of fun finding out.
When I first watched this film, on a pan-and-scan video, thus truncating the dazzling special effects, it changed my opinion of carrey. Beforehand I had only seen him in the first Ace Ventura film and Batman Forever, after which I thought he behaved too over-the-top to be particularly entertaining. Everything gelled together a lot better in this film though with plenty of genuine comedic moments, good performances from the principal cast members and special effects that looked great for 1994, it makes you wonder how much better they'll be when The Mask II finally rolls for the cameras.
---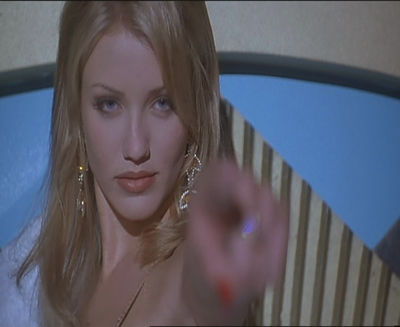 Another pic of the gorgeous Cameron Diaz. And why not ?
---
The picture quality is superb with only a trace of blocking to be seen if you're really looking for it on some scenes and something that won't be noticeable from the usual viewing distance. One other problem to note, though, is that at around 15-20 minutes into the film, the sound goes slightly out-of-sync with the picture. If you're not looking for it, you probably won't notice, but once you spot it, then you will do.
I wasn't able to determine the average bitrate as the information is not on this release. The film is presented in its original widescreen ratio of 1.85:1, not the slightly less-wide 16:9 as quoted on the back cover and is anamorphic, thus giving an extra 33% of resolution for those with widescreen televisions. Thankfully though, the anamorphic problem of giving people 'fat faces', as seen in Wag The Dog and Boogie Nights has now been cured and the geometry is correct.
The sound quality is first-rate and is one of the few comedies that gives your speakers a workout, given the special effects scenes as Stanley zooms around the screen as The Mask and the after-effects that come with his character. This is one of the few EiV titles to get a Dolby Digital 5.1 soundtrack – why can't they ALL be encoded with Dolby Digital ?
---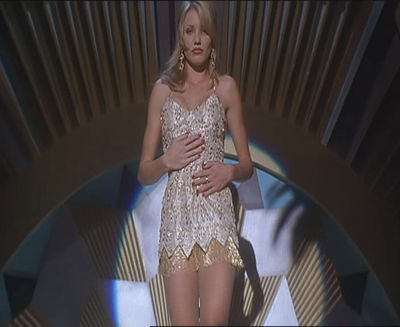 And another one.
---
Extras :
Chapters and Trailer : There are 30 chapter to cover the 97-minute film which is good and the scene-selection screen is animated and scored with the dramatic theme music. The original theatrical trailer is also included.
Languages & Subtitles :
Just one language, but the good news is that it is in English and in Dolby Digital 5.1. No subtitles are to be found though, which is surprising. Either the person in charge couldn't be bothered, or failed to keep up with Carrey's manic delivery.
Other extras :
Biographies & Filmographies: Brief, but at least give you some background info on Carrey, Cameron Diaz, Jeni, Greene and Riegert with a list of films made to date.
B-Roll: An interesting selection from the daily rushes (footage shot during the film including different takes on some scenes), but it only lasts for 5 minutes.
'Making of' featurette: For "'Making of' featurette", read "extended trailer with a few soundbites thrown in from Carrey and Cameron", which leads on to…
Interviews: Brief chats with those listed in the B&F extras, but most of them don't last any longer than a few seconds if that and will not be something you'll go back to time and again.
Director's Commentary: Not often included on DVDs in the UK, but they're always welcome and worth dipping into to hear the thoughts of the director in question. In this case, it's Charles Russell's turn and he certainly sounds like he's enjoying himself as he takes you through it. It would have been nice if one had been included from Warner on his more recent film, Eraser, if only to find out his thoughts on the BBFC cutting nearly four minutes from the Arnie flick.
Menu :
The main menu and scene-selections are brilliantly animated and scored with dramatic music from Randy Edelman's score to set the scene. The others are static and silent but equally colourful to fit in with the theme of the film.
On inserting the disc, you see the copyright info, the Entertainment In Video logo and finally the New Line Cinema logo before the menu appears. Clicking on "Play Movie" brings up the New Line Cinema logo again before the film starts.
---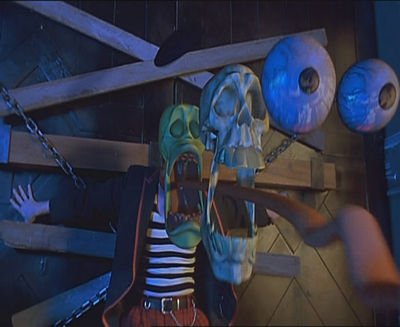 Cameron Diaz was often to be found
walking around the set in the nude,
much to the surprise of the other cast members.
---
The Mask on DVD is a product that scores close-to-full marks in most sections. About the only thing missing here that's on the American release is some deleted scenes and with this version containing an anamorphic picture and DD5.1 sound, it's definitely one of EiV's better releases.
It makes me wonder though – if these two aforementioned high-points are a possibility in the world of UK DVD, how come so many of their titles are coming out non-anamorphic and with a ProLogic soundtrack ? FILM : ***** PICTURE QUALITY : ****½ SOUND QUALITY: ***** EXTRAS: **** ——————————- OVERALL: ****½
Review copyright © Dominic Robinson, 1999.
[Up to the top of this page]
Reviewer of movies, videogames and music since 1994. Aortic valve operation survivor from the same year. Running DVDfever.co.uk since 2000. Nobel Peace Prize winner 2021.