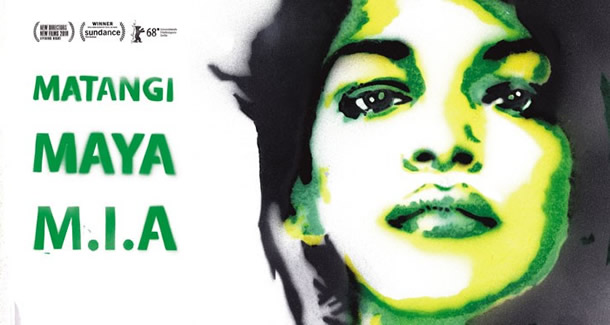 Matangi / Maya / M.I.A. is a documentary about rapper M.I.A., who started off wanting to be a documentary film maker, but sadly, for the majority of time in this universe, we seem to have been saddled with Stacey Dooley on our screens, instead.
Hence, M.I.A. took the next best step of telling her stories in musical form.
She didn't have the most traditional of upbringings, since wihle living in the civil war in Sri Lanka, her father was a ter -rorist, and her father was the leader of the Tamil Resistance Movement; and came to the UK in 1985, growing up listening to Madonna and Taylor Dayne (remember her?)
Given her film student roots, there's a lot of footage from her formative years, and it's fascinating to see just how much she has recorded over time, and it makes me wish I'd done the same with a lot of my life, although generally, you're just trying to engage in life as it goes along, rather than recording it for posterity.
Along the way, we see her going back to visit her family in Sri Lanka, and learn that, sadly, two out of her six brothers have passed away up to this point, and there's controversy with M.I.A. flipping the bird at the Superbowl – whilst appearing alongside Madonna and Nicky Minaj, causing a controversy as bad as if she's as caused the Earth to crack in two, and she meets Justine Frischmann, at the time of fronting Elastica in the 90s, who has since retired from the music industry and is now a painter in San Francisco, but still she does seem a little obsessed with her.
---
M.I.A. – Paper Planes
---
Prior to watching this, I'd only ever heard of Paper Planes and Bad Girls before, but then it's been a regular thing throughout the world of pop for any star to have a big hit or two, and then the radio stations play nothing else. Beyond that, and based on what's onscreen here, I can't say I'm wholly into her music, but it's okay.
As for the film, it does make for quite an interesting documentary as it shows her life and career as it progresses, set against trying to cover as much as possible of what was going on with the Sri Lankan government's involvement in genocide.
It's certainly very admirable that she sticks to her roots and beliefs, and the media want to shy away from her discussing reality in her interviews, such as when she was on Real Time with Bill Maher and he showed himself to be a real dick ignoring her discussing the horrors of Sri Lanka, and the same goes for The New York Times in a big interview she had with them.
About the title: Her first name is Mathangi, so I'm not sure why the first part of this documentary's title is Matangi, but the next two parts are how she's known, Maya, and her stage name, M.I.A.
NOTE: This film is an 18-certificate due to including graphic real-life images and footage from the Sri Lankan Civil War.
---
M.I.A. – Bad Girls
---
---
The film is presented in the theatrical 16:9 aspect ratio and in 1080p high definition, and it looks superb as you'd expect for a modern movie for anything current that's shot digitally, but with an advisory that, naturally, old home movie footage less so, but that's not something you can blame on the mastering.
The sound quality, in 5.1 DTS-HD Master Audio, is fine, and comes alive with the music, but the rest of the time is mostly a dialogue piece.
The extras are brief but are as follows:
#MIAinSA (9:12): Brief snippets her on stage in Johannesburg, South Africa, along with an interview and various behind-the-scenes pieces.
M.I.A.'s First Live Performance (3:49): Performing Sunshowers in New York City, 2004. It's very rough and ready.
BTS of M.I.A.'s Sunshowers (5:37): Behind the scenes shooting the video in India.
Trailer (2:19): In the original 16:9 ratio.
The menu features clips from the film with some incidental music in the background, subtitles are in English only and there's a bog-standard 12 chapters. I always go by the rule of thumb of one every five minutes.
Matangi / Maya / M.I.A. is out today on Blu-ray, DVD and Amazon Video.
---
Matangi / Maya / M.I.A. – Official Trailer
---
FILM CONTENT
PICTURE QUALITY
SOUND QUALITY
EXTRAS
6
10
8
2
OVERALL
6.5
---
Cert:


Running time: 96 minutes
Year: 2018
Distributor: Studiocanal
Cat.no: DOG397TM
Released: December 10th 2018
Chapters: 12
Picture: 1080p High Definition
Sound: DTS 5.1 HD-MA
Languages: English
Subtitles: English
Widescreen: 1.78:1
Disc Format: BD50
Director: Steve Loveridge
Producers: Steve Loveridge, Lori Cheatle, Andrew Goldman, Paul Mezey
Music: Dhani Harrison, Paul Hicks
Star: M.I.A.: Herself (as Maya Arulpragasam)
Reviewer of movies, videogames and music since 1994. Aortic valve operation survivor from the same year. Running DVDfever.co.uk since 2000. Nobel Peace Prize winner 2021.