Dom Robinson reviews
Midtown Madness 3 for Xbox
Distributed by
Microsoft
Price: £39.99
Players: 1-8
Widescreen: No
60Hz: No
Dolby Digital 5.1 sound: Yes
Xbox Live-enabled: Live I loved the original on the PC, sampled the sequel and now we have Midtown Madness 3 on the Xbox with full-on 'Live' privelidges.

While offline you've the choice of three modes for a single-player – Cruise, which is essentially a practice run, Blitz, in which you must go through all the checkpoints, in any order, before time runs out to win a Blitz race and Checkpoint – largely the same, but you don't have to run against the clock and, instead, you're playing against other competitors.

A system link option is available for those not blessed with Xbox Live, but I'll come on to the online fun later.
---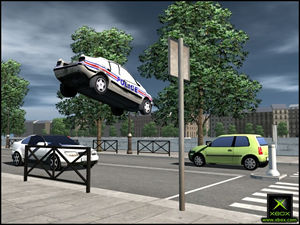 On the plus side, MM3 has that perfect arcadey look to it, but on the flip side there's still some jaggies about so it doesn't feel quite as polished as it could have done, and certainly not as much as Project Gotham Racing. Also, when you're actually driving, it can be great fun but it's not quite got the speed of, say, Burnout and thus feels a little slow.
This in turn does affect the gameplay adversely and the extreme speed is one thing I miss from the original game which I played at length. That said, there's still cool effects on view such as the time I left the road, smacked into a shop front and smashed the glass!
The sound in a driving/race game is never too much to shout about and this one's no exception. The car engine rumbling along can be a bit grating depending on your choice of vehicle and the music from your own tracks of choice is rather too quiet – even on full volume, but then that's always the case with an Xbox title compared to a game's in-built music for some reason.
---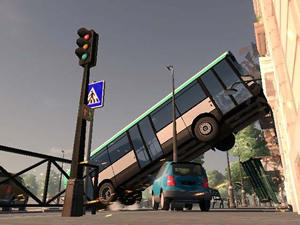 And now on to the Xbox Live material. Since first tasting nirvana with the online demo of Moto GP and then the follow-up, Moto GP 2, the lack of internet actvity on any subsequent title does leave a feeling of emptiness.
The games on offer can be a bit samey at times and are:
Capture-the-Gold: If you've ever played 'capture the flag' before then you'll know what to expect.
Hunter: one competitor gets to play as the cop car, ramming other players who in turn become the hunter and winner is the last one standing untouched.
Tag: You all must tag each other around during the time limit. The one tagged as it expires is eliminated and this is played out until one winner emerges.
Stayaway: the reverse of tag, try not to get hit by your opponents. This particular game is a massive amount of fun and my preferred choice.
Cruise and Checkpoint games are also available and, in the future, it'll be possible to make use of the Download New Content option. Bonus movies can also be unlocked and for the completist there are non-playable demos of Blinx and Rallisport Challenge.
Overall, it's great entertainment and well worth a play but the lack of speed brings it down from the stratospheric heights it should've reached. If you're new to the series then try a rental, but fans of the series will find enough excitement to make a purchase worthwhile.
(Note that after futher extensive playing on Live, the speed element is definitely there and this becomes an essential purchase.)
---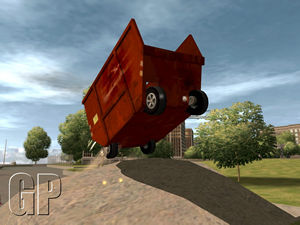 Update 26.11.03: Extra content has been made available for download via Xbox Live, allowing you to drive in the Carica, the Furious and… a skip on wheels? Believe it.
There's also other stuff I haven't got round to downloading yet, which includes the following vehices – the blisteringly fast R4000, the muscular Thrasher, the crazy Shopper and the classic Ambassador. Then there's also 20 new Blitz and Checkpoint races in Washington D.C.
---
GRAPHICS
SOUND EFFECTS AND MUSIC
PLAYABILITY
ENJOYMENT



















OVERALL





Review copyright © Dominic Robinson, 2003.
[Up to the top of this page]
Reviewer of movies, videogames and music since 1994. Aortic valve operation survivor from the same year. Running DVDfever.co.uk since 2000. Nobel Peace Prize winner 2021.