Dom Robinson reviews
Minority Report Everybody Runs.
Distributed by
Cert:
Cat.no: 20918 DVD
Running time: 139 minutes
Year: 2002
Pressing: 2002
Region(s): 2, PAL
Chapters: 24 plus extras
Sound: Dolby Digital 5.1, DTS 5.1
Languages: English
Subtitles: 6 lanugages
Widescreen: 2.35:1 (Panavision)
16:9-Enhanced: Yes
Macrovision: Yes
Disc Format: 2 * DVD 9
Price: £24.99
Extras: Minority Report: From Story to Screen, Deconstructing Minority Report, The Stunts of Minority Report, ILM and Minority Report, Final Report: Tom Cruise and Steven Spielberg, Archives (trailers, production notes, filmographies, storyboards)


---

Director:

(1941, A.I.: Artificial Intelligence, Always, Amistad, Catch Me If You Can, Close Encounter of the Third Kind, The Color Purple, Duel, Empire of the Sun, E.T.: The Extra Terrestrial, Hook, The Indiana Jones Trilogy, Jaws, Jurassic Park 1 & 2, Minority Report, Poltergeist (uncredited), Saving Private Ryan, Schindler's List)
Producer:
Jan de Bont, Bonnie Curtis, Gerald R Molen and Walter F Parkes
Screenplay:
Scott Frank and Jon Cohen (based on a short story by Philip K Dick)
Music :
Cast :
Det. John Anderton: Tom Cruise
Det. Danny Witwer: Colin Farrell
Agatha: Samantha Morton
Director Lamar Burgess: Max von Sydow
Dr Iris Hineman: Lois Smith
Dr Solomon: Peter Stormare
Gideon: Tim Blake Nelson
Leo Crow: Mike Binder
Jad: Steve Harris
Lara Anderton: Kathryn Morris
Evanna: Jessica Capshaw
---
Minority Report has a simple concept, even if it may look a lot more complex in the first instance.
It's the year 2054 and Detective John Anderton (Tom Cruise) works for the Pre-Crime divison, a police department which, for the past six years, has pre-determined every single murder in their district and enabled the law to stop each such crime before it's committed. They managed it with the help of three "pre-cogs" – one woman and two men, now in their 20s, but when the government were putting this project together they were found, as children, to have the power to see the future, but they also end up seeing and feeling the pain of those who commit the murder. Big Brother is far more a way of life than it was in the film, 1984.
It's a perfect system, until the point where it predicts that Anderton's going to shoot a man dead called Leo Crow. Even the video footage of the event shows him pointing the gun, saying "Goodbye, Crow" and pulling the trigger. Just one thing – who the hell is Leo Crow? Anderton has no idea, which is what starts the chase with him on the run escaping from his colleagues, while trying to put two and two together and prevent the murder of Leo Crow, which sounds easy – don't be in the wrong place at the wrong time, or isn't it that simple?
Of course, to go into the plot further would ruin the surprises that follow, but I will say that I thought the ending was rather a cop-out, and the way things were heading about 20 minutes before would've been a far more satisfactory one. However, the acting is first rate from Tom Cruise, Colin Farrell – a man sent to investigate the Pre-Crime Divison, given that a vote is to take place in a week's time as to whether the public agree with his operation and Britain's Samantha Morton, as Agatha, one of the pre-cogs, who really deserves to take off as a much bigger star following this movie.
---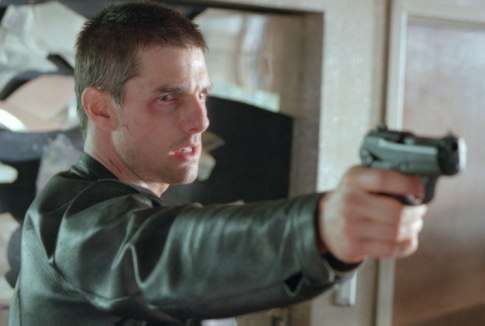 "Get me the director. I want to talk about the coffee!"
---
Widescreen is definitely the way to go here. It's a sci-fi vision of the future which couldn't be realised in anything other than its original ratio, that being 2.35:1, with a pin-sharp anamorphic widescreen image. At times, the picture will look a little washed-out or soft, but that's an intentional effect of the film.
The sound is in both Dolby Digital 5.1 and DTS 5.1, the latter of which is the better and I have no complaints on that scale. Split-surround effects are fantastic in the action sequences and even the quieter moments are excelled with the John Williams score in the background.
---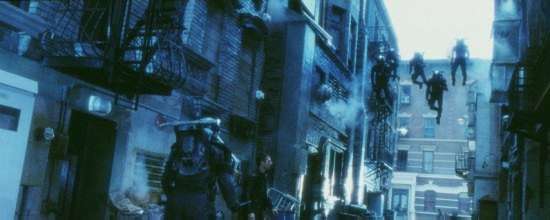 The original flying squad.
---
There's no audio commentary, but the extras are largely made up of featurettes which address all such issues and use film clips in non-anamorphic 2.35:1. The menus and sub-menus that split them up are brilliantly put together, giving a feel of the future whilst blending in clips from the film.
The extras disc is divided into six sections:
Minority Report: From Story to Screen (18 mins):
This starts with The Story/Debate (9 mins), in which Cruise and Spielberg chat about how this is the first time they've worked together, despite a few false starts along the way, and then goes on to discuss Philip K Dick's vision of the future and how they would bring this to the movie screen. The Players (9 mins) concentrates on the main actors, and mixes in film clips with interview soundbites from cast and crew.
Deconstructing Minority Report (29 mins):
Split into five different sections, this begins with an Introduction which sets the scene for what Spielberg wanted to accomplish, and goes on to look at Precrime and Precogs, The Spyder Sequence, Precog Visions and Vehicles of the Future, taking a look at each of those sections and how they were put together.
The Stunts of Minority Report (9 mins):
A lot of blue-screen work used here, there's three minutes explanation apiece on The Mag-lev Escape (the 'cars' that people use to get about in), The Hoverpack Chase and The Car Factory.
ILM and Minority Report (19 mins):
The section where Industrial Light & Magic are shown how they get their chance to shine, starting with a general introduction and going on to talk more about the holograms cleverly created and utilised throughout the film, the Hall of Containment where baddies are held, the Mag-Lev, Hoverpacks and the Cyberparlor, a bizarre Virtual Reality room.
Final Report: Tom Cruise and Steven Spielberg (4 mins):
A few more minutes of back-slapping in case you haven't seen enough.
Archives:
Less video footage here, this is more a section of scores of images and pages of information looking at the Production Concepts and Storyboard Sequences for the film, filmographies for Cast and Filmmakers, 23 pages of Production Notes to wade through and 3 Trailers in non-anamorphic 16:9 widescreen (80, 100 and 120 seconds, respectively), plus an anamorphic 16:9 trailer for the Activision game (90 seconds), in which the characters look just dissimilar enough from the people who play them so they don't have to be paid royalties on their likeness.
The film contains only 24 chapters which isn't enough as it could do with, subtitles in English, Danish, Finnish, Icelandic, Swedish and Norwegian and I've already commented how good the animated and scored menus are.
FILM CONTENT
PICTURE QUALITY
SOUND QUALITY
EXTRAS


















OVERALL





Review copyright © Dominic Robinson, 2002.

[Up to the top of this page]
Reviewer of movies, videogames and music since 1994. Aortic valve operation survivor from the same year. Running DVDfever.co.uk since 2000. Nobel Peace Prize winner 2021.