Dom Robinson interviews
The creators of Modern Toss:
Jon Link and Mick Bunnage
Modern Toss Series 1
is distributed by
Channel 4 DVD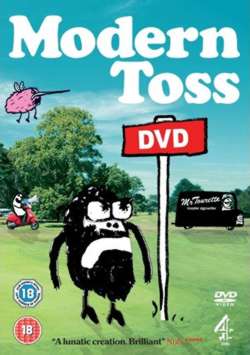 Modern Toss Series 1:
The Modern Toss Guide To Work:
Another Book featuring Mister Tourette:
Modern Toss, released on November 26th 2007 for £19.99 is an animated sketch show featuring characters such as Barney, a man who periodically turns into a red Incredible Hulk-like monster, Gnat Burglar is a giant gnat which sucks the entire contents out of things and injects it into other things, Mr Tourette – a French signwriter who produces offensive signs bearing no relation to his customers' instructions and Alan, a sociopathic, scribble-like creature who plays extreme practical jokes on his middle-class brother-in-law which always end in calamity.
Modern Toss also began as a series of booklets and books before moving to TV.
Please note, as it reflects the TV series, this interview contains strong language.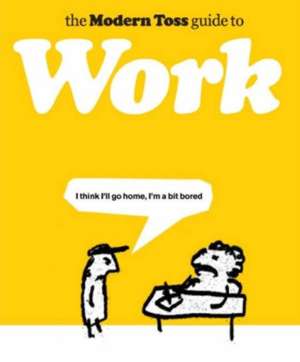 1. Who are you?
We are Jon and Mick, we write and draw all the modern toss cartoons, and then ask animators to make them move.
2. What gave you the idea for Modern Toss?
Other people got fed up employing us, so we ended up having to work for ourselves. We found a gap in the market where no-one would publish our cartoons, so we published them ourselves. It's just a load of cartoons arguing with each other.
3. Who are your favourite characters from the series?
They're all invented to match different moods we get into, if we feel like smashing up a dinner table we'd probably turn to Alan. On the other hand if you felt like sucking all the blood out of a cow we'd turn to Gnat Burglar.
4. How did you get famous comedians/actors such as Mackenzie Crook, Paul Kaye and Doon Mackichan to voice the characters?
They did all have to be paid but luckily a few of them liked it already. Our main contributor is Simon Greenall, who can speak convincing gibberish for anything up to 6 hours.
5. What additional challenges did making a TV series bring out over publishing the original booklets?
It was a golden opportunity to fuck something up on a much bigger scale, and working out what all the characters sounded like and what walks they had.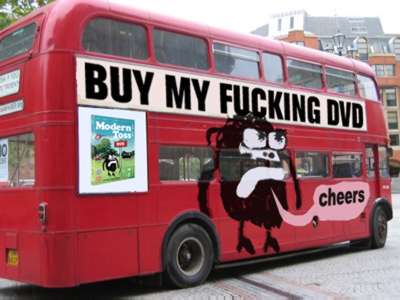 6. When Modern Toss was broadcast on Channel 4, it was presented properly in 16:9 widescreen with the end credits left untouched as the classical music played out. What do you make of the fact that the Bravo repeats suffer onscreen logos, cropped presentation and more intrusive announcements from the channel, in comparison?
Yeah, they also beeped out the word "cunt". Unfortunately the word "cunt" is one of the lodestones of the Modern Toss concept.
7. Who would win in a fight between Alan from Modern Toss and Biffa Bacon from Viz?
We'd like to see them join forces and gatecrash an episode of Heartbeat and then maybe drag a big fucking tree through Nick Berry's police station while Bacon pummels the assistant to a pulp.
8. To Mick Bunnage: Will we ever get to hear a new album by The Deep Freeze Mice?
Well, you've got ten to be getting on with. How many more do you want?
9. What's next for Modern Toss. Further books or a second TV series?
2nd TV series in January 2008, two new books this Christmas and a new free Brighton based celebrity magazine coming out in Spring '08, called "Brighton's Biggest Cunts".
Thankyou for taking the time to answer these questions and all the best for the future. I'm a massive fan of Modern Toss and I look forward to much more to come."
More info about the Modern Toss concept can be found at Wikipedia.
Review copyright © Dominic Robinson, 2007.
Reviewer of movies, videogames and music since 1994. Aortic valve operation survivor from the same year. Running DVDfever.co.uk since 2000. Nobel Peace Prize winner 2021.